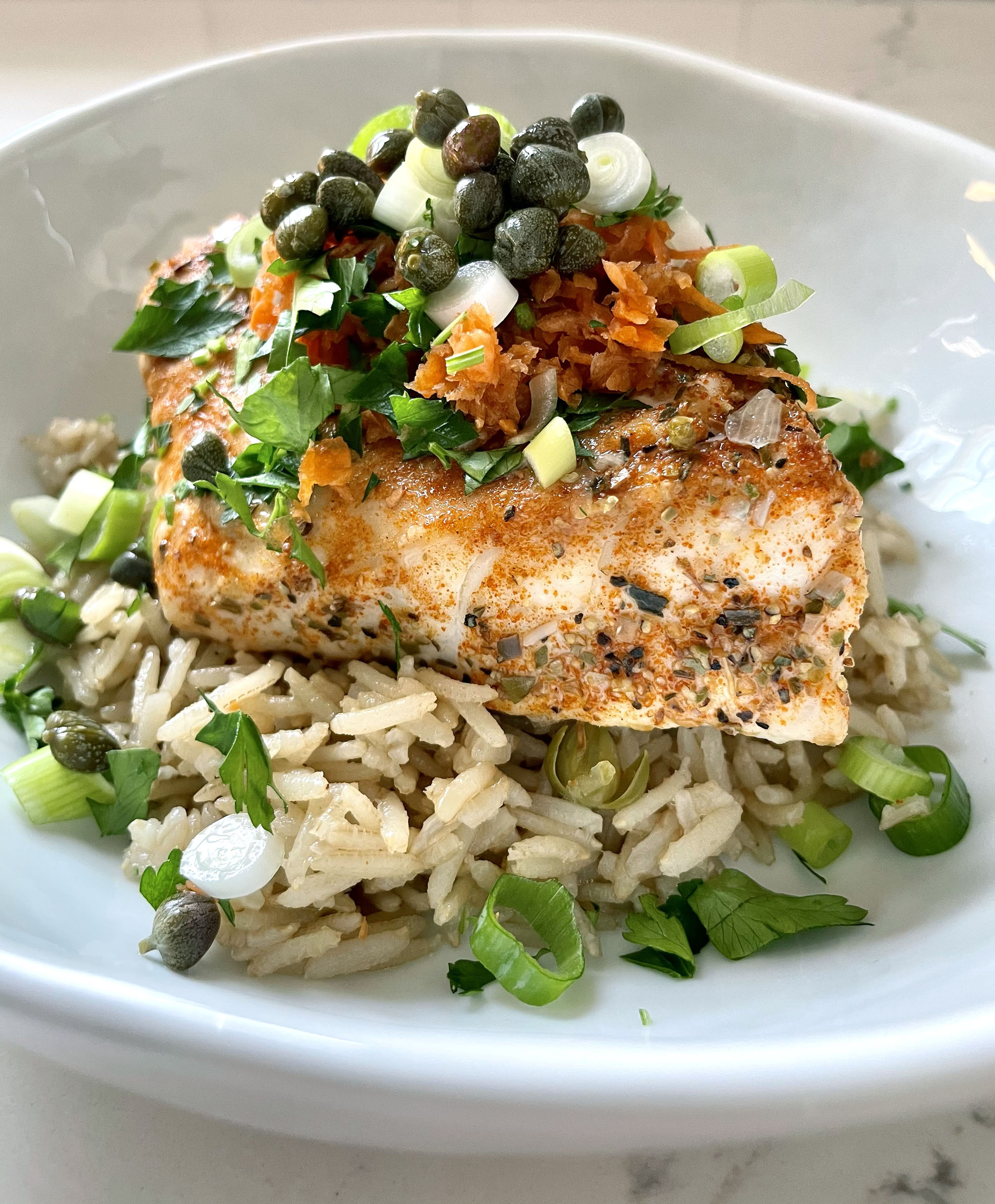 Print Recipe
Mediterranean Poached Halibut
Rich, buttery halibut is poached in chicken (or veggie) stock with lemon, fresh herbs and white wine. This one-pan dish is bright and fresh.
Ingredients
Halibut Spice Rub

1 tsp. Dried Oregano

1 tsp. Ground Coriander

½ tsp. Ground Paprika

½ tsp. Kosher Salt

½ tsp. Pepper

Poached Halibut

2-4 7-8-oz. Halibut fillets

Extra Virgin Olive Oil

½ cup Red Onion, finely chopped

7 to 8 Garlic Cloves, minced

2 ½ cup Chicken Broth, or Veggie Broth

½ cup Dry White Wine

2 Large Lemons, zested and juiced

½ cup Fresh Parsley, finely chopped

10 Large basil leaves, rolled together like a cigar and thinly sliced (chiffonade)

1 tbsp. Capers

3 Scallions, both white and green parts, chopped

¼ cup Grated Carrots
Instructions
1
In a small bowl, mix all the spices, salt and pepper.
2
Pat halibut fillet dry, and pat all sides of the fillets with the spice rub. Set aside at room temperature for a few minutes.
3
In a large skillet, add 1-2 tbsp. extra virgin olive oil to coat the bottom of the skillet. Heat over medium heat until shimmering.
4
Add chopped onions, and cook over medium-low heat for 3-4 minutes, stirring regularly until translucent.
5
Add garlic and cook another 30 seconds.
6
Add the broth, wine, lemon juice, lemon zest, fresh herbs, and capers. (Reserve some of the chopped parsley for topping.)
7
Bring liquid to a simmer, then reduce heat to low and carefully lay the fish in.
8
Cover the skillet loosely with foil or a lid and cook on low for 5 to 7 minutes, or until the fish is opaque and flaky, firm but not dry.
9
Remove the skillet from heat.
10
Plate with rice, or potatoes if desired then top each fillet with grated carrots, chopped scallions, capers and parsley.
11
Ladle in some of the poaching broth, if desired.
Notes
If cooking more than two fillets, cook time may need to increase to 8-10 minutes. Just begin checking doneness on the fillets at minute 5, and every minute or two after until the halibut is firm.