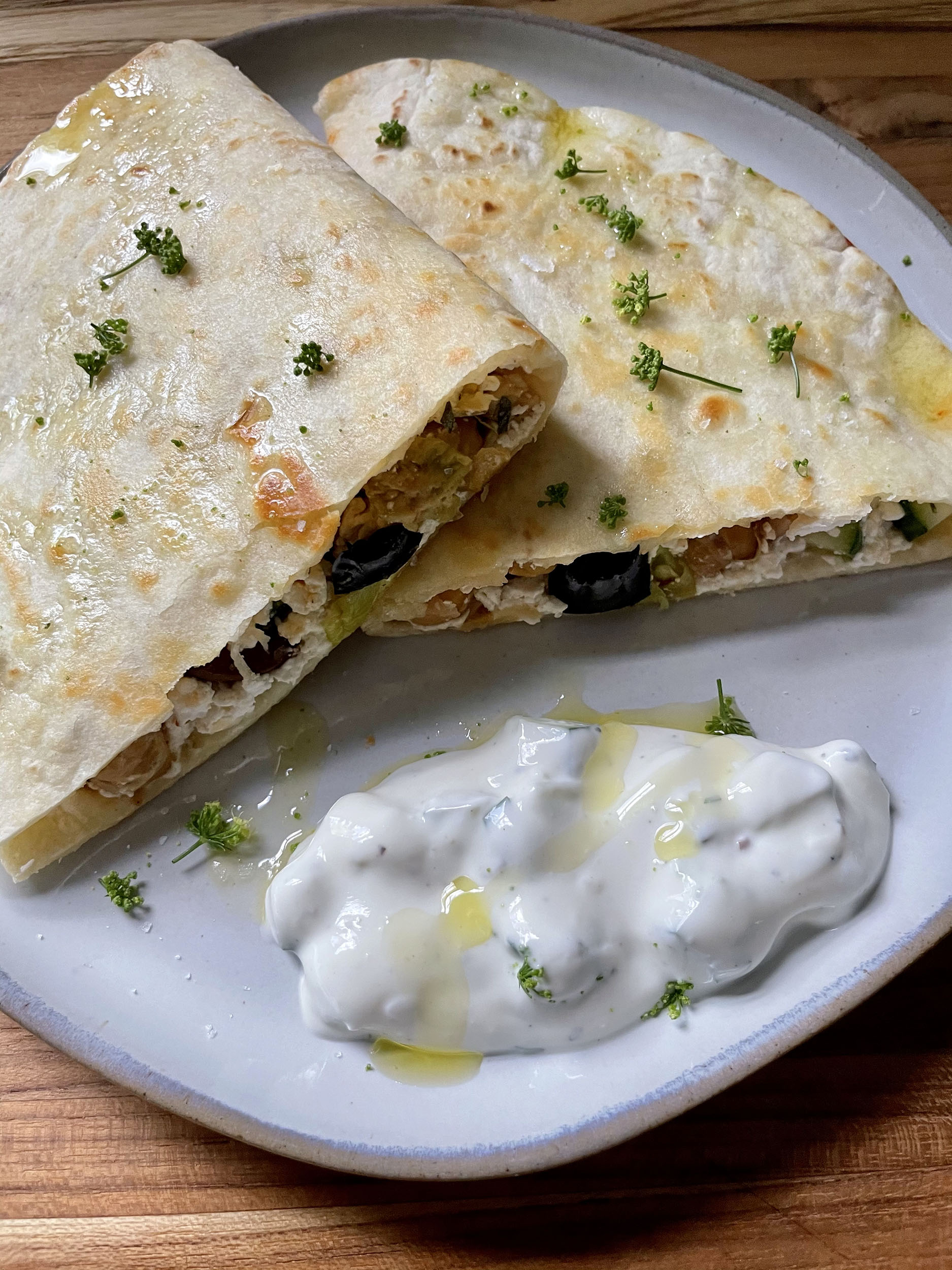 Print Recipe
Mediterranean Quesadilla
Lightly fried chickpeas mix with cucumbers, tomatoes olives and feta, wrapped in a golden, toasted tortilla.
Ingredients
2-3 tbsp. Grapeseed Oil

1 can Chickpeas, drained

Pinch of Paprika

Pinch of Kosher Salt

Fresh Parsley, chopped

Fresh Oregano, chopped

1/2 English Cucumber, diced

Grape Tomatoes, halved

Kalamata Olives, sliced

Chalkidiki Olives, sliced

Pepperoncini Peppers, sliced

Feta, crumbled

1-2 Large Flour Tortillas

Olive Oil
Instructions
1
Heat a few tablespoons of grapeseed or vegetable oil over medium-high heat until it's shimmering. Toss in the drained can of chickpeas. Sprinkle with Kosher salt and paprika, stir every now and then, until the chickpeas are golden and their skins are crispy, about 5-7 minutes. Then toss in the fresh chopped herbs. Fry with the herbs for another 2-3 minutes.
2
Set the chickpeas aside and wipe out the skillet. Then, transfer the fried chickpeas to a large mixing bowl.
3
Add the prepped veggies to the bowl with the chickpeas. Stir to combine.
4
In the now-empty skillet, over medium-low or low heat toast one side of the tortilla. Flip and add feta to one side of the tortilla.
5
Add some of the chickpea veggie mixture on top of the feta.
6
Add a little more feta on top of the veggie mixture and fold the tortilla over the mixture.
7
Press the tortilla and drizzle with olive oil and flip the tortilla.
8
Continue to drizzle and flip the quesadilla until it's nicely golden brown on both sides.
9
Top with more olive oil, fresh parsley and serve.