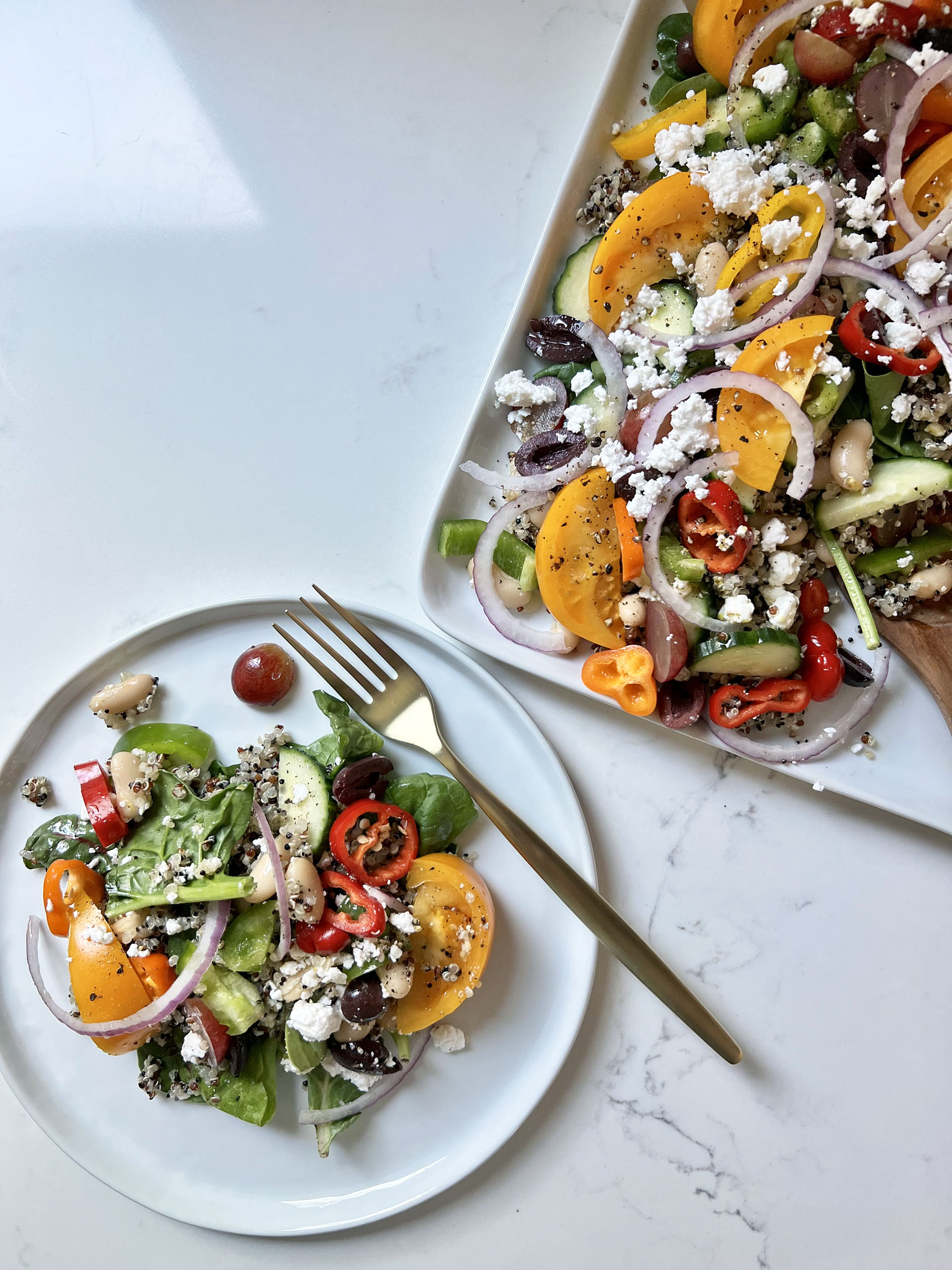 Print Recipe
Mediterranean Quinoa Salad with Lemon Feta Dressing
Mediterranean Quinoa Salad is a rainbow of fresh vegetables, with beans and greens dressed in a light lemon feta dressing.
Ingredients
3/4 cup Quinoa, rinsed and drained

1.5 cups water

1 can Beans of your choice, drained and rinsed

Lemon Feta Dressing

1/3 cup Feta Cheese, crumbled

1/4 cup Lemon Juice

Zest of 2 Lemons

1/4 cup Olive Oil

1 tsp. Dried Oregano, crushed

1 tsp. Kosher Salt

Vegetables

Greens such as baby spinach and kale

Multi-color Bell Peppers

Cucumber

Kalamata Olives

Red Grapes

Tomato

Red Onion

Finishing Touches

Flaky Finishing Salt

Black pepper

Olive Oil

Feta
Instructions
1
Rinse and drain 3/4 cup of quinoa in a fine mesh strainer and add it to a small saucepan, along with 1.5 cups of water. Bring to a boil then cover and reduce the heat to low. Cook for about 15 minutes, until the water is completely absorbed.
2
Spread the cooked quinoa out on a sheet tray to let it cool. Set the quinoa aside.
3
In a large measuring cup or small bowl, whisk together the dressing ingredients and set aside.
4
Add 1 can of drained and rinsed beans to the quinoa. Pour about half of the lemon feta dressing over the quinoa and beans, stir to mix the dressing in.
5
Spread the greens out as the first layer of the salad. Then top the greens with the dressed quinoa and bean mixture.
6
For the rest of the veggies, we will just scatter them evenly over one another to layer up a rainbow of color and texture.
7
Pour the remaining dressing over the layered salad and top with more olive oil, flaky finishing salt, black pepper and extra feta.