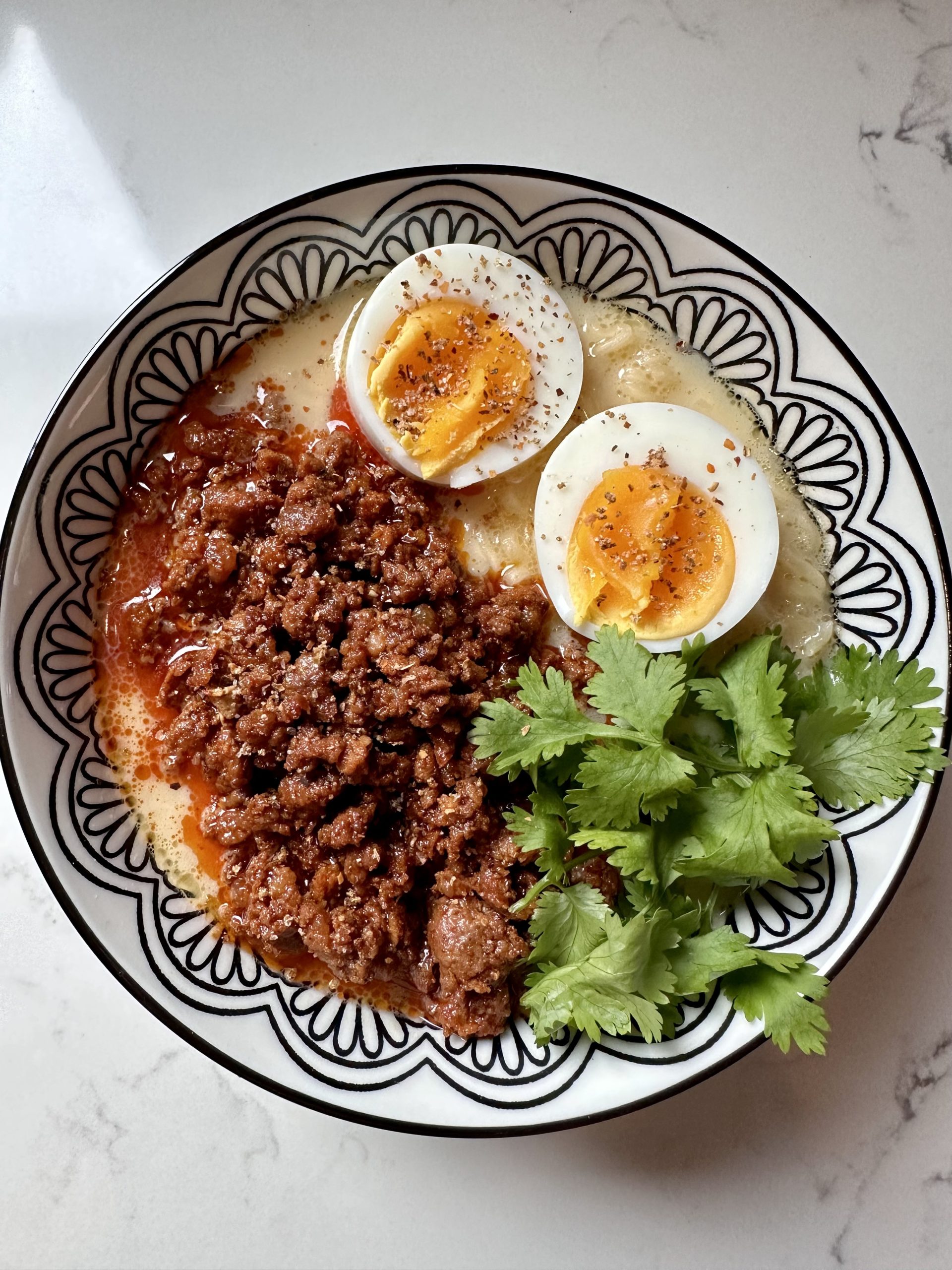 Print Recipe
Mexican Chorizo Ramen
Super Simple, Super delicious! Mix up the flavors of Instant Ramen with Mexican Chorizo, American Cheese and cilantro.
Ingredients
4-8 oz. Mexican Chorizo

1-2 Large Eggs

1.5 cups Water

1 tsp. Better Than Bouillon (chicken or beef)

1 Package Instant Ramen Noodles

1 American Cheese Single

Fresh Cilantro

Tajín Seasoning
Instructions
1
Start by cooking the chorizo in a skillet, breaking it up as it cooks, until it's browned and cooked through.
2
Meanwhile, bring a saucepan of water to boil. When it's boiling, gently add one or two eggs and set a timer for 8 minutes.
3
Remove the chorizo from heat when it's cooked through and set aside.
4
When the 8 minute time on the eggs is up, transfer the eggs to an ice bath.
5
Rinse out the egg saucepan and add 1.5 cups of water.
6
Place the saucepan back on the stove over high heat and bring to a boil. When the water is boiling, add a teaspoon of Roast Chicken Better Than Bouillon. Stir to dissolve the bouillon. Then add the ramen noodles.
7
Use a fork to flip over the block of ramen noodles and then gently separate the noodles with the fork. As soon as the noodles separate easily, remove from heat. The hot broth will finish cooking the noodles without overcooking them.
8
Meanwhile, peel one of the boiled eggs.
9
Pour the noodles and the broth into a noodle bowl. Place an American Cheese single over the noodles and use the fork to stir in the cheese until it's all melted and incorporated.
10
Add the chorizo to the ramen bowl.
11
Slice the egg in half at its equator and place the halves (yolk side up) in the ramen bowl. Then top the Mexican Chorizo Ramen with a small handful of cilantro leaves.
12
To finish off the Mexican Chorizo Ramen, sprinkle Tajín over the egg halves.