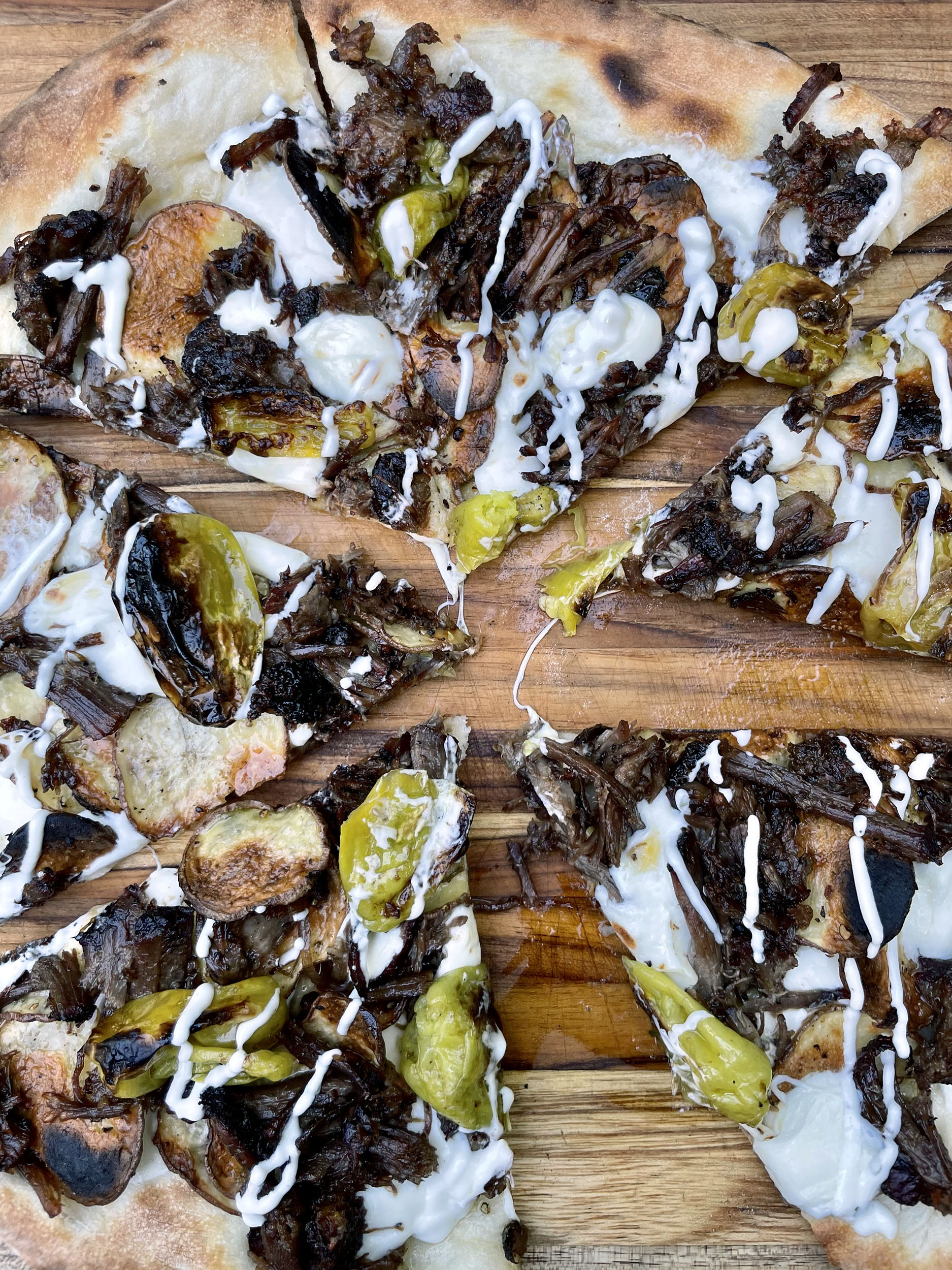 Print Recipe
Mississippi Pot Roast Pizza
Leftover post roast gets new life on a pizza; with roasted potato slices, pepperoncini peppers, drizzled au jus and ranch dressing.
Ingredients
1 Prepared Pizza Dough

1 8-oz. Package Mozzarella Pearls

1 large Potato, sliced thinly and roasted with Kosher salt and pepper until golden

1 cup Pot Roast leftovers, shredded

6-8 Pepperoncini Peppers

Drizzle of Leftover Au Jus Sauce, from the original pot roast

Drizzle of Ranch Dressing
Instructions
1
Preheat oven to 450 degrees.
2
On a floured pizza peel, dust the dough with flour and create a crust around the perimeter of the dough and flatten down the center.
3
Stretch it out on the backs of your hands, left hand over right hand, until the dough is roughly 12-inches around.
4
Add more flour evenly on the peel and lay the dough on the peel.
5
Scatter about half of the mozzarella pearls, evenly over the dough.
6
Evenly place the roasted potato slices over the cheese.
7
Top with the shredded leftover pot roast.
8
Add as many of the remaining mozzarella pearls as you like.
9
Top with the pizza with pepperoncini peppers.
10
Bake the pizza for 15 minutes, or until the crust is golden and the cheese is melted and bubbly.
11
Once the pizza is out of the oven, drizzle some of the leftover au jus over the pizza; and then a good drizzle of ranch dressing.