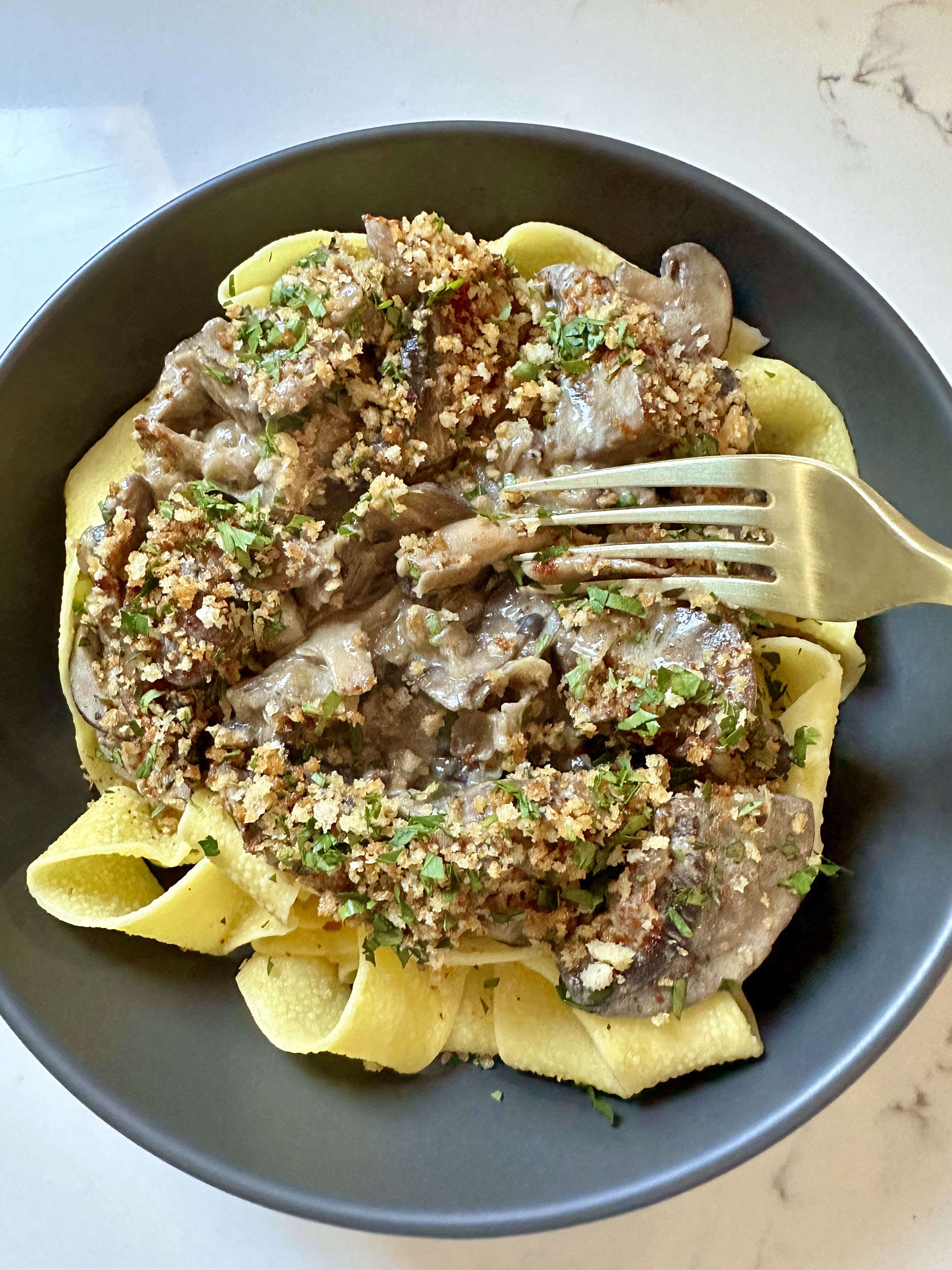 Print Recipe
Mixed Mushroom Stroganoff
A recipe perfectly at home in the colder weather, a hearty and meaty, meatless dish of Mixed Mushroom Stroganoff.
Ingredients
2 tbsp. Extra-Virgin Olive Oil

1.5 lbs. Mixed Mushrooms (oyster, shiitake, cremini or button), stemmed and sliced into halves and quarters

1 Yellow Onion, finely diced

Kosher Salt

3-4 Sprigs Fresh Thyme

4 Garlic Cloves, finely chopped

1/2 cup White Wine

1 cup Vegetable Stock

2 tbsp. Soy Sauce

1.5 tsp. Dijon Mustard

1/2 cup Sour Cream or crème fraîche

Black Pepper

Sweet Paprika, for dusting

Toasted Panko Breadcrumbs, optional as garnish

Handful of Chopped Parsley Leaves, as garnish

Serve over wide egg noodles, or rice, or polenta
Instructions
1
Get a large skillet over medium-high heat with about 2 tablespoons of olive oil. Add the mushrooms to the skillet and let them cook. Stir every so often. At first it will seem like an impossible amount of mushrooms, but they will cook down a lot.
2
If you are serving this Mixed Mushroom Stroganoff with egg noodles, get the water going for the noodles now.
3
Once the mushrooms have begun to soften, add the diced onion and continue cooking and occasionally stirring.
4
Once the onions have softened, add the garlic and the fresh thyme. Season with a good pinch of kosher salt. Stir well and continue cooking.
5
Once the mushroom liquid has mostly cooked off and the skillet becomes dry, add the wine to deglaze the pan. Stir up the brown bits from the bottom of the skillet. Let the wine sizzle, bubble and cook off.
6
After the wine has been absorbed by the mushrooms and the rest has cooked off, add the vegetable broth and the soy sauce.
7
At this point the water for the noodles should be ready, so go ahead and salt the water and cook the noodles according to package directions.
8
Let the broth simmer with the mushrooms until it has reduced and thickened a bit. You'll know it's there when you drag your silicone spatula through the liquid and it leaves a trail that slowly fills in.
9
When the broth is thickened a bit, remove the pan from the heat. Drain the noodles.
10
Off heat, add the Dijon mustard and the sour cream to the Mushroom mixture. Stir the sour cream and the Dijon into the mushrooms to fully incorporate. Season with a few cranks of fresh black pepper.
11
Serve noodles topped with Stroganoff in wide shallow bowls.
12
Top with a dusting of sweet paprika, a sprinkling of the toasted breadcrumbs and the chopped parsley.
13
I like to top Stroganoff with toasted breadcrumbs for added texture. If you want to try this, toast 1/2 cup of Panko in a dry skillet and season with a small pinch of kosher salt.