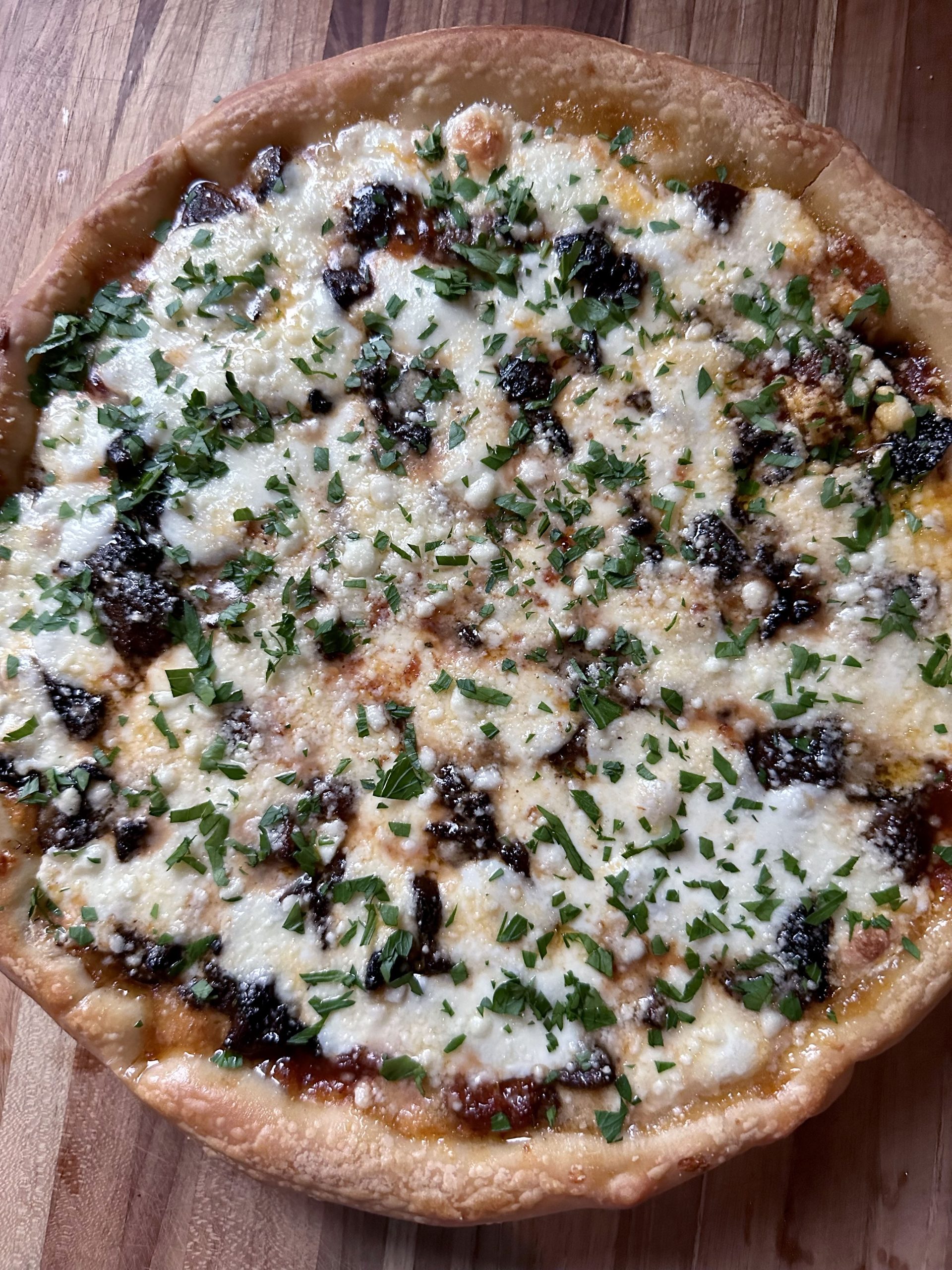 Print Recipe
Mushroom Pan Pizza
A deep dish-style pan pizza with earthy, sautéd mushrooms, tomato-rich meat sauce, mozzarella and Parmesan cheese.
Ingredients
1 oz. Dried Mushrooms, like Porcini

4-6 oz, Fresh Mushrooms, sliced

1/4 cup Water

Olive Oil, divided

Kosher Salt

Fresh Thyme or Rosemary, minced

1 Prepared Pizza Dough

1/2 cup grated Low Moisture Mozzarella

1-1.5 cups Prepared Tomato Sauce

8 oz. Fresh Mozzarella Pearls

Parmesan Cheese

Chopped Fresh Herbs, like Parsley, for garnish
Instructions
1
Preheat the oven to 400 degrees F.
2
Reconstitute the dried mushrooms in hot water for about 10 minutes. Then strain the liquid and add the liquid and the reconstituted Porcinis to a pan with sliced mushrooms and about 1/4 cup of water. Over medium-high heat, let the liquid boil and cook off until the pan is dry.
3
Sprinkle a pinch of kosher salt on the mushrooms and drizzle on a little olive oil. Sauté the mushrooms in the olive oil for a few minutes, until the mushrooms develop a little browning. Sprinkle the mushrooms with some fresh thyme or rosemary, stir and take off the heat. Set the pan aside.
4
Use a cast iron or other oven safe pan, and rub a little olive oil over the entire inside surface of the pan.
5
Take your prepared pizza dough and stretch it into the pan, pulling the sides of the dough up to cover the sides of the pan. Spread a layer of grated low moisture mozzarella over the bottom of the dough as the first layer.
6
Then top the cheese with your prepared tomato sauce.
7
Spread the mushrooms over the red sauce. Then top with fresh mozzarella pearls.
8
Bake the Mushroom Pan Pizza for about 20 minutes, until the crust is risen and golden and the cheese is melted.
9
This next part is optional. When the pizza is done, take it out of the oven and ease the pie out of the pan.
10
Then sprinkle grated Parmesan over the top and slide the pizza back into the oven (sans pan) for about 5 minutes to melt the Parmesan. Keep an eye on the pizza so the bottom crust does not burn.
11
When the pizza comes out for the second time, set it on a wire rack and top with chopped parsley.