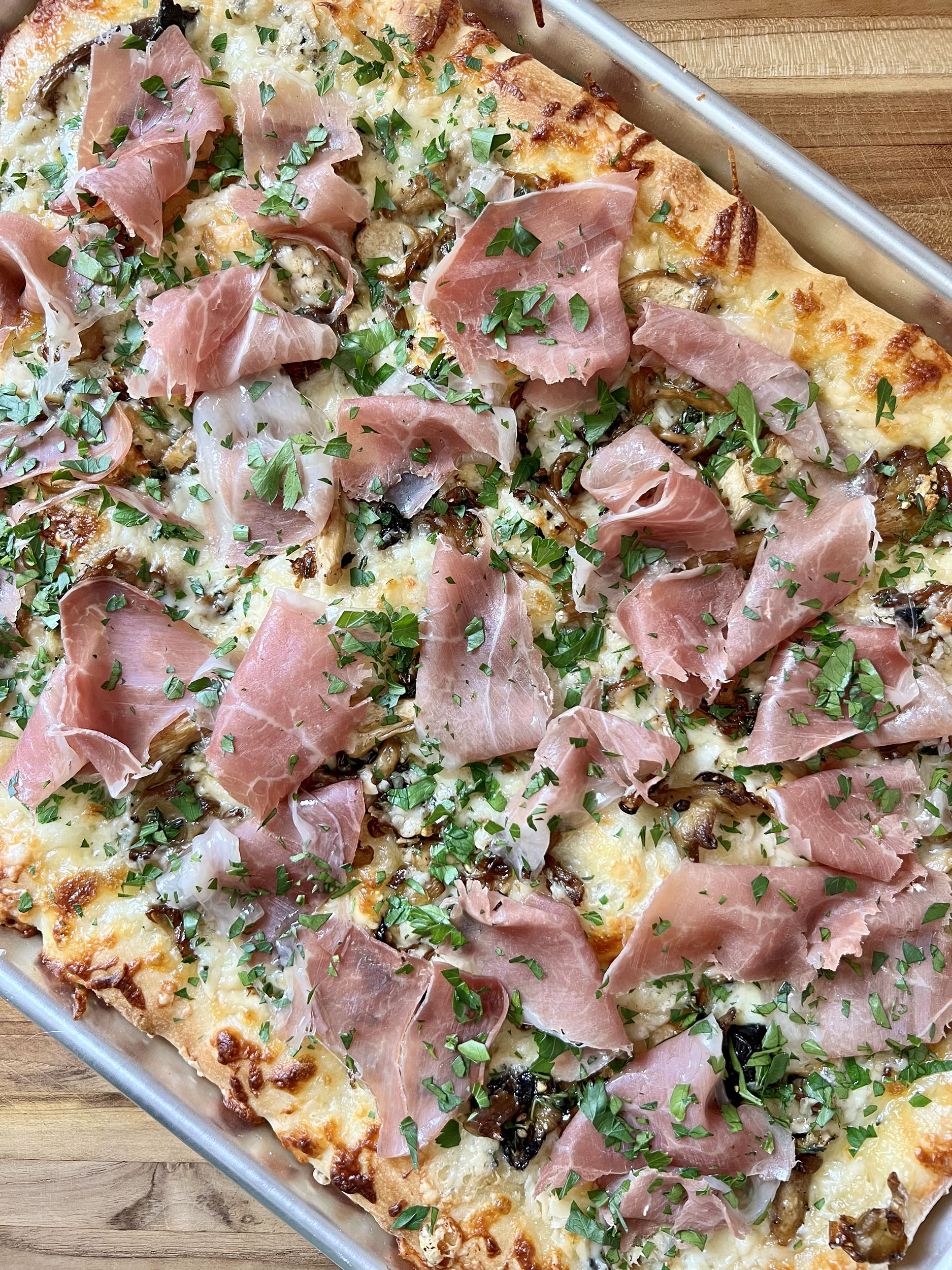 Print Recipe
Mushroom Prosciutto Pizza
Three kinds of cheese with mushrooms and prosciutto come together to bring such a wonderful combination of savory flavors and textures.
Ingredients
8 oz Mushrooms, lightly chopped

Olive Oil

2 tsp. Fresh Thyme Leaves

1 Prepared Pizza Dough

1/2 cup Grated Mozzarella

1/2 cup Grated Gruyere

1/4 cup Crumbled Blue Cheese

3 oz. Prosciutto

2-3 tbsp. Italian Parsley, minced
Instructions
1
Transfer the mushrooms to a pan and add about 1/4 cup of water.
2
Turn the burner to medium-high and while stirring occasionally, let the mushrooms cook in the water until all the water is evaporated.
3
Then add a drizzle of olive oil and sauté the mushrooms until they begin to develop some light browning.
4
Add about 2 teaspoons fresh thyme leaves, a sprinkle of kosher salt and fresh cracked black pepper. Stir in the seasoning and remove from heat. Set the pan of mushrooms aside.
5
Preheating the oven to 450 degrees F, Place an oven rack on the lower-middle position.
6
Lightly oil a quarter sheet pan with olive oil. Then roll, stretch, or press your dough into the oiled sheet pan. Drizzle a little olive oil over the dough and use a brush to evenly coat the dough with a light layer of oil.
7
Start with the mozzarella cheese. Spread an even layer of the grated mozz over the oiled dough.
8
Follow the mozzarella with the Gruyere and then the sautéd mushrooms.
9
Top the mushrooms with crumbles of blue cheese. Use enough blue cheese to get an even distribution, but don't overdo it, as the blue cheese will overpower the the other flavors.
10
Bake the pizza on the lower-middle rack for 15-20 minutes, until the cheese is melted and the crust is puffed and golden. When it comes out, check the bottom, if it's too blond for your liking, you can slide the pizza out of the pan and place the pizza directly on the lower-middle rack and bake for a few more minutes.
11
When the pizza comes out, top it with the prosciutto. Gently tear each piece of prosciutto in half and make little bundles out the prosciutto and place them evenly over the pizza. Then sprinkle with rough chopped fresh parsley.