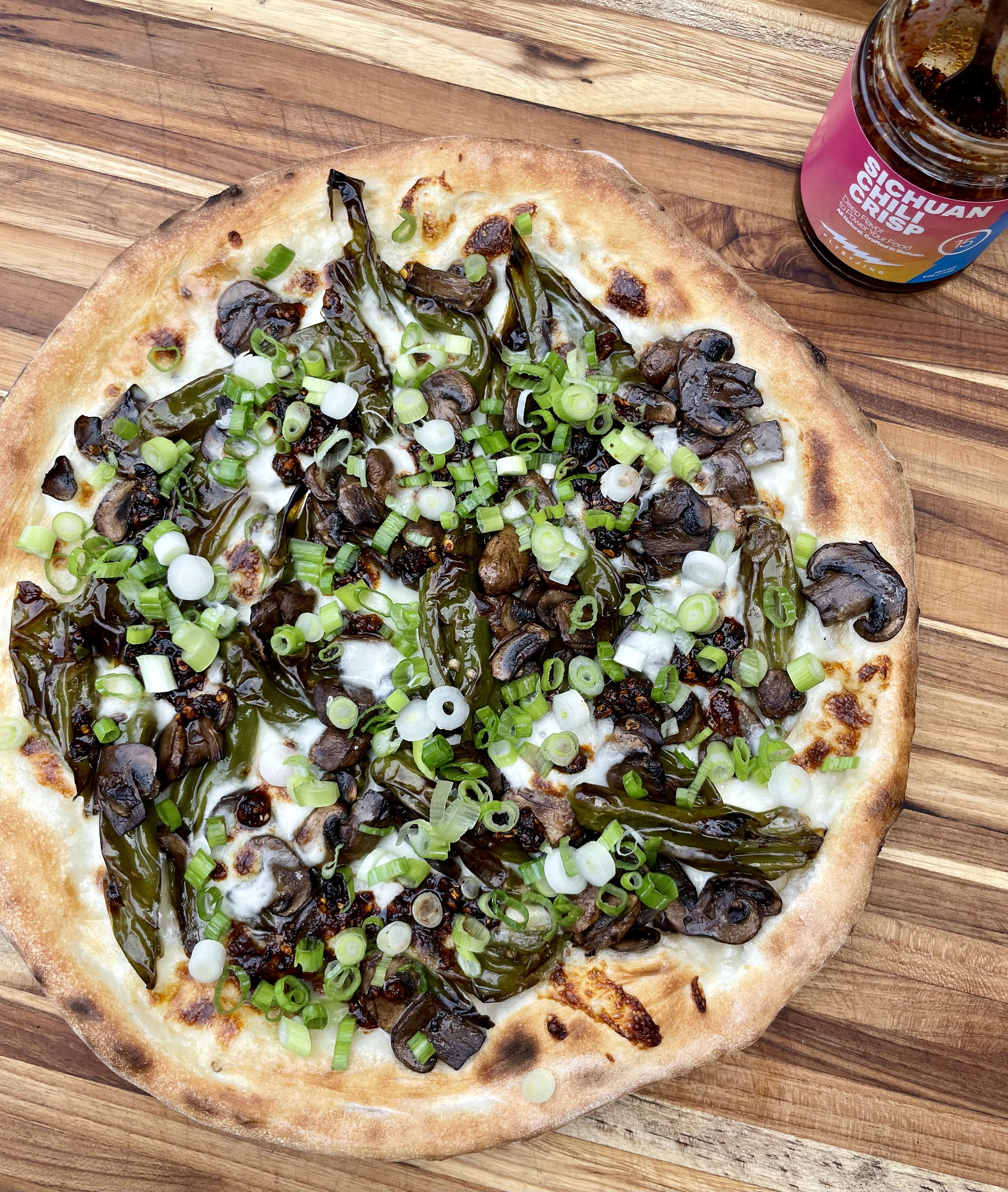 Print Recipe
Mushroom Shishito Pepper Pizza
Blistered Shishito peppers and mushrooms sautéd with soy sauce and rice vinegar top a mozzarella base; finished with chili crisp and scallions.
Ingredients
1 8-oz. Package of Mushrooms, sliced

1/4 cup Water

Drizzle of Sesame Oil

Drizzle of Olive Oil

8 oz. Shishito Peppers, stemmed and sliced in half on the bias

Drizzle of Soy Sauce

Drizzle of Rice Vinegar

1 Prepared Pizza Dough

8-10 oz. Low Moisture Mozzarella, torn into medium-sized pieces, or grated

Fly By Jing Chili Crunch

3 Scallions (green and white parts), finely sliced
Instructions
1
Over medium heat, with about 1/4 cup of water, cook the sliced mushrooms, stirring occasionally until the water evaporates. When the water is cooked off, drizzle just a little sesame oil over the mushrooms and keep sautéing until the mushrooms begin to brown.
2
Transfer the mushrooms to a plate.
3
Drizzle a little olive oil in the pan and then add the halved, stemmed shishito peppers. Leave them undisturbed for about 4 minutes, give them a stir and let them go for another 4 minutes.
4
Keep cooking and stirring the shishitos until they develop blistered deep brown spotting, maybe another 5 minutes, or so. When the shishitos have spotty brown blistering, add the mushrooms back to the pan. Give it all a stir to combine and drizzle some soy sauce and a splash of rice vinegar to finish. Transfer to a bowl, cover and refrigerate until ready to use.
5
Preheat oven to 450 degrees.
6
On a floured pizza peel, dust the dough with flour and create a crust around the perimeter of the dough and flatten down the center.
7
Stretch it out on the backs of your hands, left hand over right hand, until the dough is roughly 12-inches around.
8
Add more flour evenly on the peel and lay the dough on the peel.
9
First add about 3/4 of the torn mozzarella cheese, scattered evenly over the dough.
10
Top with the mushroom and shishito pepper mixture, and top with remaining mozzarella.
11
Bake for 15 minutes, or until the crust is golden and puffy and the cheese is melted and bubbly.
12
Once out of the oven, dollop the Fly By Jing Chili Crisp around the pie and evenly scatter the sliced scallions over the top.