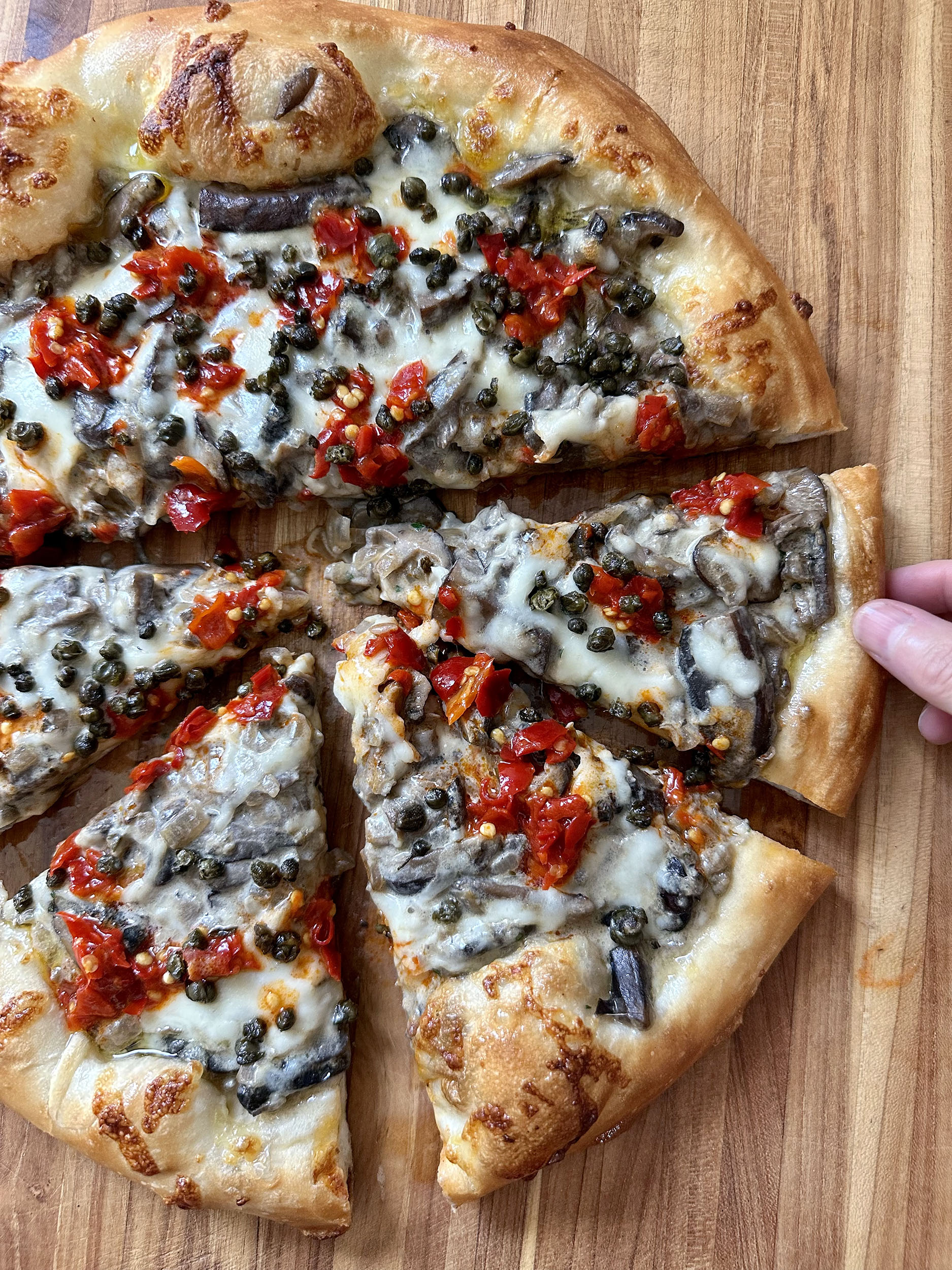 Print Recipe
Mushroom Stroganoff Pizza
Leftover Mushroom Stroganoff tops a pizza with mozzarella. Baked to golden and topped with fried capers and chopped Calabrian Chiles.
Ingredients
2 tbsp. Capers, rinsed and patted dry

Drizzle of Olive Oil

1 Prepared Pizza Dough

~1 cup Leftover Mixed Mushroom Stroganoff (see Mixed Mushroom Stroganoff on Djalali Cooks for recipe)

1 cup Grated Mozzarella Cheese

Chopped Calabrian Chiles
Instructions
1
Preheat the oven to 450 degrees F, with a pizza steel or stone.
2
Fry the rinsed and dried capers in a little olive oil over high heat. Stir occasionally. Cook Just until they start to look a little crispy and slightly browned.
3
Transfer the fried capers to a paper towel to drain excess oil and set aside.
4
Roll Stretch or spin your dough out on a lightly floured pizza peel. Sprinkle about half of the grated mozzarella on the dough. Then spoon on the Mushroom Stroganoff. Evenly spread the mushroom mixture over the dough and cheese.
5
Top the mushroom mixture with the remaining cheese. And we are ready for the oven.
6
Bake the pizza on the preheated pizza stone or steel for about 12-15 minutes. Until the cheese is melted and bubbly and the crust is puffed and golden. When the pizza comes out and the crust is still very hot, brush olive oil over the crust.
7
Then top the pizza with the fried capers and dollops of the chopped Calabrian Chiles. Slice the pizza and that's it!