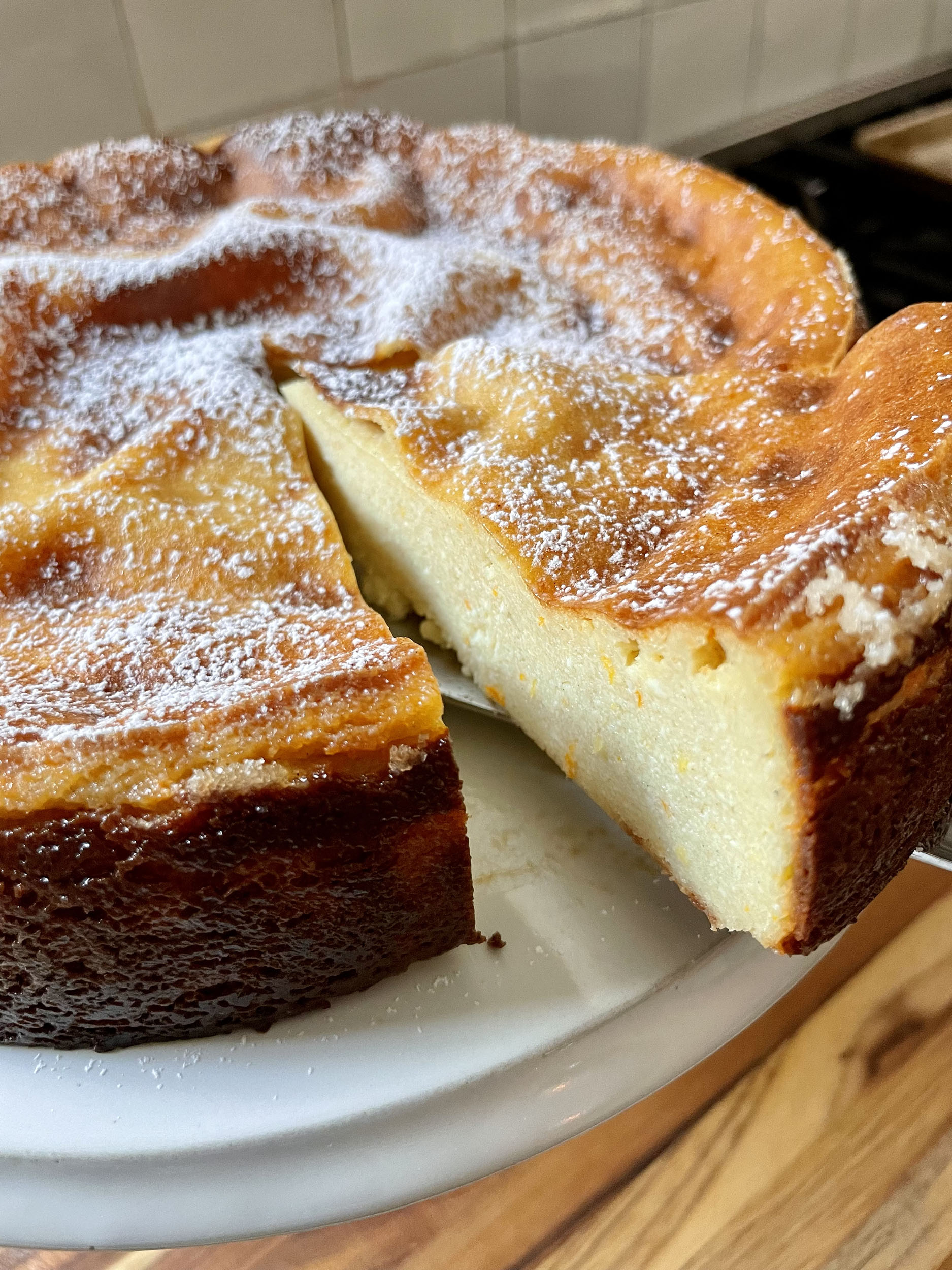 Print Recipe
Neapolitan Semolina Cake with Citrus and Cardamom
Like a cross between cake and flan; the texture is dense and creamy, yet light and refreshing. Lightly sweet, perfumed with citrus, vanilla and spice.
Ingredients
4 tbsp. Unsalted Butter, plus softened butter for pan

3/4 cup Granulated Sugar, plus extra for pan

4 Large Eggs

12 oz. (1½ cups) Whole-Milk Ricotta Cheese

2 tbsp. Orange Liqueur

2 tsp. Vanilla Extract

3/4 cup Semolina Flour

3 cups Whole Milk

2 tbsp. Grated Lemon Zest (2 lemons)

1½ tbsp. Grated Orange Zest

1 tsp. Ground Cardamom

1/2 tsp. Table Salt

Confectioners' Sugar
Instructions
1
Adjust oven rack to middle position and heat oven to 375 degrees.
2
Grease 9-inch springform pan with softened butter; dust with granulated sugar and knock out excess. Set prepared pan in rimmed baking sheet and set aside.
3
Using stand mixer fitted with the paddle attachment, beat eggs on medium-low speed until combined.
4
Add ricotta, liqueur, and vanilla and mix on medium speed until smooth, 2 to 3 minutes, scraping down bowl as needed.
5
Mix semolina and granulated sugar in small bowl until combined.
6
Heat milk, lemon zest, orange zest, cardamom, salt, and butter in large saucepan over medium-low heat, stirring occasionally, until mixture registers 180 degrees.
7
Off heat, pour semolina mixture into milk mixture in very slow stream, whisking constantly, until smooth.
8
Return saucepan to heat and stir constantly with wooden spoon until mixture pulls away from side of saucepan, 3 to 7 minutes.
9
Add one-third of semolina mixture to ricotta mixture and mix on medium speed until incorporated.
10
Add remaining semolina mixture in 2 additions, mixing after each addition until incorporated. Continue to mix, scraping down bowl as needed, until mostly smooth (small lumps are ok), 3 to 5 minutes longer.
11
Transfer batter to pan. Bake until top is golden brown, edges are slightly puffed (some slight cracking is ok), and center is slightly jiggly, 50 minutes to 1 hour.
12
Transfer cake, still on sheet, to wire rack and let cool for 10 minutes.
13
Run knife around edge of cake to loosen. Unlock pan ring, but leave ring in place. Let cool completely, 1½ to 2 hours.
14
Refasten ring. Refrigerate cake until firm and thoroughly chilled, at least 12 hours or up to 24 hours.
15
To unmold cake, remove the springform pan ring.
16
Slide an offset spatula between cake and pan bottom to loosen, then slide cake onto serving platter. Let cake stand at room temperature for about 30 minutes. Sprinkle top with confectioners' sugar. Slice with sharp knife, wiping knife clean between cuts.
Notes
If you cannot find Semolina Flour, you can substitute Cream of Wheat cereal.