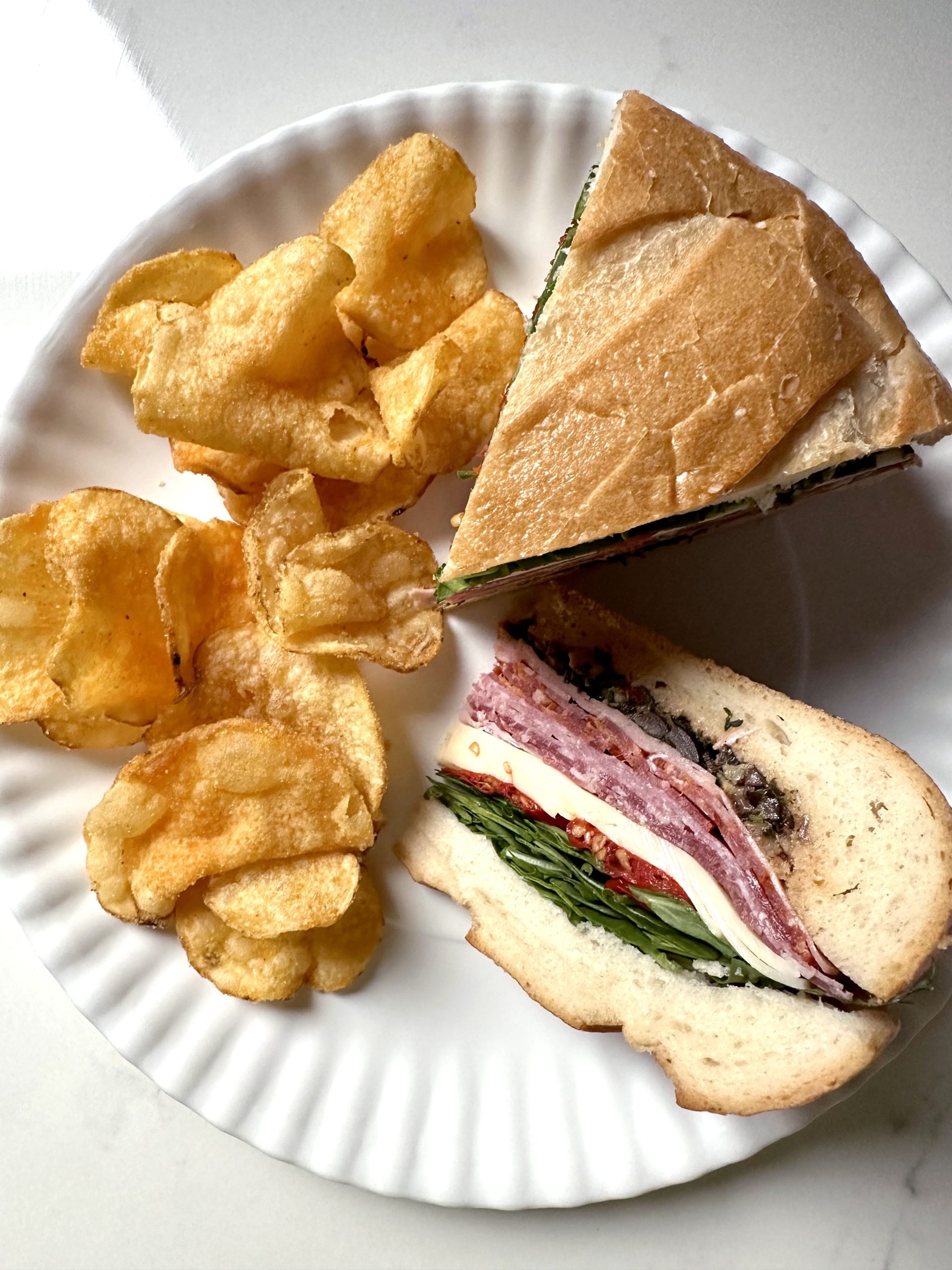 Print Recipe
New Orleans Muffaletta Sandwich
Celebrate Mardi Gras Season with the classic New Orleans pressed Sandwich, the Muffaletta. Don't forget the Zapp's Voodoo Kettle Chips!
Ingredients
Olive Salad

2 oz. Oil-cured Black Olives, pitted and chopped

6 oz. Green Olives, pitted and chopped

1 Anchovy Fillet, chopped (optional)

Juice of 1/2 Lemon

1/4 cup Extra-Virgin Olive Oil

2 tbsp. Red Wine Vinegar

2 tbsp. Fresh Oregano Leaves, chopped

1.5 tsp. Fresh Thyme, chopped

1.5 tsp. Chopped Fresh Parsley

Hot sauce, such as Crystal

Kosher Salt and Freshly Ground Pepper

Muffaletta

1 Large Boule Loaf

Olive Salad

Mortadella

Spicy Soppressata or Spanish Chorizo

Salami

Coppa or Black Forest Ham

Provolone or Fontina

Peppadew Pickled Peppers

Arugula
Instructions
1
In a medium bowl, combine the chopped olives; 1 chopped anchovy fillet, lemon juice, extra virgin olive oil, red wine vinegar, Fresh oregano, thyme and parsley, hot sauce, kosher salt and black pepper. Set this olive salad aside and we can move on to building the sandwich.
2
Use a serrated knife to slice the loaf in half horizontally. Then, pull out the insides to create a hollow in both the top and bottom of the boule.
3
Start with filling the hollow space in the bottom of the boule with the olive salad. Depending on the size of your bread, you may not use all the olive salad. Go with as much olive salad as feel right to you. There's no measurement for this.
4
Next we go with the mortadella. There's a lot of meat here, so be conservative with each layer. Just shingle enough meat slices to fully cover the surface for each layer. Next we have the spicy soppressata or Spanish Chorizo.
5
Then we have the salami and then the coppa. Time for the cheese. And then the spicy sweet peppers.
6
Finally a couple handfuls of baby arugula, and then the top of the boule.
7
Make a cross-shape out of two long pieces of plastic wrap and set the Muffaletta Sandwich in the center. Then tightly pull up the sides of the plastic wrap over the sandwich. Set the sandwich on a sheet tray and set a Dutch oven, cast iron skillet, or other very heavy, flat-bottomed, round (refrigerator safe) thing on top. Maybe use a sheet tray set on top and then heavy canned goods on top of the sheet tray.
8
Set this whole situation in the fridge overnight.
9
After a nice overnight in the fridge, remove the plastic wrap, use a serrated knife to slice the sandwich into wedges and serve with Zapp's Voodoo Potato Chips.