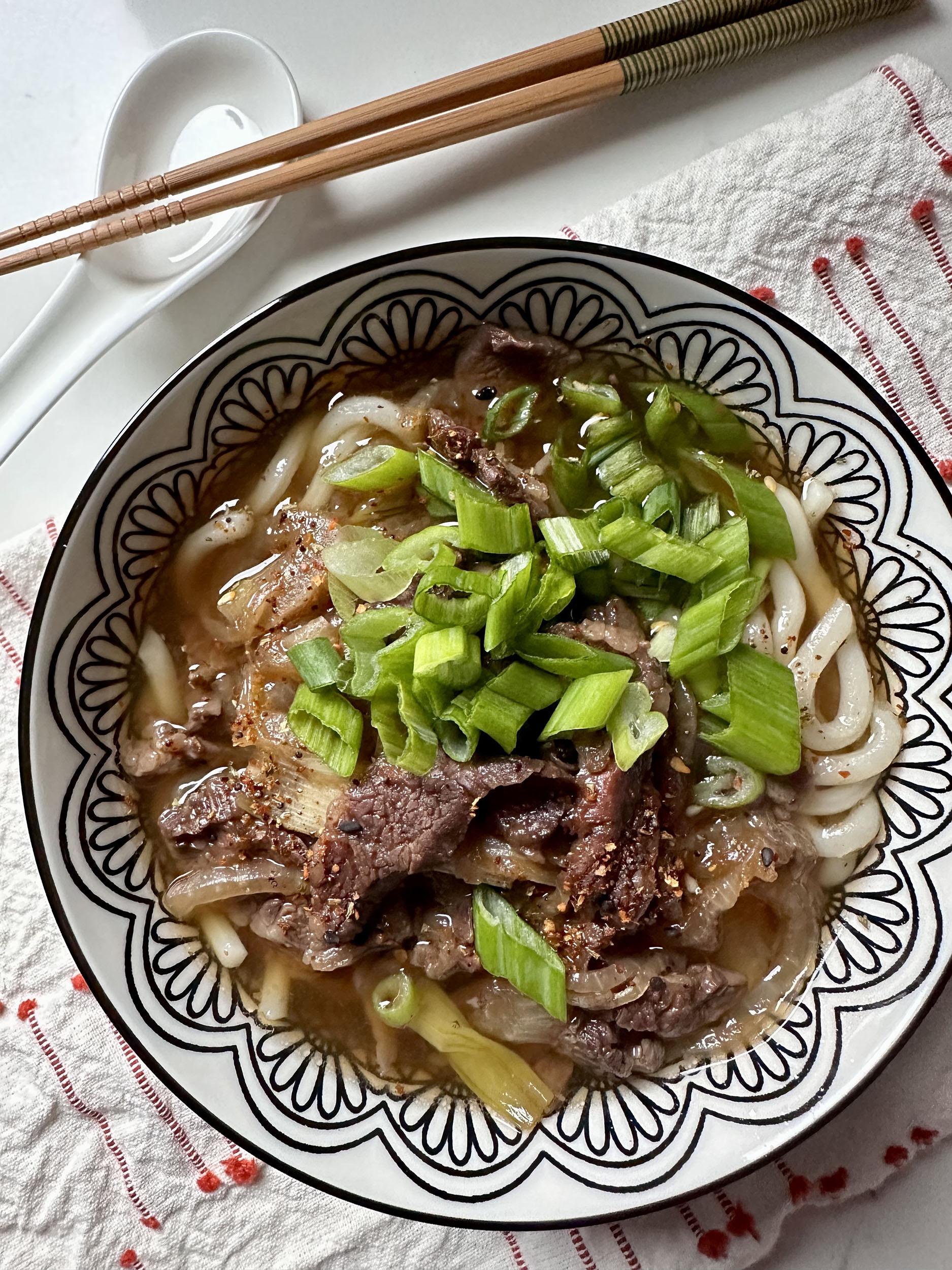 Print Recipe
Niku Udon (Japanese Beef Noodle Soup)
Niku Udon is savory and slightly sweet, with thick and chewy udon noodles, this soup is addictive; warm and comforting on a cold wintry day.
Ingredients
Dashi

4 cups Water

3 Instant Dashi Packets

2 tbsp. Mirin (added to dashi just before serving)

2 tbsp. Soy Sauce (added to dashi just before serving)

Beef and Onions

1 lb. Flank Steak

1 Small Yellow Onion, thinly sliced

1 Bunch Scallions, white and light green parts cut into 2-inch segments, dark green parts thinly sliced at an angle (dark green parts for topping)

1 tbsp. Granulated Sugar

1/4 cup Sake

2 tbsp. Soy Sauce

2 tbsp. Mirin
Instructions
1
To prep the flank steak, slice it with the grain into 3-inch pieces. Then slice each 3-inch piece against the grain, into very thin strips, about 1/8-inch thick. Set the prepped beef aside and we can move on to the dashi.
2
In a saucepan, heat 4 cups of water over medium heat. Add three dashi packets to the saucepan with the water. Let the water come to a vigorous simmer and reduce the heat to keep it lightly simmering and cover the pan. After 5 minutes, discard the the dashi packets and cut the heat. Transfer out 1 cup of the dashi for the beef and onions. Keep the heat on the lowest setting and keep the saucepan covered.
3
In a skillet over high heat, combine the beef, sliced onion, scallions, soy sauce, mirin, sugar and one cup of the dashi broth.
4
Bring to a vigorous simmer and stir frequently. Keep the mixture simmering, while frequently stirring until most of the liquid is reduced, the onions are soft and beef is cooked and tender. About 15-20 minutes.
5
We want the beef and onion mixture moist but not soupy.
6
Prepare your Udon Noodles according to the package directions.
7
Transfer individual servings of udon noodles to bowls. Cut the heat on everything.
8
Add mirin and soy sauce to the remaining dashi, stir and ladle dashi broth over the noodles. If your noodles (like mine) came in a packet, use chopsticks to loosen the heated noodles in the hot dashi.
9
Then divide the beef and onion mixture between the bowls.
10
Top the Niku Udon with the sliced scallion greens and togarashi, if desired.