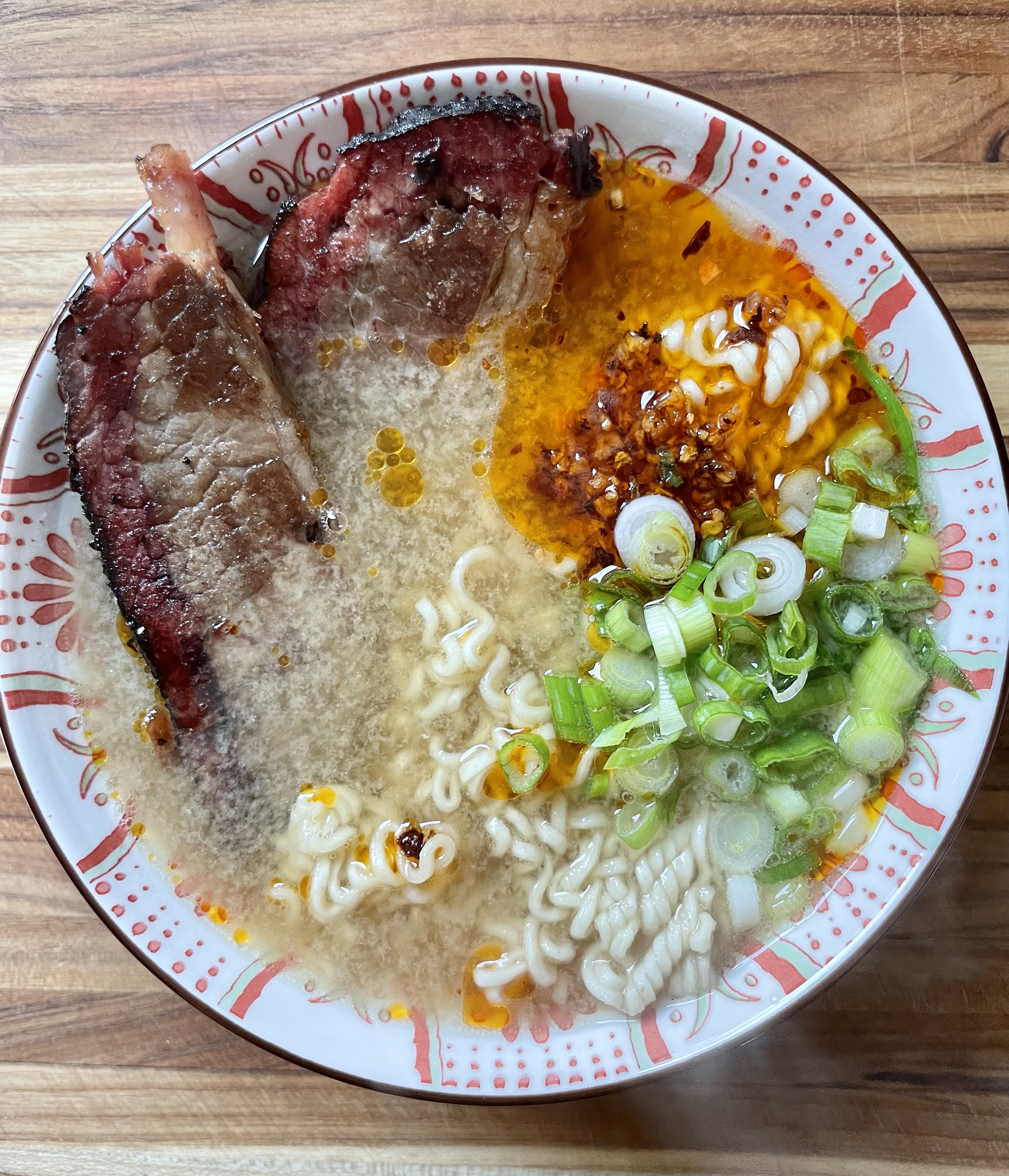 Print Recipe
Not-so-Instant Instant Ramen
Take Instant Ramen to another level by chucking the seasoning packet and creating a simple, flavorful broth with miso and Better Than Bouillon paste. Customize your toppings and enjoy perfectly cooked noodles, in about 5 minutes!
Ingredients
1 and 3/4 cups Water

1 tsp. Better Than Bouillon Paste (any flavor)

1 tsp. White Miso Paste

1 Package Instant Ramen Noodles (seasoning packet discarded)

1 Slice American Cheese

Toppings

Soft or Hard Boiled Egg

Sliced Scallions

Chile Crunch

Chopped Cilantro

Furikake Seasoning

Leftover Protein (chicken, steak, brisket, pulled pork, tofu, tempeh)
Instructions
1
Pour water into a small saucepan. Over high heat, add the bouillon and miso paste, bring water to a vigorous boil. Stir to dissolve the seasoning pastes.
2
Add Instant Ramen Noodles, Let cook for a few seconds and flip the square of noodles over, cook a few more seconds.
3
Use a fork to unfold the noodles into a rectangle and flatten to submerge noodle rectangle into the broth. Turn off the heat.
4
Let the noodles sit in the hot broth for 1-2 minutes. Loosen and separate the noodles with a fork and pour the broth and noodles into a bowl.
5
Top with the slice of American Cheese and top with desired toppings.
6
Stir the ramen to dissolve the melted cheese. Let cool slightly and enjoy!