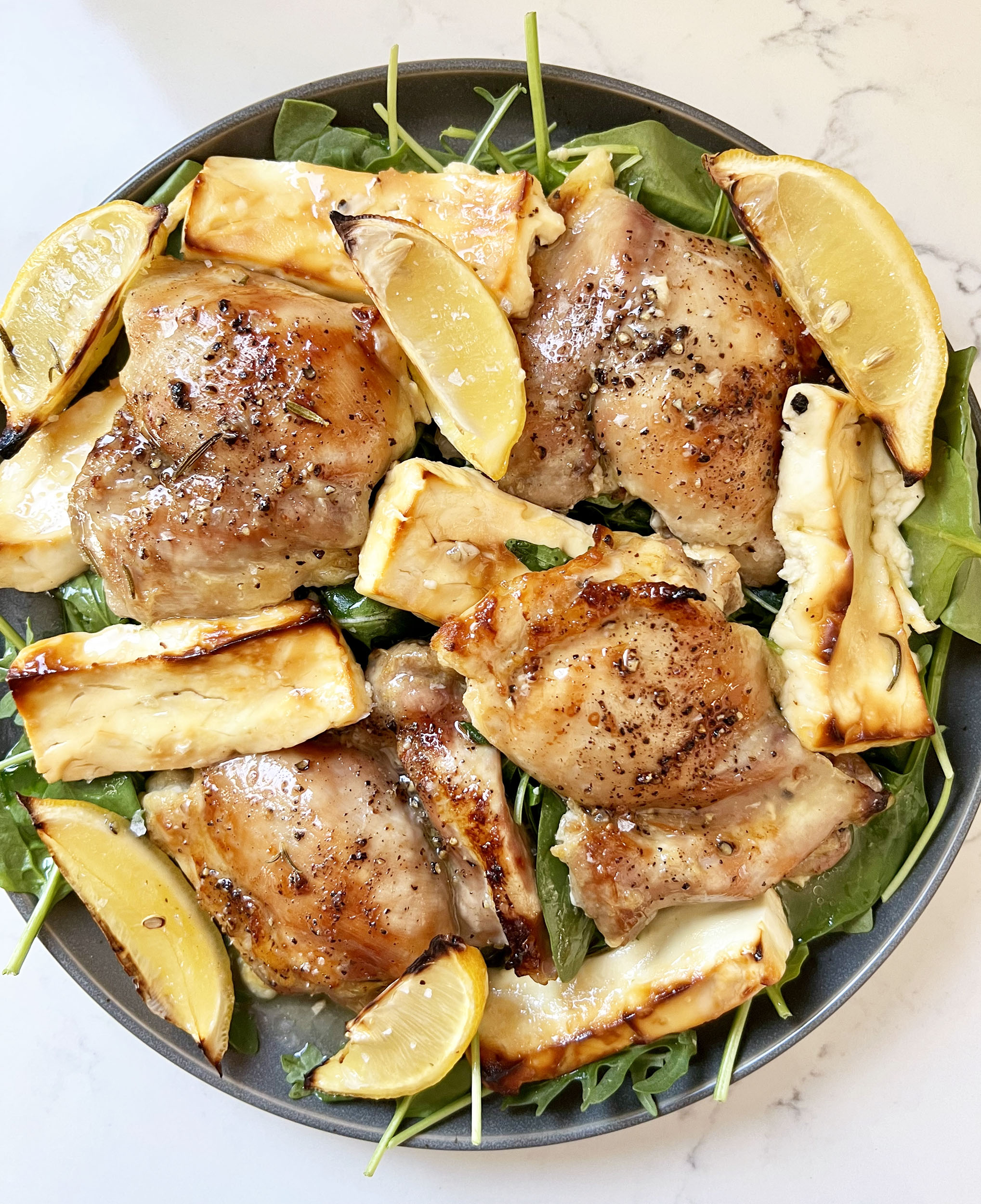 Print Recipe
One Pan Chicken with Lemons and Feta
Simple, with complex flavor: Salty, sweet, bright and herbaceous. One Pan Chicken with Lemons and Feta is perfect for taking it easy on a weeknight.
Ingredients
4-6 Boneless, Skinless Chicken Thighs

Kosher Salt and Black Pepper

2 Lemons, sliced into wedges

1 8-oz. Block of Feta, sliced into 1/4-inch thick strips

4-6 Fresh Rosemary Sprigs

Olive Oil

2 tbsp. Honey

2-3 Handfuls of Raw Baby Spinach and Arugula
Instructions
1
Preheat the oven to 425 degrees F.
2
Place the chicken thighs spaced out evenly, on the sheet tray and season with Kosher salt and black pepper.
3
Add the sliced feta and the lemon wedges alongside the seasoned chicken thighs.
4
Lay the fresh herb sprigs on top.
5
Drizzle olive oil over everything.
6
Drizzle the honey over everything.
7
Bake on the center rack in the preheated oven for 30-35 minutes. Cooked through thighs should read 170 degrees F when temped with a probe thermometer.
8
Remove and discard the rosemary sprigs.
9
Place a few handfuls of raw baby spinach and arugula on a serving plate.
10
Place the chicken, lemons and feta on top of the greens.
11
Drizzle the pan juices over the plate, wilting and dressing the greens.