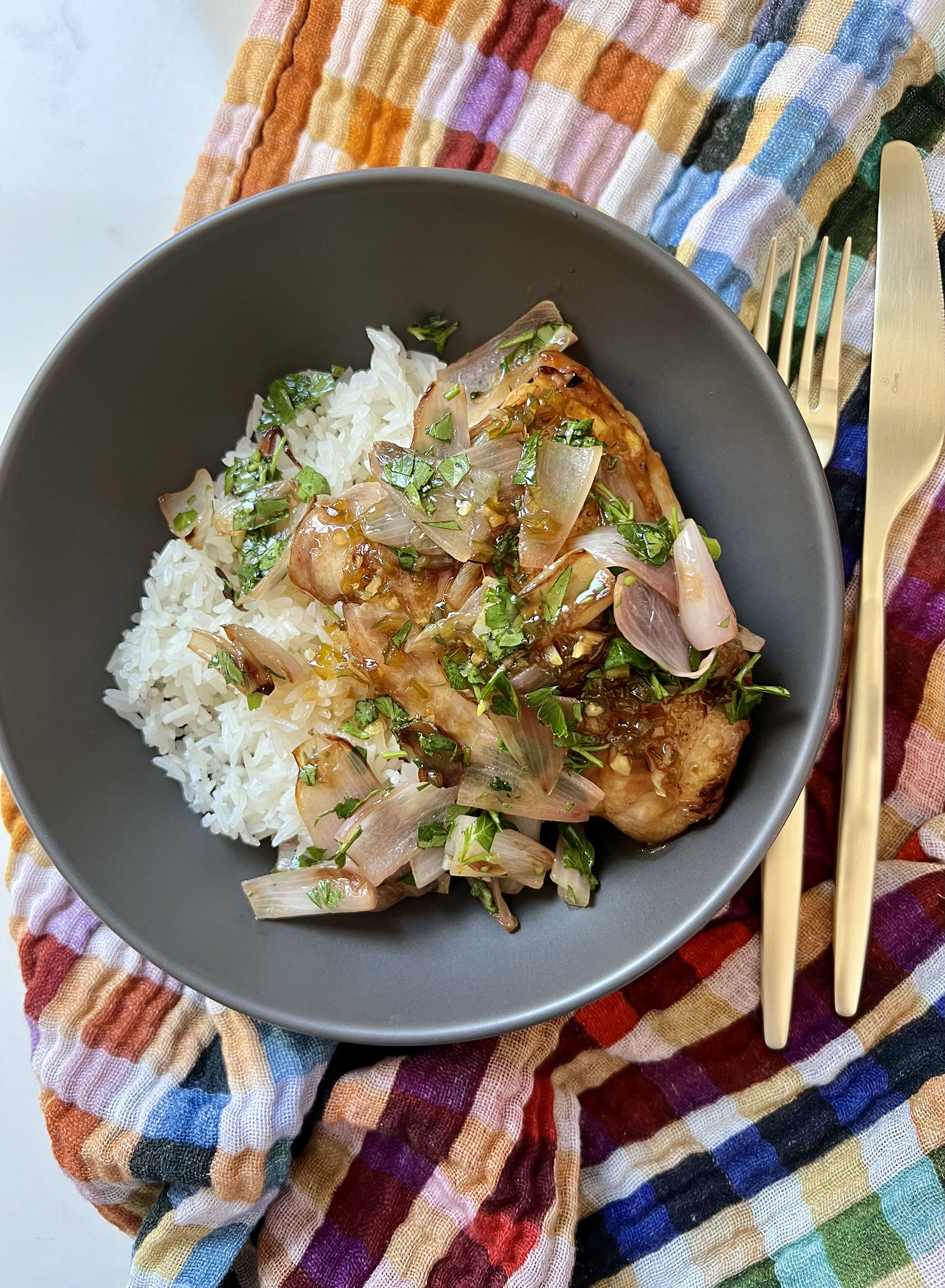 Print Recipe
One Pan Honey Glazed Chicken with Shallots
This One Pan Honey Glazed Chicken with Shallots is a one-pan wonder with notes of honey, chili pepper heat with dressed shallots and parsley.
Ingredients
2 lbs. Bone-in, Skin-on Chicken Thighs or Drumsticks (4 to 8 pieces)

Kosher Salt

2 tbsp. Neutral Oil, such as Grapeseed or Canola, divided

1 lb. Shallots (about 8), peeled and halved, quartered if large

3 tbsp. Honey

2 tbsp. Fresh Lime Juice

1 Garlic Clove, minced

1 Fresh Hot Chile, such as Thai, Jalapeño or Serrano, minced with or without seeds

1 tbsp. Sherry Vinegar

1/2 cup Chopped Flat Leaf Parsley
Instructions
1
Pat your chicken thighs very dry with paper towels. Then sprinkle all sides of each of thigh with Kosher salt; set the plate of thighs aside.
2
Over medium heat, heat 1 tablespoon of grapeseed or vegetable oil and toss in the shallots. Let the shallot pieces lightly caramelize, stirring often. This should take about 10 minutes.
3
When the shallots are looking evenly browned and have softened, transfer them to a separate bowl and set aside.
4
Raise the heat under your skillet to medium-high and heat 1 tablespoon of grapeseed or vegetable oil. Add the chicken thighs, skin side down and let cook, undisturbed for about 10-12 minutes, or until the chicken thighs easily release from the pan and the skin is browned and crisp. Flip the chicken thighs and let cook on the meat side for about 5 minutes.
5
To build the pan sauce and finish off the chicken, reduce the heat to medium-low, or of you are using a cast iron skillet reduce the heat to low, and add 1/4 cup of water to skillet. Stir the water around and scrape up any browned bits from the bottom. Then add the lime juice, honey and the minced garlic and diced pepper.
6
Stir the pan sauce ingredients together around the chicken pieces and cover the pan loosely with a sheet of aluminum foil and let cook for about 8 minutes, until the chicken is fully cooked through. The chicken is ready when it temps at 168-170 degrees.
7
With the foil cover removed, increase the heat to high and let cook for about 2 minutes to thicken the pan juices.
8
While the pan juices are thickening, add 1/2 cup of chopped parsley to the bowl of cooked shallots and add the tablespoon of sherry vinegar. Stir this together and season with a pinch of Kosher salt. Set aside.
9
Transfer 1-2 chicken thighs to a plate and top with some of the dressed shallots. Drizzle pan sauce over the shallot-topped chicken and serve.