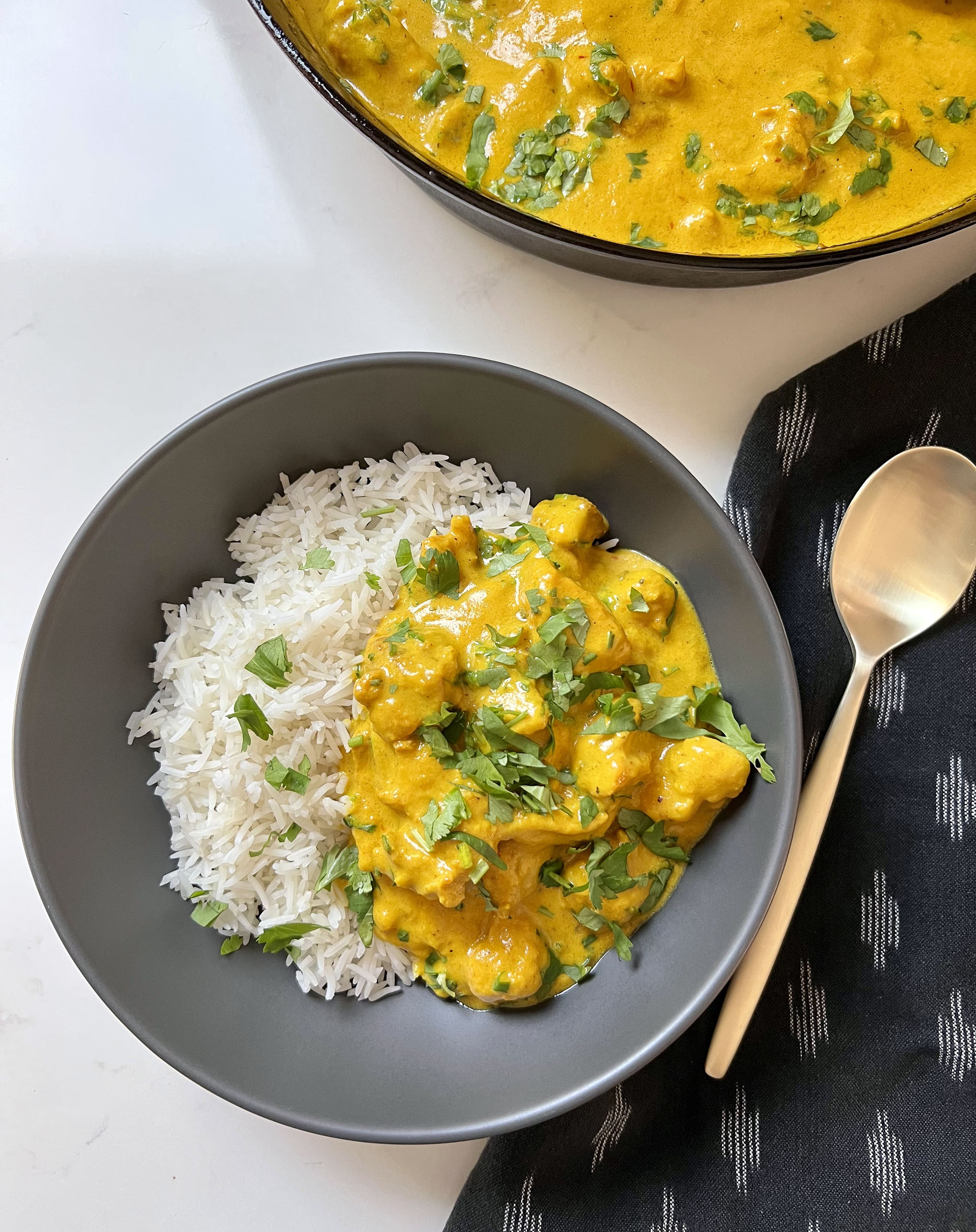 Print Recipe
One Pan Saffron Chicken Korma
Chicken thighs are gently simmered in a velvety, Indian-spiced yogurt sauce. Scented and flavored with heady, exotic saffron.
Ingredients
4 tbsp. Vegetable or Grapeseed Oil

2 Medium Onions, sliced thinly (5 cups of sliced onions in total)

1/4 cup Raw, Unsalted Cashews

1/4 cup Water

1.5 cups Plain Yogurt

2 tsp. Garam Masala

1/2 tsp. Ground Cardamom

1/2 tsp. Cayenne Pepper

1/2 tsp. Ground Coriander

1/2 tsp. Ground Turmeric

1/4 tsp. Crushed Saffron Threads, crushed in the mortal and pestle

1/2 tsp. Black Peppercorns, crushed in the mortal and pestle

1 Bay Leaf

1 Cinnamon Stick

2 lbs. Boneless, Skinless Chicken Thighs, cut into 1.5 to 2-inch pieces

3 Cloves Garlic, grated on a rasp-style grater or zester

2 tbsp. Grated Fresh Ginger, grated on a rasp-style grater or zester

1 cup Low-Sodium Chicken Broth

1 tsp. Kosher Salt

Rough Chopped Fresh Cilantro, for garnish
Instructions
1
Sauté sliced onions with 4 tablespoons of vegetable or grapeseed oil, over medium-low heat. Let the onions go, while stirring occasionally for about 20-30 minutes.
2
In a small bowl, combine the garam masala, cardamom, cayenne pepper, turmeric and saffron with the yogurt. Stir well to fully incorporate the spices in the yogurt. Set aside.
3
Transfer the caramelized onions to a blender and add 1/4 cup raw cashews and 1/4 cup water. Blend until smooth and set aside.
4
Return to the same skillet we caramelized the onions in. Set the burner on medium heat and drizzle a little more grapeseed or other neutral oil into the skillet. When the oil is hot, add one bay leaf, one cinnamon stick and several cranks of fresh black pepper. Stir and sauté the spices for about 15-20 seconds, just until the spices become fragrant. Then add the chicken pieces to the skillet.
5
Let the chicken cook for about 3-4 minutes. Give it a stir and add the grated fresh garlic and fresh ginger. Stir in the fresh aromatics and let the chicken continue to brown for another 4-5 minutes.
6
add the spiced yogurt, the onion cashew puree and 1 cup of low sodium chicken broth. Stir to fully incorporate into the browned chicken pieces. Let the mixture come up to a low simmer over medium heat, then reduce the heat to low and let simmer for about 20 minutes. Stir occasionally.
7
Just before serving, top with roughly chopped fresh cilantro. Serve with rice.