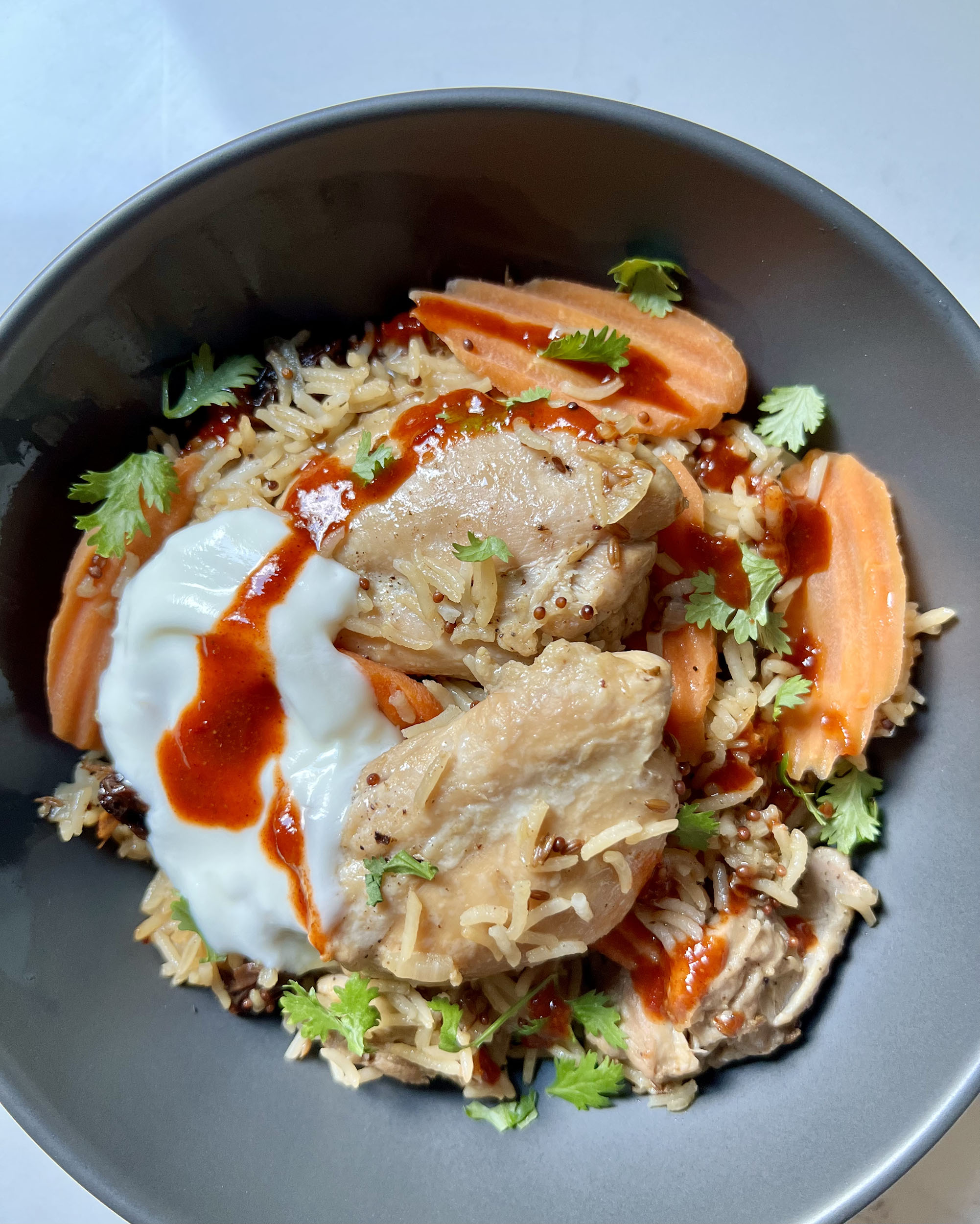 Print Recipe
One Pot Chicken and Rice with Ginger and Cumin
Indian-inspired one pot Chicken and Rice with warming ginger, mustard seed and cumin; served with tangy yogurt, fresh cilantro and hot sauce.
Ingredients
3 tbsp. Olive Oil, divided

2 lbs. Boneless, Skinless Chicken Thighs, each thigh cut into 2 equal pieces

Kosher salt and Black Pepper

3 tbsp. Unsalted Butter

2 Large Shallots, thinly sliced (about 1 cup)

2 tbsp. Fresh Ginger, grated

2 tbsp. Garlic, minced or pressed

1 tbsp. Brown Mustard Seeds

1 tbsp. Cumin Seeds

2 cups Basmati Rice

1/2 cup Raisins

3 cups Low-Sodium Chicken Broth

2 Medium Carrots, peeled and very thinly sliced into rounds

1/4 cup Chopped Fresh Cilantro

Hot sauce and yogurt, for serving (optional)
Instructions
1
Heat 2 tablespoons of olive oil in a large dutch oven, or other heavy large pot. Add about half the halved chicken thighs and season with kosher salt and black pepper. Brown both sides of the thighs and transfer to a small sheet tray or plate. Repeat with the remaining chicken thighs.
2
In the now empty pot, add the remaining tablespoon of olive oil and the butter. Turn the heat up to medium and add the shallots. Cook the shallots in the melted butter until they are softened.
3
Then add the cumin and mustard seeds, the ginger and garlic. Stir to combine and cook for about 2 minutes, until very fragrant.
4
Then add the rice and raisins. Season with kosher salt and black pepper and stir together to coat all the rice and raisins in the butter and spices.
5
Add the broth and scrape up all the brown bits on the bottom. Then, nestle the chicken thighs back into the pot. Pour any juices in the sheet tray from the chicken into the pot.
6
Increase the heat and bring the pot to a boil. Then reduce the heat and cover. Set a timer for 15 minutes.
7
Check the rice after 15 minutes, if the rice is tender and cooked through, cut the heat. Sprinkle carrot slices on top and replace the lid on the pot to let the carrots steam for 5 minutes.
8
Spoon a serving into a wide shallow bowl, top each serving with cilantro leaves, yogurt and hot sauce if desired and serve!