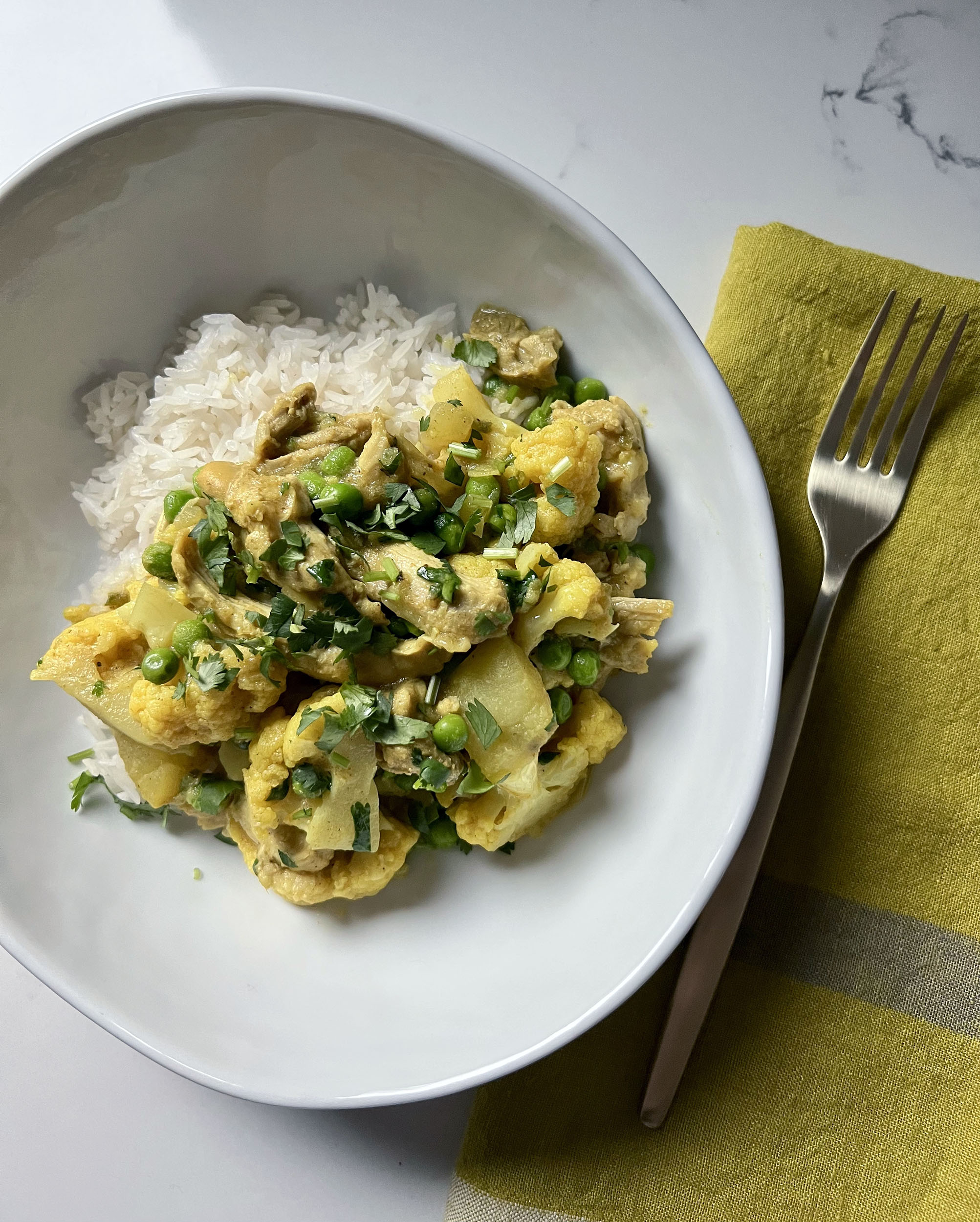 Print Recipe
One Pot Chicken Curry
Rich and hearty One Pot Chicken Curry is beautifully seasoned with curry and garam masala; with cauliflower, potatoes and peas.
Ingredients
3 tbsp. Unsalted Butter

2 tbsp. Curry Powder

1 tbsp. Garam Masala

1 Large Onion, chopped

1 Jalapeño, stemmed, seeded, and diced fine

Kosher Salt and Pepper

3 Garlic Cloves, minced

1 tbsp. Minced or Grated Fresh Ginger

4 Boneless, Skinless Chicken Thighs

1.5 cups Chicken Broth

8 oz. Yukon Gold Potatoes, peeled and cut into 1/2-inch chunks

1 Head Small Cauliflower, cored and cut into 1-inch florets

1 cup Frozen Peas

1/4 cup Fresh Cilantro, chopped

3/4 cup Plain Whole-Milk Yogurt
Instructions
1
In a Dutch oven over medium heat, melt 3 tablespoons of unsalted butter. Add the garam masala and curry, stir to combine and let the spices cook until they are fragrant, about 15 seconds.
2
Add the diced onion, diced jalapeño, 2 teaspoons of Kosher salt, and a few cranks of fresh black pepper. Stir to combine and cook until the onions have softened and become translucent, about 6-7 minutes. Then stir in the garlic and the ginger, cook for about 30 more seconds.
3
Add the whole chicken thighs to the pot. Increase the heat to medium-high. Pour in 1.5 cups of chicken stock or broth. Bring this up to boil then cover and reduce heat to low to simmer for about 20 minutes, until the internal temperature of the chicken reaches 165 degrees. Then transfer the chicken to a plate or sheet tray to cool slightly.
4
While the chicken is cooling slightly, add the potatoes and 1 teaspoon Kosher salt to the pot and simmer, covered for about 8-10 minutes, just until the potatoes are fork tender.
5
While the potatoes are cooking, shred or slice the cooked chicken thighs into largish pieces and set aside. When the potatoes are fork tender, add the cauliflower florets and another teaspoon of Kosher salt. Cover and continue cooking for about 15 more minutes, until the cauliflower is tender and the potatoes are fully cooked. Then stir in the peas.
6
Add the cut or shredded chicken thighs to the pot and stir everything together. Let it simmer, uncovered, for another several minutes to heat the chicken through and slightly reduce the curry sauce.
7
Add the chopped cilantro, give it another few stirs to mix in the cilantro and turn off the heat. Stir in the yogurt and mix well to fully incorporate the yogurt. Taste for seasoning and add more Kosher salt if needed.
8
Serve the curry over plain white rice and spoon the curry sauce over top.