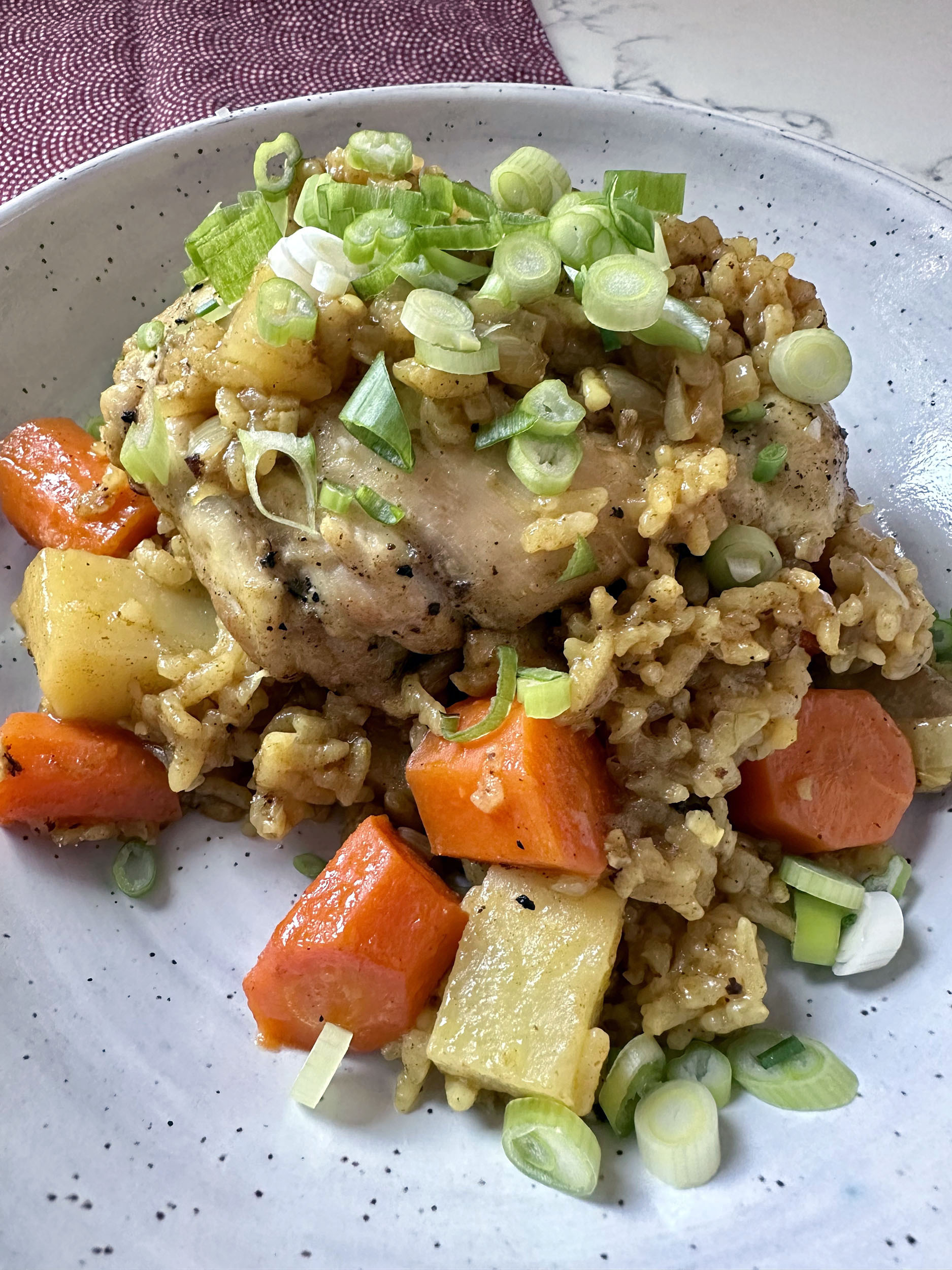 Print Recipe
One Pot Japanese Curry
One Pot Japanese Curry cooks the rice in the pot with chicken, curry sauce, potatoes and carrots for a savory, perfect one pot meal.
Ingredients
2 lbs. Boneless, Skinless Chicken Thighs (6-8 large thighs)

2 tbsp. Vegetable Oil

Kosher Salt and Black Pepper

3 tbsp. Unsalted Butter

1/2 cup Finely Chopped Yellow Onion

3 tbsp. Madras Curry Powder

1 tbsp. Minced Garlic

1 tbsp. Minced Fresh Ginger

3/4 tsp. Ground Nutmeg

1.5 cups Short-Grain White Rice, rinsed until water runs clear

1 Large Russet Potato (about 1 pound), peeled and cut into ½-inch cubes (about 1½ cups)

3 Medium Carrots, sliced ½ inch thick (1½ cups)

3.5 cups Low-Sodium Chicken Broth

2 tbsp. Worcestershire Sauce

Sliced Scallions, pickles, hot sauce, for serving
Instructions
1
To start, preheat the oven to 375 degrees F. Then put your chicken thighs in a bowl and coat the chicken in a drizzle of vegetable oil, season with kosher salt and black pepper. Let the chicken sit while you prep the rest of the ingredients.
2
In a large Dutch oven heat 1 tablespoon of vegetable oil and one tablespoon of butter over medium heat. Brown the chicken for about 3-4 minutes on each side. Work in batches if needed. When the chicken is browned on both sides, transfer to a small sheet tray or plate and set aside. The chicken thighs will finish cooking in the curry.
3
Then add the diced onion to the pot. Season the onion with a pinch of kosher salt and pepper.
4
Cook the onion for a few minutes, stirring occasionally until softened. Then add the curry powder, ginger, garlic, nutmeg and the remaining 2 tablespoons of butter. Stir until the butter is melted and the spices are fragrant. About 1 minute.
5
Add the rinsed rice and stir well to coat the uncooked rice in the spices.
6
Now, add the Worcestershire sauce and broth. Add the chopped potato and carrot. Use a firm spoon to scrape up all the fond from the bottom of the pot. Season the broth with a big pinch of kosher salt and several cranks of cracked black pepper.
7
Transfer the browned chicken and the accumulated juices to the pot. Bring the broth to a boil over high heat.
8
Cover and bake in the preheated oven for 20 minutes. At the 20-minute mark, remove the lid and bake uncovered for about 10 more minutes, until most of the liquid is absorbed.
9
Portion chicken, rice and veggies into bowls and garnish with sliced scallions, hot sauce and pickled vegetables – if desired.