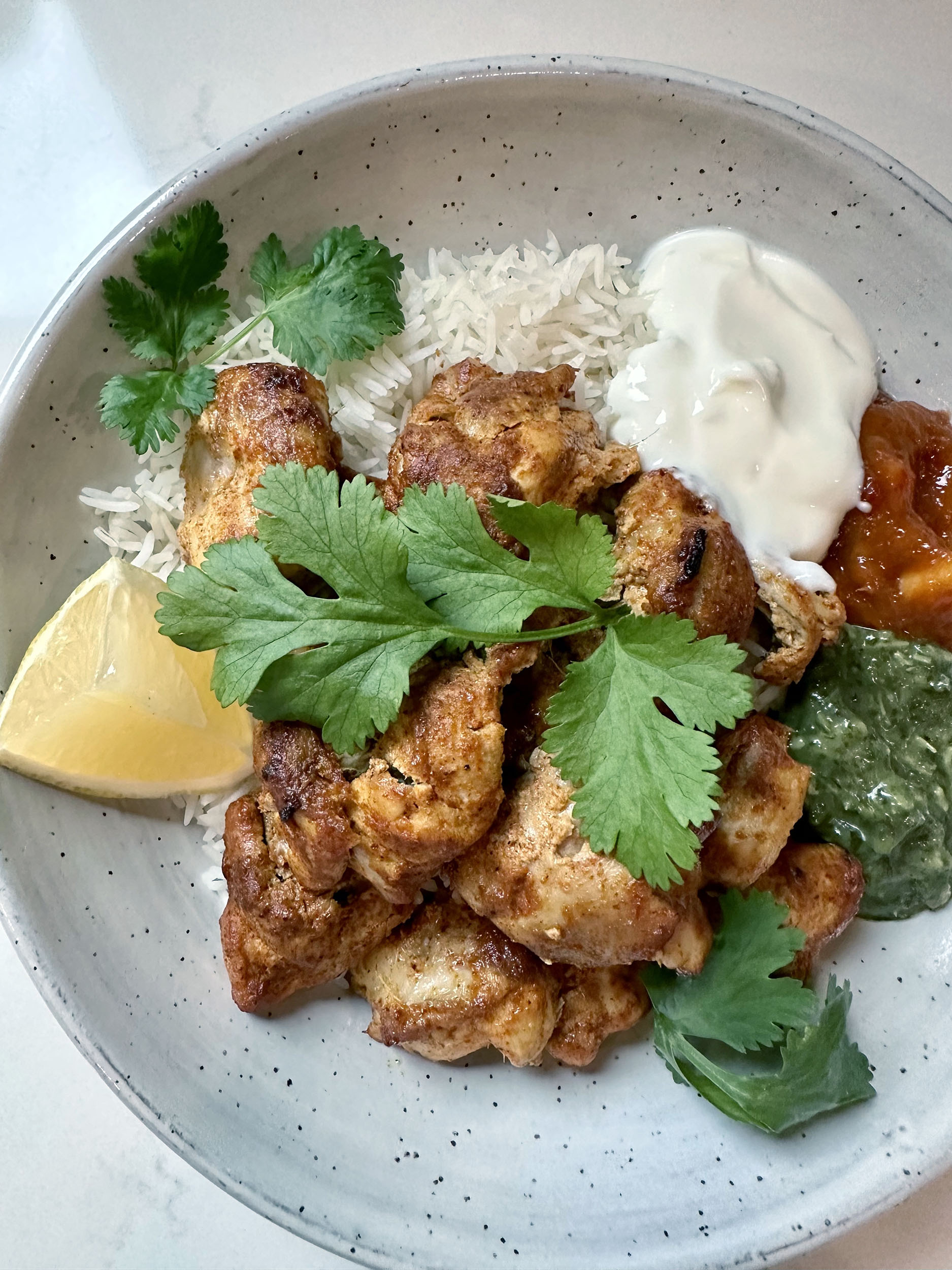 Print Recipe
Oven Baked Chicken Tikka Skewers
Bring the tandoori-cooked flavors of Chicken Tikka to dinner with this easy recipe for Oven Baked Chicken Tikka Skewers.
Ingredients
Ginger Garlic Paste

1 (2-inch piece) Fresh Ginger, peeled

6 Garlic Cloves, peeled

1/4 cup Water

Ginger Garlic Marinade

4 tsp. Ginger Garlic Paste

1 tsp. Kosher Salt

1/4 cup Malt Vinegar

2.5 lbs. Boneless, Skinless Chicken Thighs, cut into 2-inch pieces

Yogurt Marinade

3 tbsp. Malt Vinegar

2 tsp. Kosher Salt (such as Diamond Crystal)

4 tsp. Ginger Garlic Paste

1 cup Plain Yogurt

2 tbsp. Smoked Paprika

2 tsp. Guajillo Chile Powder

1 tbsp. Garam Masala

1 tsp. Ground Turmeric

Chicken Baste

Optional: 1/4 cup melted unsalted butter, for basting the chicken skewers

To Serve

Cooked Rice

Lemon Wedges

Plain Yogurt

Chutneys

Cilantro Leaves

Indian Flatbread
Instructions
1
Add the peeled and roughly chopped fresh ginger, along with 6-8 peeled garlic cloves to a blender or mini food processor. You can do it with a mortar and pestle, if that's what you have. Once the ginger and the garlic is ground to a thick paste, add about 1/4 cup water to thin the paste. Stir it well to combine.
2
Place the cut chicken thighs in a medium bowl. Sprinkle with a teaspoon of kosher salt. Add 4 teaspoons of the ginger garlic paste and 1/4 cup malt vinegar. Stir to coat the chicken in the marinade and let sit at room temp for 10 minutes.
3
In a large bowl, combine the plain yogurt, 3 tablespoons of malt vinegar, smoked paprika, Guajillo Chile powder, garam masala, turmeric, kosher salt and 4 teaspoons of the ginger garlic paste. Stir well to combine and make a smooth marinade.
4
Transfer the chicken pieces to the large bowl with the yogurt marinade, taking care to leave behind any liquid that collected in the first bowl.
5
Toss the chicken pieces in the yogurt marinade to coat. cover and refrigerate for 2-3 hours.
6
Preheat the oven to 375 degrees F. Then, place a wire rack in a large sheet tray. Skewer the marinated chicken pieces and set the skewers on the wire rack.
7
Bake the chicken for about 20 minutes. Then baste the skewers with the melted butter and place back in the oven for 20 minutes more, until the chicken is cooked though.
8
Let the chicken cool for about 5 minutes before pulling the skewers out.
9
Serve the Chicken Tikka over rice with more yogurt and chutneys if you like. Also serve with Indian flatbread such as Naan or Roti, lemon wedges and fresh cilantro sprigs.