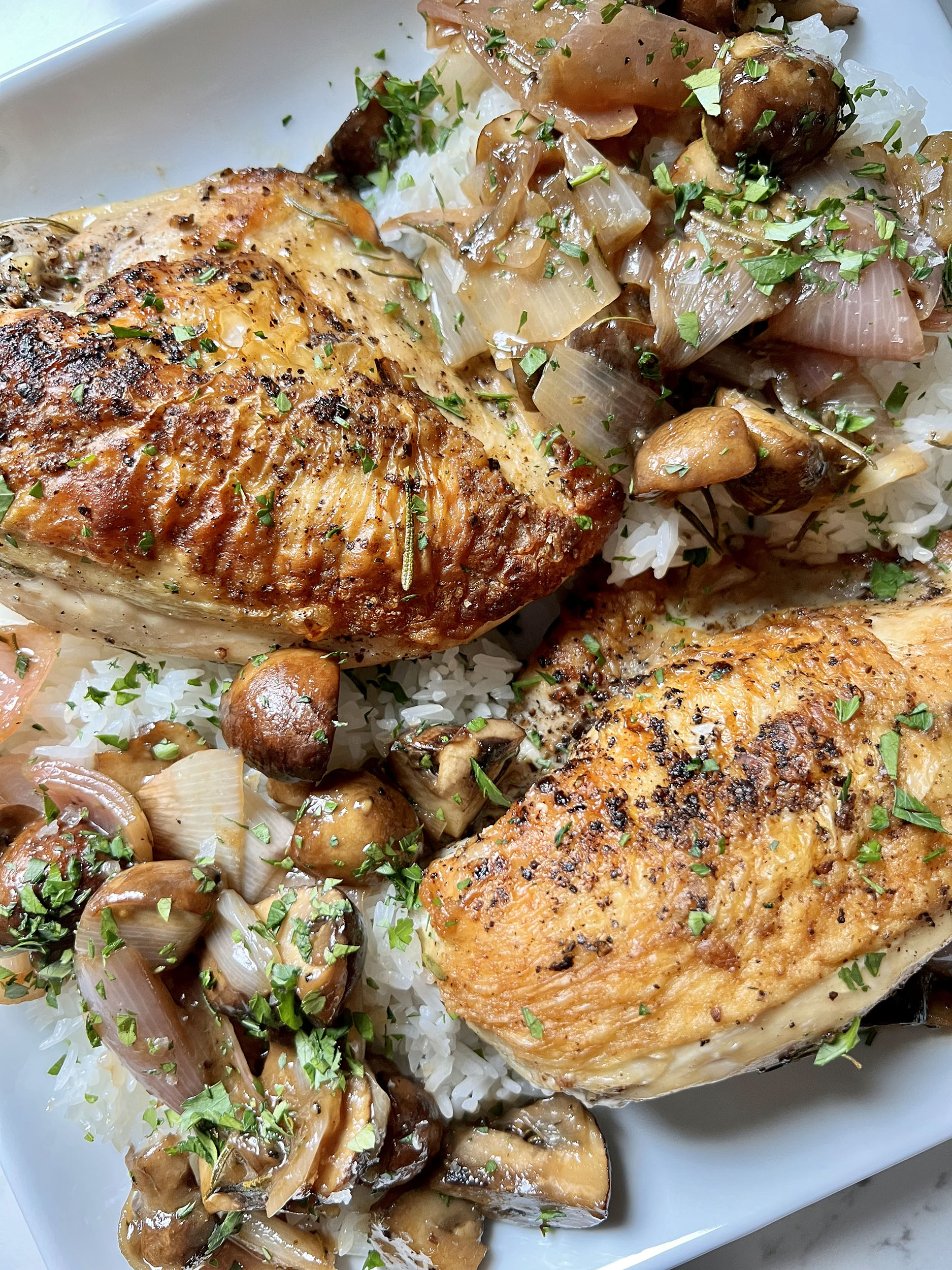 Print Recipe
Pan Roasted Chicken with Mushrooms
With just a few ingredients, minimal seasonings and simple preparation, this one pan roast chicken for two is satisfying and full of flavor.
Ingredients
2 Bone-in, Skin-on Chicken Breasts

Kosher Salt and Black Pepper

1 tbsp. Olive Oil

1 8-oz. package Mushrooms, quartered

3-4 Shallots, quartered

3-4 Fresh Rosemary Sprigs

Juice of 1 Lemon

Flaky Finishing Salt, optional for garnish

1 tbsp. Chopped Parsley, for garnish
Instructions
1
Season all sides of the chicken breasts with Kosher salt and fresh cracked black pepper. Preheat the oven to 375 degrees F and position an oven rack in the lower-middle position.
2
Drizzle a tablespoon or so of olive oil in a cast iron, or other oven safe skillet over medium-high heat. When the oil is beginning to shimmer, lay each seasoned chicken breast skin side down in the skillet. Let cook undisturbed until the skin is golden brown, about 5-7 minutes. Flip the breasts so they are skin side up and turn off the heat under the skillet.
3
Add the quartered mushrooms and shallots to the pan. Then, nestle the fresh rosemary sprigs on top.
4
Set the pan into the preheated oven and set a timer for 15 minutes. At the 15 minute mark pull the pan out and give the mushrooms and shallots a stir and place back in the oven for another 15 minutes.
5
After the second 15 minutes, pull the pan and temp the breasts, the internal temp should read 165 degrees.
6
If the internal temperature of the breasts reads 165 degrees, use tongs to transfer the breasts to a serving plate. If they aren't there yet, continue roasting, temping every 5 minutes until an internal temperature of 165 degrees is reached.
7
Fish out and discard the rosemary stems. Put the pan with the shallots, mushrooms and pan juices over medium-high heat. Squeeze in the juice of one lemon and stir to combine. Bring the pan juices up to a simmer and let simmer for about 5 minutes, or until the juices have thickened to sauce-like consistency.
8
Use a spoon to transfer the shallots, mushrooms and pan sauce to the serving dish.
9
To preserve the crispy skin on the chicken, spoon the shallots, mushrooms and sauce along side the chicken breasts.
10
Sprinkle the mushrooms and shallots with flaky finishing salt, if desired.
11
Sprinkle the chopped parsley over the whole dish.