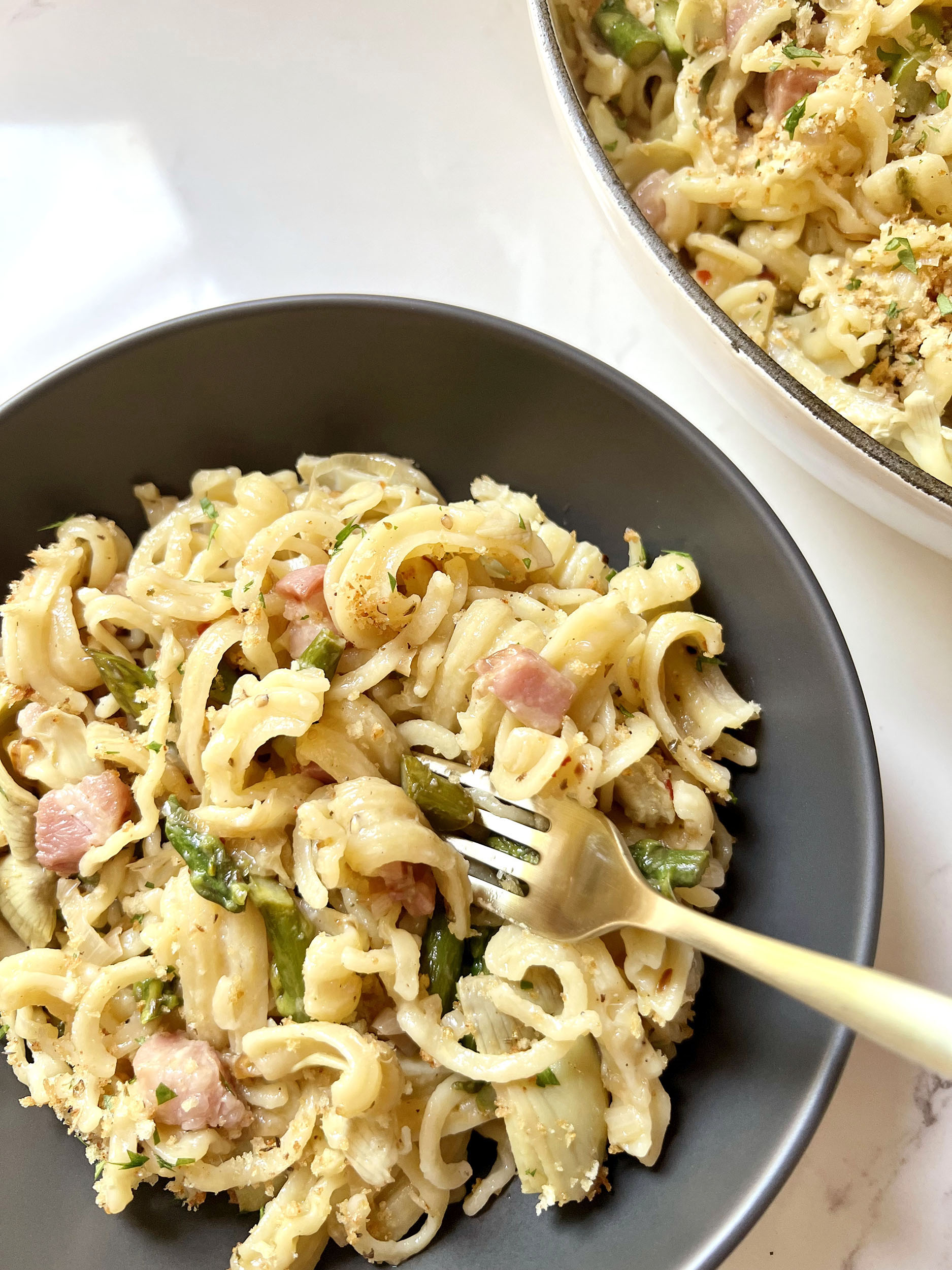 Print Recipe
Pancetta Asparagus Pasta with Artichoke Hearts
Pasta, snappy asparagus, savory pancetta, shallot, juicy artichoke heart, a little parmesan, red pepper flakes, topped with toasted panko.
Ingredients
2 tbsp. Olive Oil, plus more for drizzling over pasta

3 Shallots, sliced thin

4 oz. Diced Pancetta

1/2 Bunch Asparagus, ends trimmed, cut into 1/2-inch pieces

1 14-oz. Can of Artichoke Hearts, drained, rinsed cut into quarters

Kosher Salt and Black Pepper, to taste

16 oz. Cascatelli Pasta, or spaghetti, bucatini, macaroni, or rigatoni

Pinch of Red Pepper Flakes

2 tbsp. Ground Parmesan Cheese

2 tbsp. Rough Chopped Fresh Parsley, for garnish

Toasted Panko

1/3 cup Panko Bread Crumbs

Drizzle Olive Oil

Pinch of Kosher Salt
Instructions
1
Get 4 quarts of water going in a large pot over high heat, cover the pot. Meanwhile heat 2 tablespoons of olive oil in a large skillet with high sides, like a braiser, and add the shallots. Cook while stirring over medium heat until the shallots are softened.
2
Add the diced pancetta and cook until the pancetta is cooked through, and it's light pink and opaque. Then add the asparagus.
3
Sauté the asparagus, shallot and pancetta mixture until the asparagus just begins to tenderize and turn brighter green. Then reduce the heat to low and add the quartered artichoke hearts.
4
Season with a little kosher salt and black pepper and stir to combine. While that is keeping warm on low heat, toast the panko.
5
Add a drizzle of olive oil to about 1/3 cup of panko bread crumbs. Stir to coat the panko in the olive oil, adding a little more as needed. In a dry skillet over medium-low heat, toast the panko. Add a sprinkle of kosher salt and shake the pan to evenly toast the panko. When it's mostly golden, remove from heat.
6
By now, the pasta water should boiling. Remove the lid and add 2 tablespoons of kosher salt. Give it a stir and pour in the pasta. Set a timer for 8 minutes. We want to cook the pasta al dente. So start checking its doneness at the 8 minute mark. When it's done to al dente, scoop out 1 cup of the cooking water and drain the pasta.
7
Add the cooked pasta to to the skillet with the artichoke, pancetta and asparagus mix. Pour on a little pasta water and stir to combine the mixture and coat everything in the pasta water. Sprinkle on a pinch of red pepper flakes and drizzle on some olive oil.
8
Stir to combine and add about 2 tablespoons of ground parmesan cheese. Stir again to mix in the cheese and cut the heat.
9
Sprinkle the toasted panko over the top and sprinkle on some fresh parsley; ready to serve!