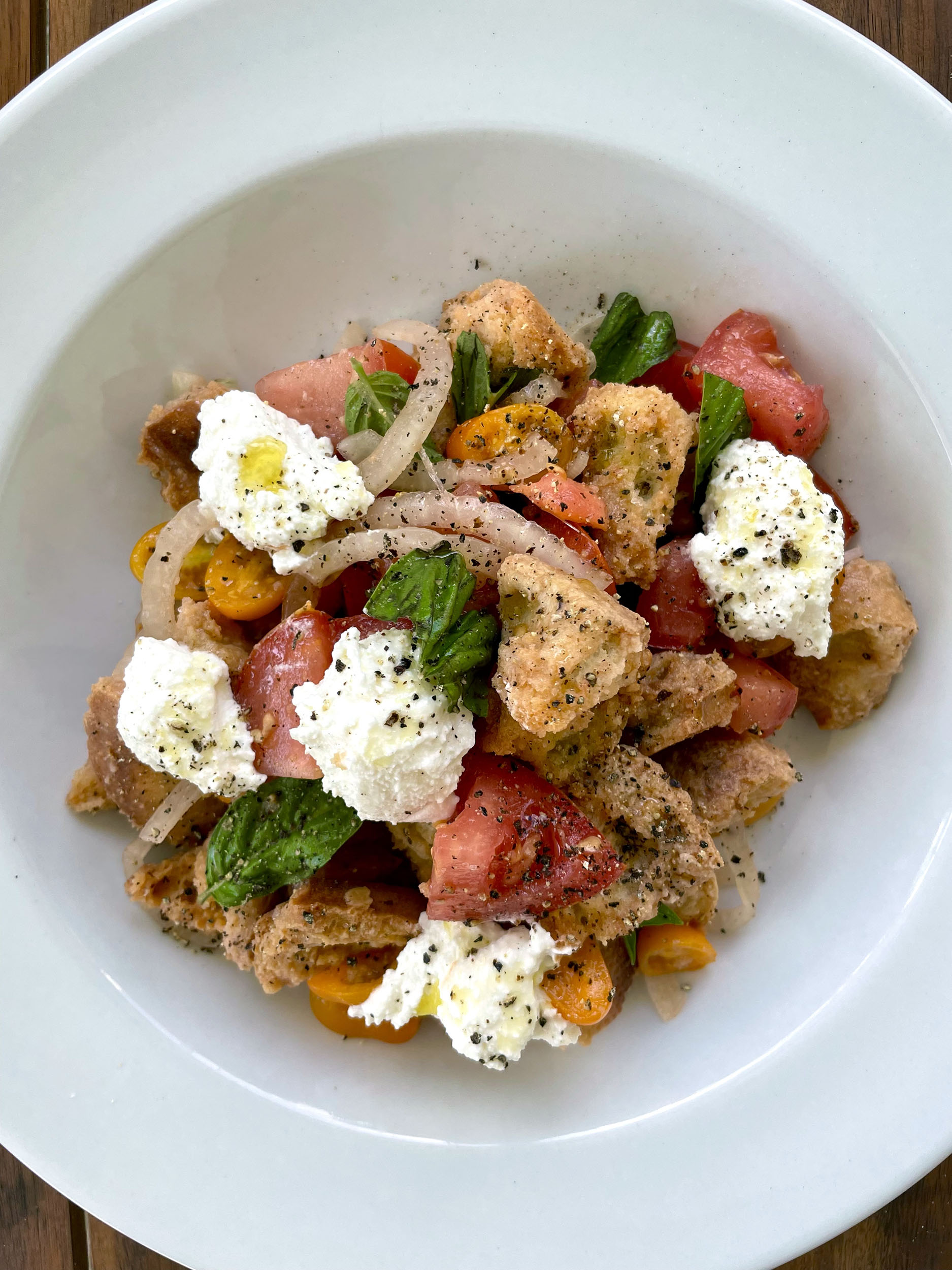 Print Recipe
Panzanella Salad with Ricotta
Toasted bread, juicy ripe summer tomatoes; thinly sliced onion, fresh basil leaves dressed in olive oil and vinegar, with dollops of ricotta.
Ingredients
1 Baton, or small Baguette, torn into bite size pieces

3 Large Ripe Tomatoes, cut into large-ish bite size pieces

1 cup Yellow Cherry Tomatoes, halved

1/2 Yellow, Red or White Onion, sliced thin

2 tbsp. Extra Virgin Olive Oil (plus more for drizzling on bread and over ricotta)

3 tbsp. Red Wine Vinegar

Coarse Salt and Fresh Cracked Black Pepper, to taste

Several Fresh Basil Leaves, torn into smaller pieces

Ricotta Cheese
Instructions
1
Preheat oven to 375 degrees.
2
Spread torn baton pieces on a rimmed sheet pan and drizzle with olive oil. Bake for 17-20 minutes, until the bread pieces are golden and toasted.
3
Meanwhile, combine tomatoes and onion slices in a large mixing bowl. Add 2 tablespoons olive oil and the red wine vinegar, toss to combine. Season with salt and pepper.
4
Add toasted bread to the mixing bowl and toss to combine and coat the bread pieces in the dressing.
5
Let sit for 10-15 minutes and just before serving, add the basil leaves and toss to incorporate the basil into the salad.
6
Serve individual portions of the salad in wide shallow bowls and top with 5 small dollops of ricotta cheese. Drizzle olive oil over salad and ricotta, sprinkle with more salt and pepper.