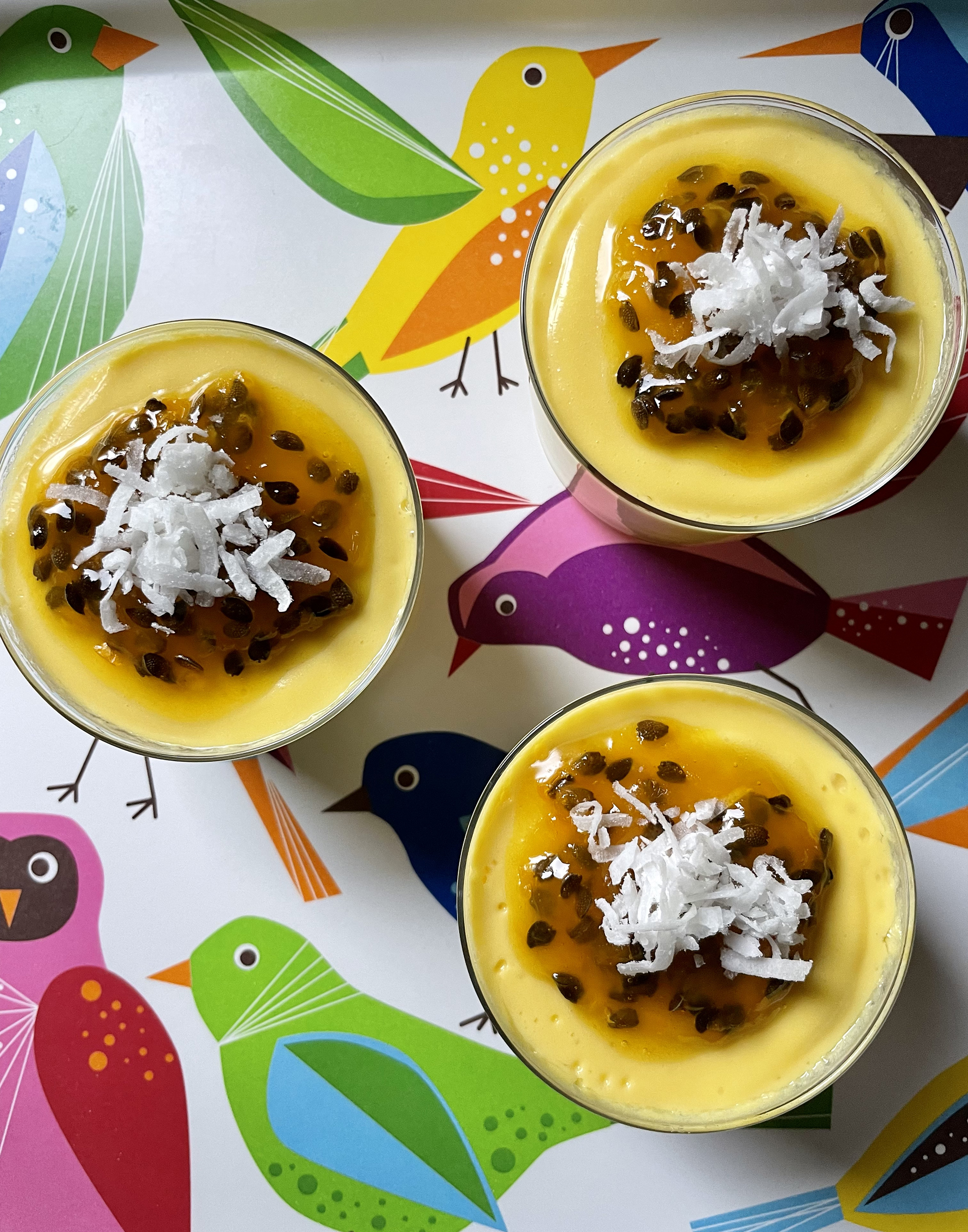 Print Recipe
Passion Fruit Mousse
Exquisitely-flavored Passion Fruit Mousse is tart and sweet; light and creamy. Topped with a zingy passion fruit syrup and shredded coconut.
Ingredients
1 cup Passion Fruit Juice

2 tsp. Unflavored Gelatin

1/4 cup Water

1 1/3 cup Heavy Cream

1 14-oz. can Sweetened Condensed Milk

Passion Fruit Syrup Topping

1/3 cup Passion Fruit Pulp with Seeds

1/4 cup White Granulated Sugar

Garnish

Shredded Sweetened Coconut
Instructions
1
To extract the juice from the seeds, scoop pulp into a fine mesh strainer; scrape and press the pulp into the strainer. Be sure to run the spatula over the underside of the strainer periodically; a lot of the juice will cling to the strainer.
2
Mix gelatin and water in a small bowl and microwave for 20-30 seconds to dissolve gelatin. Set aside to cool slightly.
3
Add the passion fruit juice, heavy cream, sweetened condensed milk and dissolved gelatin to a blender. Blend on high for 5 minutes.
4
Pour the mousse mixture into a large serving bowl or four individual 8-ounce glasses and chill for 3 hours.
Passion Fruit Syrup Topping
5
Combine passion fruit pulp with seeds and sugar in a small saucepan. Bring to a low boil over medium heat and reduce heat to simmer until mixture thickens to coat the back of a spoon.
6
Transfer to a small jar and cool to room temperature. Refrigerate until ready to use.
7
Top the set mousse with the passion fruit syrup and sprinkle with shredded coconut.