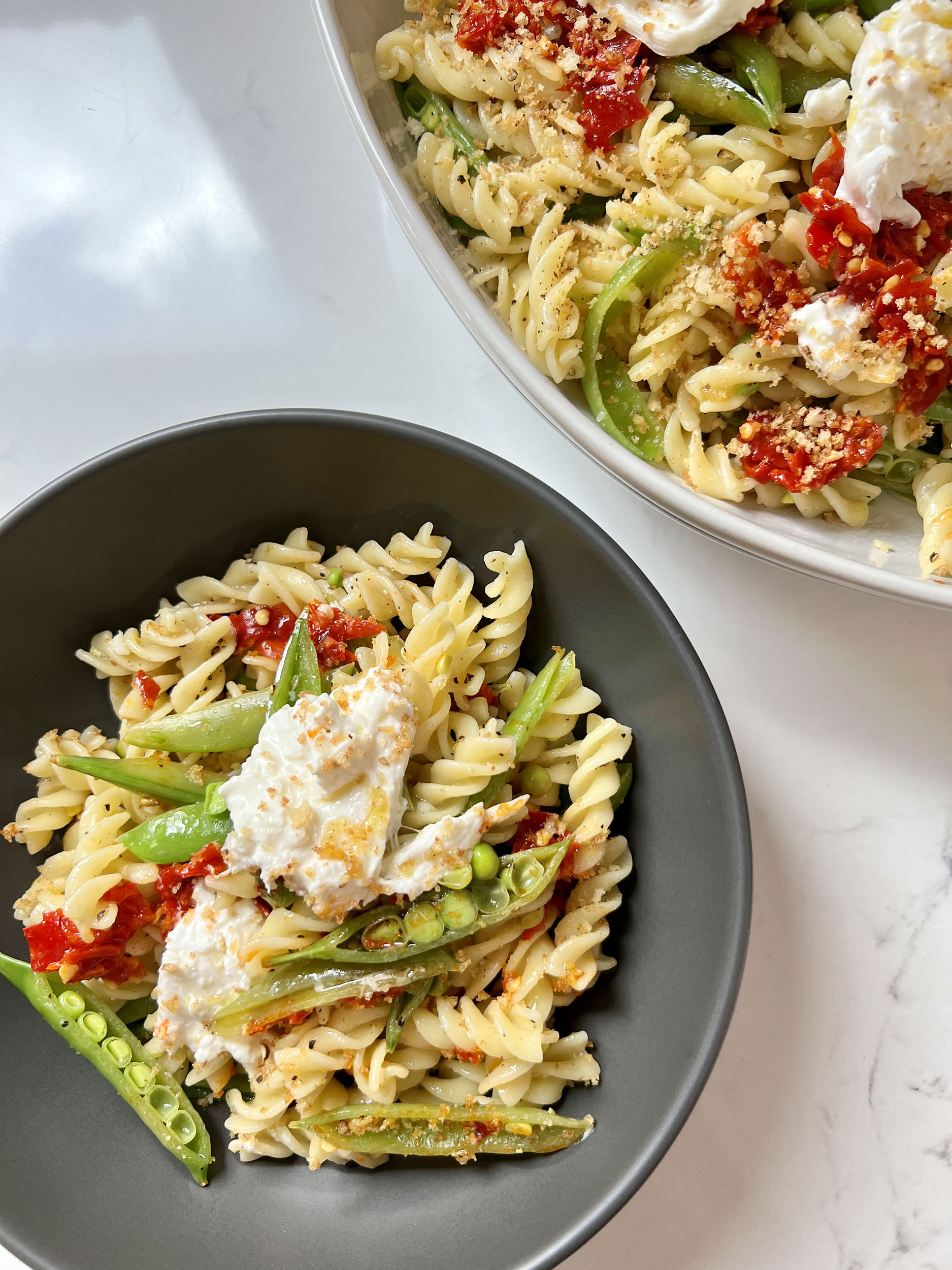 Print Recipe
Pasta and Sugar Snap Peas with Burrata
Fusilli pasta with crunchy sugar snap peas, dressed with olive oil, garlic and lemon juice. Topped with Calabrian chilis, burrata and toasted breadcrumbs.
Ingredients
16 oz. Fusilli Pasta

8 oz. Sugar Snap Peas, sliced in half lengthwise, on the bias

1/2 cup Panko Breadcrumbs

Olive Oil

Kosher Salt

6-8 Large Cloves of Garlic, pressed or minced

Juice of 1 Lemon

Fresh Cracked Black Pepper

Chopped Calabrian Chilis

1-2 Spheres of Burrata
Instructions
1
First, get 4 quarts of water heating to a boil over high heat.
2
Mix about 1/2 cup of Panko breadcrumbs with a little drizzle of olive oil, then toast the breadcrumbs in a dry skillet over medium-low heat. Shake the pan every few seconds until the breadcrumbs are golden. Remove from heat and transfer to a small bowl.
3
Once your water is boiling, season it with 2 tablespoons of Diamond Kosher Salt, or 1.5 tablespoons of Morton's Kosher Salt. Give it a stir and pour in 16 ounces of fusilli pasta. When you pour in the pasta, set a timer for 8 minutes.
4
At the 8 minute mark, add the sliced sugar snap peas to the pot. let cook for about 30 seconds longer and then cut the heat. Scoop out about 1 cup of pasta water.
5
Drain the pasta and peas in a colander and add the cooked pasta and peas back to the empty pot. Drizzle about 2 tablespoons of olive oil over the pasta and peas and stir. Then add the garlic, a little at a time, stirring in between additions to keep the garlic from clumping together.
6
Then add a little pasta water (about 2-3 tablespoons), give everything a few vigorous stirs. Add the juice of one lemon and a sprinkling of fresh cracked black pepper, stir again and we are ready to finish.
7
Transfer the dressed pasta and peas to a wide, shallow serving dish.
8
Dollop on the Chopped Calabrian Chilis.
9
So as not to lose any of the cream inside the fresh mozzarella ball, break the burrata into four or six pieces over the bowl of pasta and peas. Use one or two spheres of burrata.
10
Give the whole dish another good drizzle of olive oil.
11
Next, sprinkle a little flaky finishing salt over the whole dish, making sure to get some of the salt on the burrata pieces.
12
Lastly, sprinkle the toasted breadcrumbs over the whole dish.