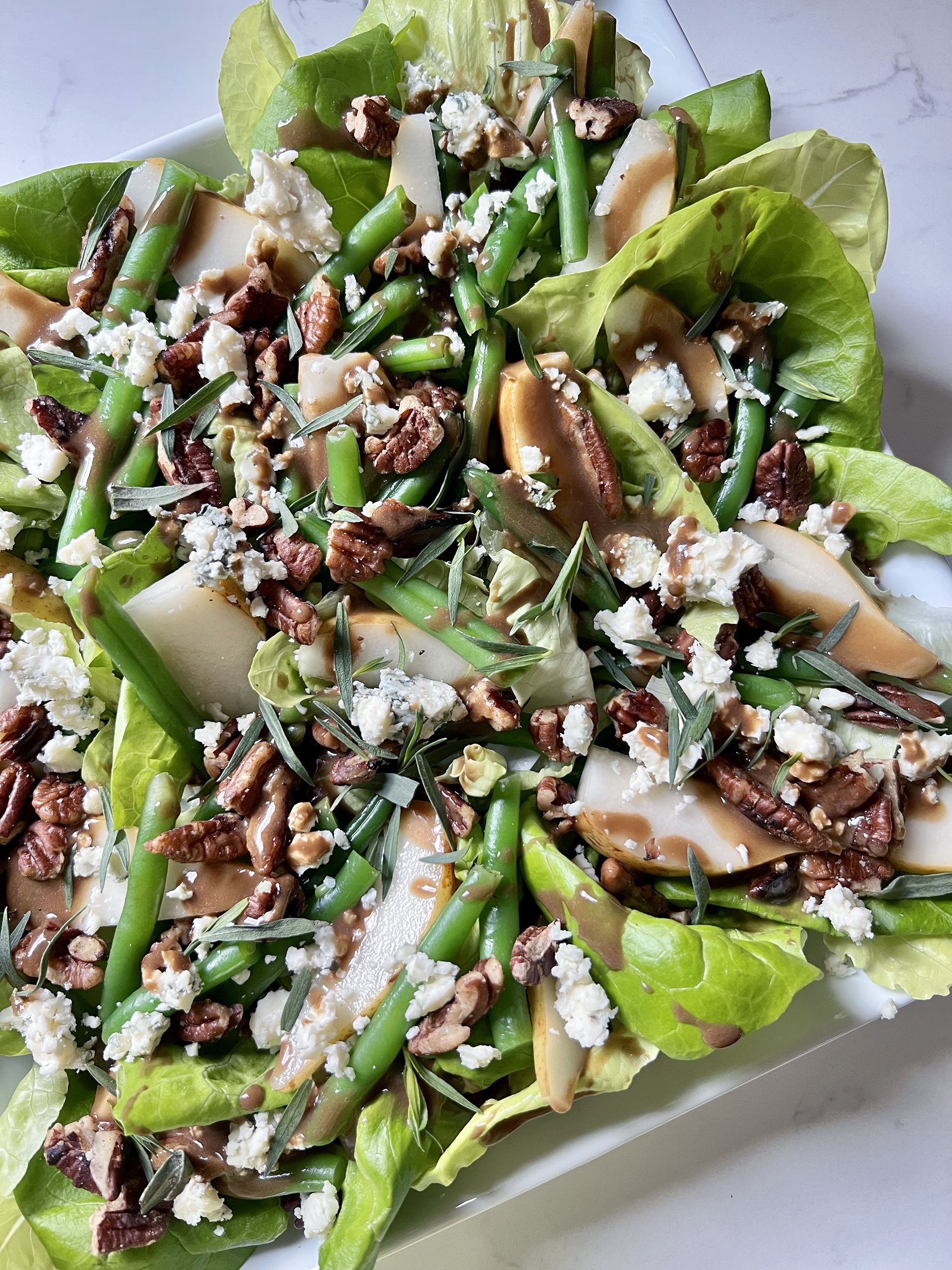 Print Recipe
Pear and Gorgonzola Salad
A great variety of texture with crunchy toasted pecans, juicy Bartlett pears, blanched green beans, creamy gorgonzola and tangy balsamic.
Ingredients
1/2 cup Pecan Pieces

Drizzle Olive Oil

Pinch of Kosher Salt, for the pecans

6-8 oz. Green Beans, trimmed and washed

2 tsp. Kosher Salt, for the green beans

1/2 cup Balsamic Vinegar

1/4 cup Olive Oil

3-4 tbsp. Dijon Mustard

1 Head of Living Butter Lettuce

1 Bartlett Pear

Sprinkle Lemon Juice, to keep the pears from turning brown

1/4 cup Gorgonzola Cheese, crumbled

Fresh Tarragon leaves, torn into pieces
Instructions
1
Start by setting a saucepan with a few cups of water to boil.
2
Toast about 1/2 cup of pecan pieces in a skillet over medium heat with a drizzle of olive oil. Shake them as they toast. Season the pecans with a pinch of salt and as soon as they become fragrant (maybe 2 minutes) take them off the heat and let them cool in the pan.
3
Prepare an ice bath for the green beans.
4
Add 2 teaspoons of kosher salt to the boiling water and drop in the green beans. Let them boil for only about 2 minutes. Just until they turn brighter green and slightly soften. Then use tongs to transfer the green beans directly to the ice bath. They can stay in the ice bath until we are ready to put them on the salad.
5
Whisk the balsamic, oil and Dijon mustard together until emulsified and thickened slightly. Add more Dijon if you want it thicker.
6
Lay the butter lettuce leaves upturned, like little cups on the serving plate.
7
Gather the green beans out of the ice bath and cut them (a small bunch at a time) in half. Scatter about half of the green beans around on the lettuce.
8
Trim and core the pear, then slice thinly. So your pear slices don't go brown, sprinkle the sliced pear with lemon juice.
9
Then lay the pear slices around the the lettuce and green beans.
10
Now, scatter the last of the green beans on top. With a composed salad, we are looking for an even, harmonious placement of color and texture.
11
After the last of the green beans are placed, scatter the toasted pecans evenly around. Follow the pecans with crumbles of the Gorgonzola.
12
So as not to be too heavy handed with the dressing, use a large spoon to drizzle the dressing over the salad.
13
Finish with scattering the fresh tarragon leaves.