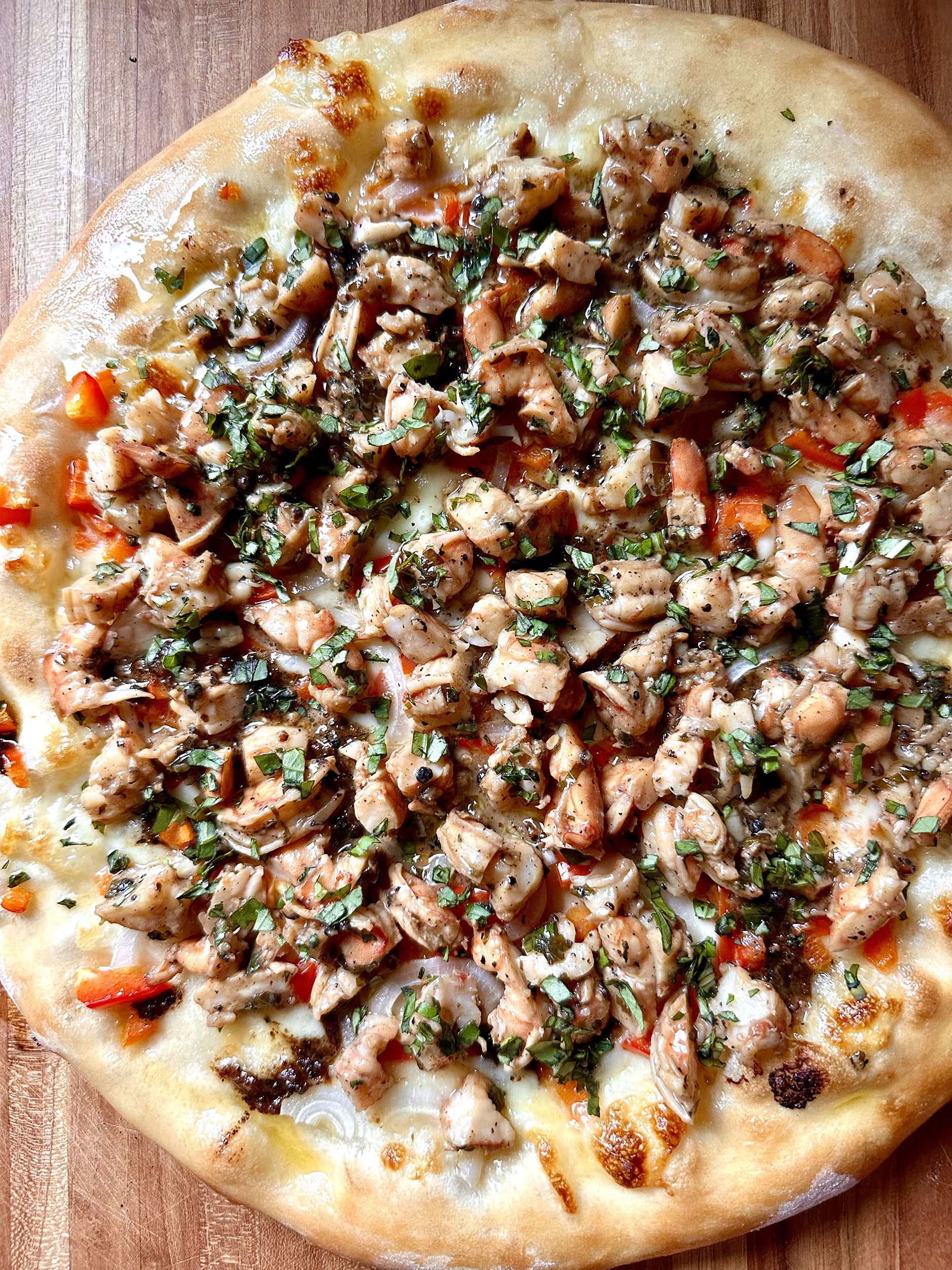 Print Recipe
Pepper Shrimp Pizza
Chef Regina's Pepper Marinade finds its way to a pizza! Whether you go with shrimp, chicken or just cheese, it's an amazing pizza topping.
Ingredients
1 Prepared Pizza Dough

8 oz. Grated Low Moisture Mozzarella Cheese

1 Red Bell Pepper, diced

1/4-1/2 White Onion, thinly sliced

Chef Regina's Pepper Marinade (with, or without shrimp) See links in the body of the post for the simple recipe.

Minced Fresh Basil Leaves

Olive Oil, for drizzling on crust (optional)
Instructions
1
Preheat the oven with a pizza stone or steel to 425 degrees F. Roll spin or stretch your dough to about 12-inches round on a lightly floured pizza peel.
2
Start with the grated mozzarella, spread evenly on top of the dough.
3
Top the cheese with diced red bell pepper and onion slices. Dollop the pepper marinade evenly around the pizza. We are ready for the oven.
4
Bake for 15-20 minutes, until the crust is puffed and golden and the cheese is melted. While the pizza is baking, roughly chop up the cooked shrimp in whatever marinade is left over.
5
When the pizza comes out, drizzle olive oil over the crust. Then, top the pie with the chopped shrimp and whatever marinade is left in the bowl. Evenly spread the chopped shrimp and then top with minced fresh basil leaves.
Notes
If you're using only the marinade, sans shrimp or other protein, dollop on the marinade before the pizza goes into the oven, top with fresh basil when it comes out of the oven. If you're using a cooked protein other than shrimp, like chicken, add it before the pizza goes into the oven. Then top with the fresh basil when the pizza comes out of the oven.