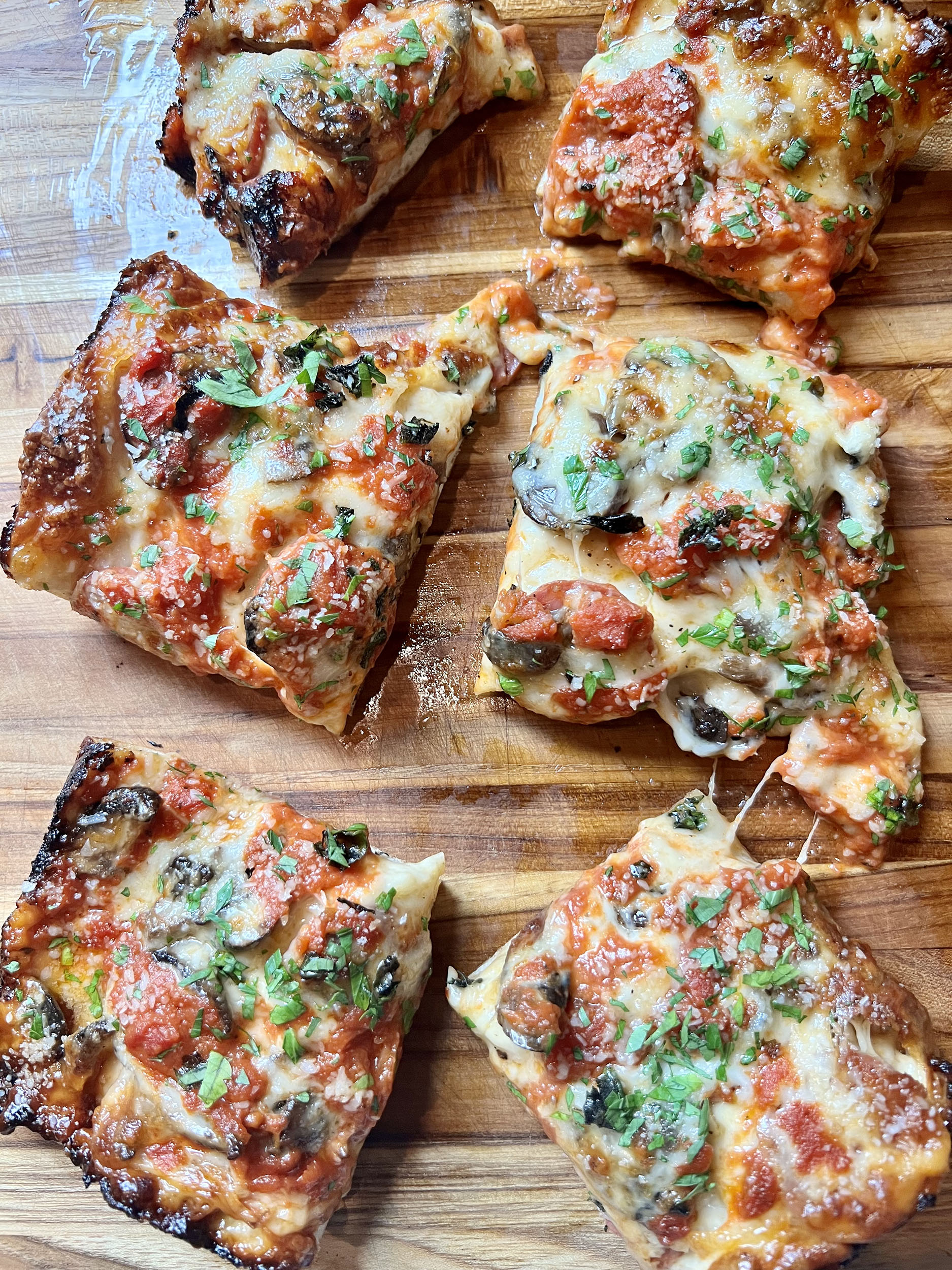 Print Recipe
Pepperoni and Mushroom Pan Pizza
Crispy, crunchy edges with gooey melted cheese, this Detroit-style pizza is a favorite, with thick cut pepperoni and sautéd mushrooms.
Ingredients
8 oz. Mushrooms

Drizzle Olive Oil

Kosher Salt and Black Pepper

Fresh Herb Sprigs (optional)

1 Prepared Pizza Dough

8 oz. Boars Head Caramelized Onion Jack Cheese Slices

Thick Cut Pepperoni

1 cup Grated Mozzarella Cheese

1/4-1/2 cup Jarred Tomato Sauce

Chopped Parsley, optional

Grated Parmesan Cheese
Instructions
1
Place the dough ball in a rectangular pizza pan and drizzle with oil, turn it to coat and cover with plastic wrap.
2
After about 20 minutes, stretch the dough out to fill the pan. If it shrinks back, re-cover it and set it in a warm spot to further warm up and become more pliable. After another 20 minutes, try to stretch it again.
3
While you wait on the dough, preheat the oven to 450 degrees F.
4
Start the mushrooms in a pan with just enough water to cover the bottom of the pan, over medium-high heat. Let the water boil and cook the mushrooms.
5
Once all the water has evaporated and cooked off, give the mushrooms a good drizzle of olive oil to start the browning process. Sprinkle the mushrooms with a pinch of kosher salt and black pepper.
6
Reduce the heat to medium and continue to stir occasionally until the mushrooms develop some browning. You can add fresh herbs if you like. I have some fresh oregano springs I will sauté with the mushrooms and then discard before topping the pizza.
7
Remove the mushrooms from heat and set aside until we are ready to assemble the pizza.
8
Start with the caramelized onion jack cheese slices. Just layer enough of the cheese slices to completely cover the dough.
9
Follow the cheese slices with the pepperoni. Then add the sautéd mushrooms. If you added herb sprigs to the mushrooms, be sure to discard them.
10
Top the pepperoni and the mushrooms with the grated mozzarella cheese and the remaining caramelized onion jack cheese. Again, make sure the cheese goes all the way to the edges.
11
Lastly, spoon the vodka sauce on top of the cheese. You can dollop it on, or make three columns of sauce in the center, totally up to you.
12
Bake the pizza in the preheated oven for about 20 minutes, Start checking after 15 minutes and pull it out when the sides are dark and the top is bubbling and the cheese has developed some browning.
13
Let it sit for a couple minutes, then use a spatula to loosen the sides of the pizza from the pan. Then carefully slide the spatula under one end of the pizza and slide the whole thing out onto a wire rack. Let it cool off more here, and top it with chopped parsley and Parmesan, if desired.