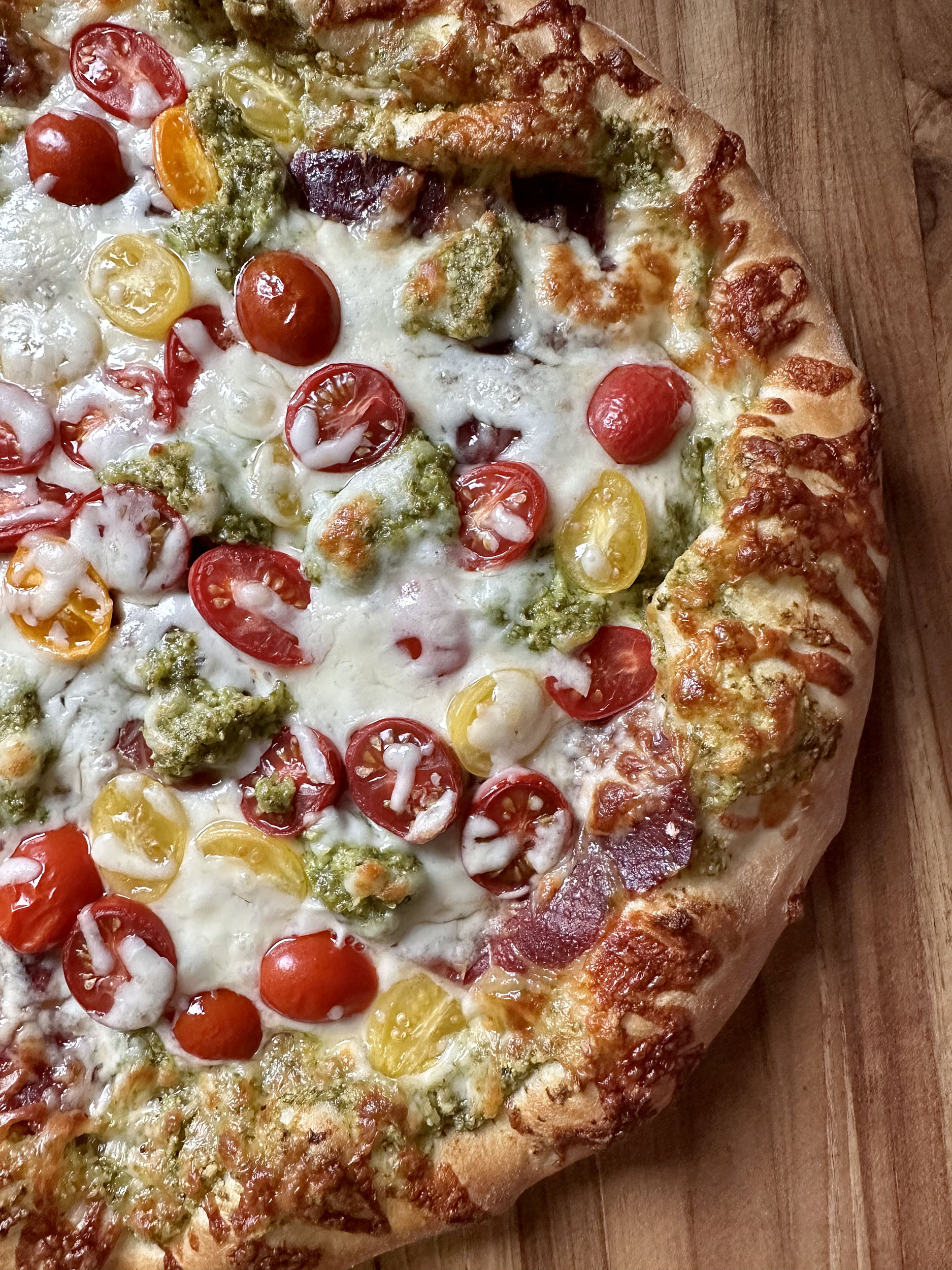 Print Recipe
Pesto Pizza with Jamón Ibérico
Jamón Ibérico adds a meaty bite – a nice surprise with herby pesto, melty mozzarella and juicy tomatoes in Pesto Pizza with Jamón Ibérico.
Ingredients
Pesto

4 oz. Fresh Basil Leaves

Heaping 1/4 cup Pine Nuts

Heaping 1/4 cup Parmesan Cheese

4-6 Garlic Cloves

Pinch of Kosher Salt

Olive Oil

Pesto Pizza with Jamón Ibérico

1 Prepared Pizza Dough

Pesto

1 cup grated Mozzarella Cheese

3-4 oz. Jamón Ibérico (or Serrano Ham, prosciutto, or Coppa)

1/2 pint Cherry or Grape Tomatoes, halved
Instructions
1
Preheat the oven to 425 degrees F with a pizza steel or stone.
2
In the bowl of a food processor, add fresh basil leaves, garlic cloves, pine nuts and Parmesan. Add a pinch of kosher salt. While the processor is processing these ingredients, drizzle in olive oil until the mixture is incorporated and spreadable.
Pesto Pizza with Jamón Ibérico
3
On a lightly floured surface, roll, spin or stretch your prepared dough out to about 12-inches round. Spread the pesto on the dough in a thin and even layer, leaving a border for the crust.
4
Then top the pesto with grated mozzarella cheese. Then layer on the Jamón Ibérico. Top the ham with a little more cheese, then the tomatoes. Dollop on a little more pesto and top the whole pie with a little more cheese.
5
And we are ready for the oven! Bake the pizza on a stone or steel for about 10-15 minutes, until the crust is puffed and golden, and the cheese is melted and bubbly.
6
Let the pizza cool for a few minutes, then slice and serve.