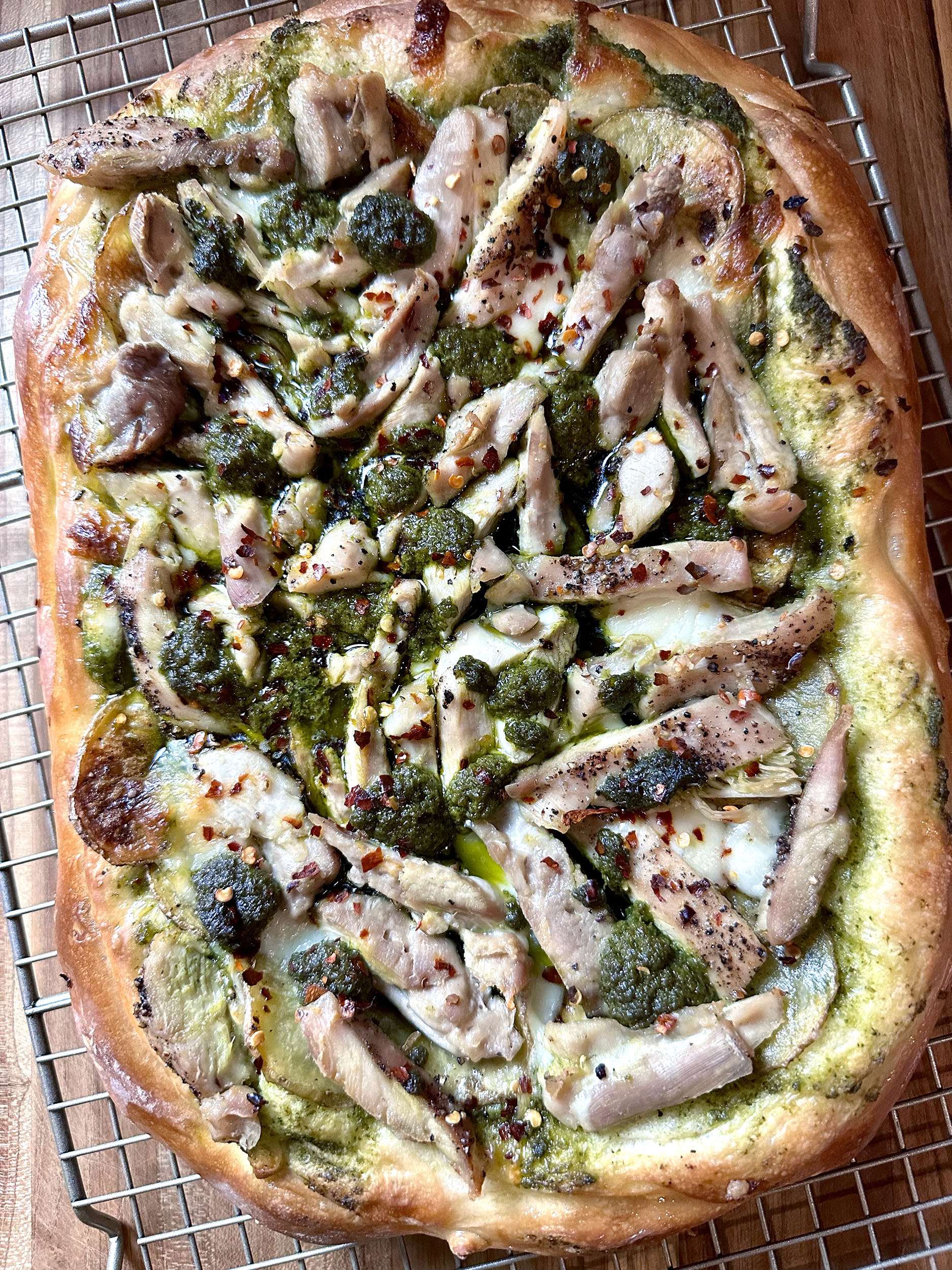 Print Recipe
Pesto Potato and Chicken Pizza
Pesto Potato and Chicken Pizza is a combination made in heaven. A hearty pan pizza, the prep provides an opportunity for meal prep this week!
Ingredients
1 lb. Chicken Thighs or Breasts

1-2 Yukon Gold Potatoes, Sliced 1/8-inch thick on a mandoline slicer

Olive Oil

Kosher Salt and Black Pepper

Pesto Potato and Chicken Pizza

1 Prepared Pizza Dough

Olive Oil (for greasing the pan)

1/4 cup Pesto

8 oz. Low Moisture Mozzarella Cheese, grated

Roasted Potato Slices

1-2 Roasted Chicken Thighs (or Breasts), sliced into strips

Red Pepper Flakes, optional
Instructions
Chicken and Potato Meal Prep
1
Preheat the oven to 375 degrees F. Use two separate sheet pans; one for the chicken and one for the potato slices. Simply lay the chicken thighs on the sheet tray and season with kosher salt and black pepper.
2
Toss the potato slices in olive oil and season with kosher salt and black pepper. Spread the potatoes in a single layer on the sheet tray.
3
Bake the chicken for about 20 minutes, until the internal temperature reaches 170 degrees F. Bake the potatoes until they turn golden, about 15 minutes. When you pull out the chicken and the potatoes, turn the oven up to 400 degrees F.
Pesto Potato and Chicken Pizza
4
Spread a light layer of olive oil on a small (quarter) sheet tray and roll or stretch your prepared pizza dough to fit the pan.
5
Spread about 1/4 cup of pesto on the dough, leaving a 1/2-inch border. Be careful not to add too much pesto or else the pizza will get very wet. Next layer is mozzarella cheese; use about 3/4 of your cheese. The third layer will be the roasted potato slices. Evenly place the roasted potato slices on top of the cheese, it's ok if they overlap.
6
Spread the remaining 1/4 of the mozzarella cheese. Then top with the chicken strips. You can dollop on a little more pesto. Top with a sprinkling of red pepper flakes.
7
Place the pizza in the oven and bake for about 20 minutes, until the crust is puffed and golden, the cheese is melted and the pizza is risen in the center. Pull the pizza from the oven and let it sit for a couple minutes, before using a spatula to ease the pizza out onto a wire rack. Once it's on the wire rack, lift the pizza to ensure the bottom is golden. If it's not, you can slide the pizza back into the pan and bake it a little longer.
8
Let the pizza sit a for a few to several more minutes. It will firm up a little and make it easier to cut without all the toppings sliding off.
Notes
Store the remaining chicken and potatoes to add to meals throughout the following days/week.