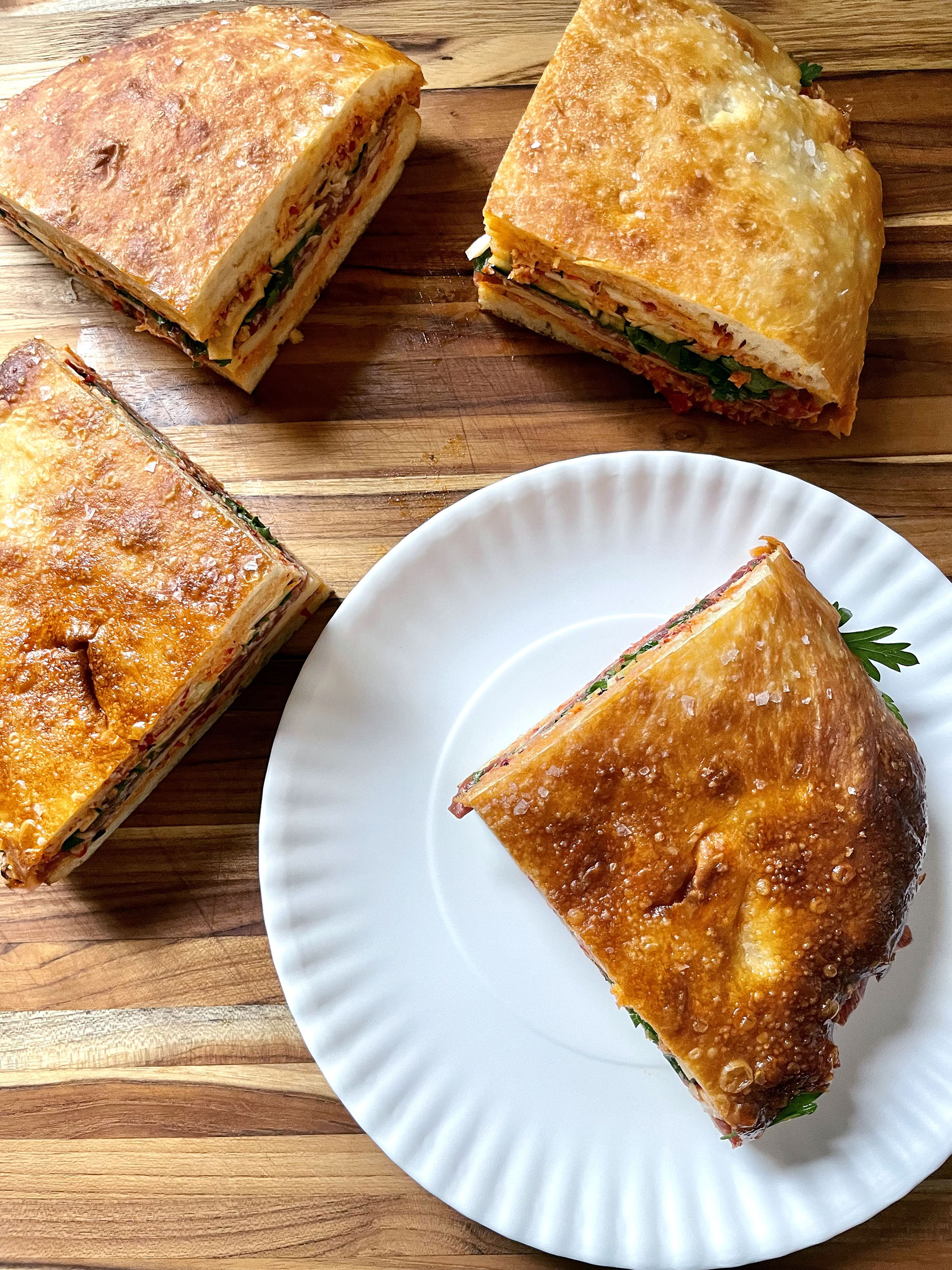 Print Recipe
Picnic Sandwich with Artichoke and Pepper Spread
Creamy provolone cheese with Coppa; a bright bite of fresh parsley; crunchy, mellow fennel; and of course the Artichoke Pepper spread – sweet and savory.
Ingredients
Artichoke Spread

1 14-oz. can Artichoke Hearts, drained and patted dry

1/3 cup Piquanté peppers, quartered

3 cloves of garlic

1 tbsp. Chopped Calabrian Chilis

Juice of half a lemon

8-10 fresh basil leaves

5-6 tbsp. Extra Virgin Olive Oil

Kosher Salt to taste

Sandwich

1 1-lb. Prepared Pizza Dough

8 oz. Provolone, sliced thin

8-9 oz. Coppa, sliced thin

1/2 cup Fresh Parsley Leaves

1 Small Fennel Bulb, sliced thin, core and stalks removed
Instructions
1
Take the pizza dough out of the fridge. Lay a sheet of parchment in a rimmed baking sheet and spray the parchment with cooking spray. Place the dough ball on the oiled parchment and cover loosely with plastic wrap. Let the dough sit at room temp for about 1 hour. Preheat oven to 425.
2
Press and shape the dough into a 7-inch square and brush the top with olive oil. Sprinkle with flaky sea salt, if desired.
3
Bake the dough for about 12 minutes, or until the crust is golden and the bread has risen.
4
When bread is done, transfer to a wire rack to cool completely, about 1.5 hours.
5
Process artichoke hearts, Piquanté peppers, garlic, Calabrian Chilis, lemon juice and basil leaves in a food processor until finely chopped to a pesto-like consistency.
6
Transfer to a bowl and taste for seasoning, add Kosher salt to taste. Add olive oil and stir to incorporate the oil in to the spread. Set aside.
7
When the bread is cooled completely, slice in half horizontally.
8
Spread half of the artichoke spread on each half of bread, using all of the spread.
9
On the bottom half, layer the provolone, then the Coppa.
10
Then the parsley leaves and finally the fennel slices.
11
Cap with the bread top and wrap tightly with two layers of plastic wrap.
12
Place a Dutch oven on top of the wrapped sandwich and let the sandwich press for one hour.
13
Unwrap sandwich and slice into quarters, or eighths and serve.
Notes
If you don't have a Dutch oven, place a large frying pan on the wrapped sandwich and load the frying pan with canned goods to press the sandwich. If not serving immediately, place the wrapped, pressed sandwich in the refrigerator for up to 24 hours before serving.