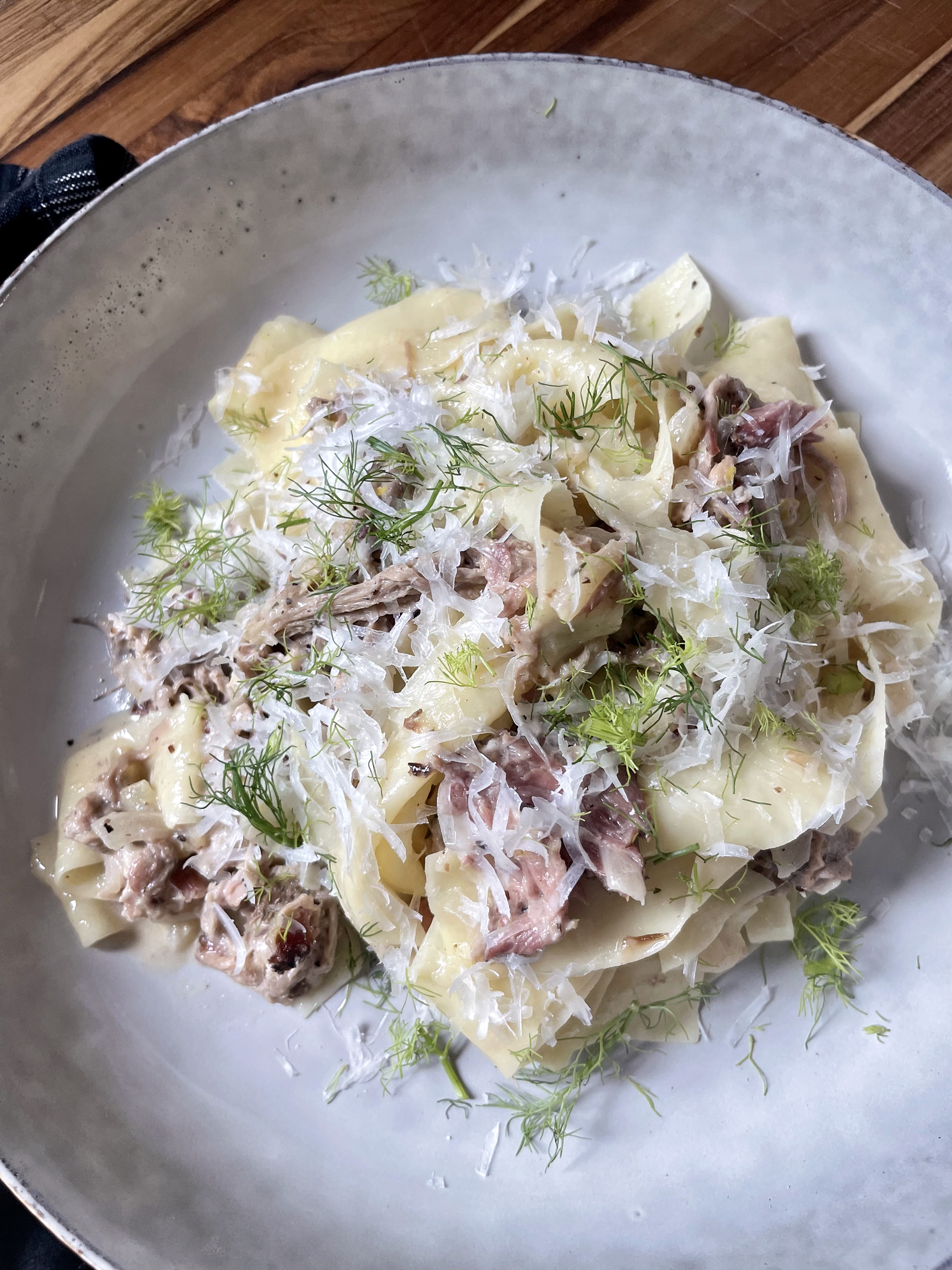 Print Recipe
Pork Ragu with Lemon and Fennel
Creamy ragu is lightened up with fennel and lemon; smoked pulled pork brings a deep, rich flavor that is right at home in this Pappardelle pasta dish.
Ingredients
1 tbsp. Olive Oil

1 small to medium-sized Fennel Bulb, diced

1/2 large White Onion, diced

3-5 Garlic Cloves, minced or pressed

2 tsp. Fresh Thyme Leaves, minced

Kosher Salt to taste

1/2 cup Heavy Cream

1.5 cups Water

3-4 cups Pulled Pork Shoulder (smoked, braised or roasted)

1/4 cup Fresh Lemon Juice

Zest of 2 Lemons

8 oz. Pappardelle Pasta (extra thin or regular)

1 cup Grated Pecorino Romano, plus more for garnish

Fennel Fronds or chopped Parsley for garnish
Instructions
1
Heat 1 tablespoon of olive oil in a large skillet or braiser over medium-high heat. Add the onions and the fennel and sauté until the onions and fennel soften a bit, about 5 minutes. Season with two pinches of Kosher salt. Then add the garlic and the thyme leaves. Sauté just until fragrant, about 30 seconds.
2
Pour in the cream and 1.5 cups of water. Stir and bring to a simmer, reduce heat to medium and let simmer for about 3-5 minutes. Then add the pulled pork. Stir the pork into the cream mixture. Reduce the heat to low and let simmer stirring occasionally. Taste the mixture and add more Kosher salt if needed.
3
Meanwhile, get a pot of water boiling for the Pappardelle pasta.
4
Add the lemon juice and zest to the pork and cream mixture. Stir well to combine and leave on low heat while the pasta cooks. Taste the sauce again and adjust seasoning as needed.
5
Cook the pasta to just shy of al dente. Use tongs to transfer the pasta to the cream and pork mixture. (if you drain the pasta in a colander, reserve 2 cups of the pasta water).
6
Add the grated Pecorino Romano to the pasta and cream sauce.
7
Then pour about 1/2 cup of the hot pasta water over the cheese and the pasta and stir everything together.
8
Keep adding as much pasta water as needed to keep everything creamy and smooth.
9
Once everything is incorporated, coated in ragu and the cheese is fully melted, remove from heat and serve.
10
Top each serving with more grated Pecorino Romano and fennel fronds or parsley.