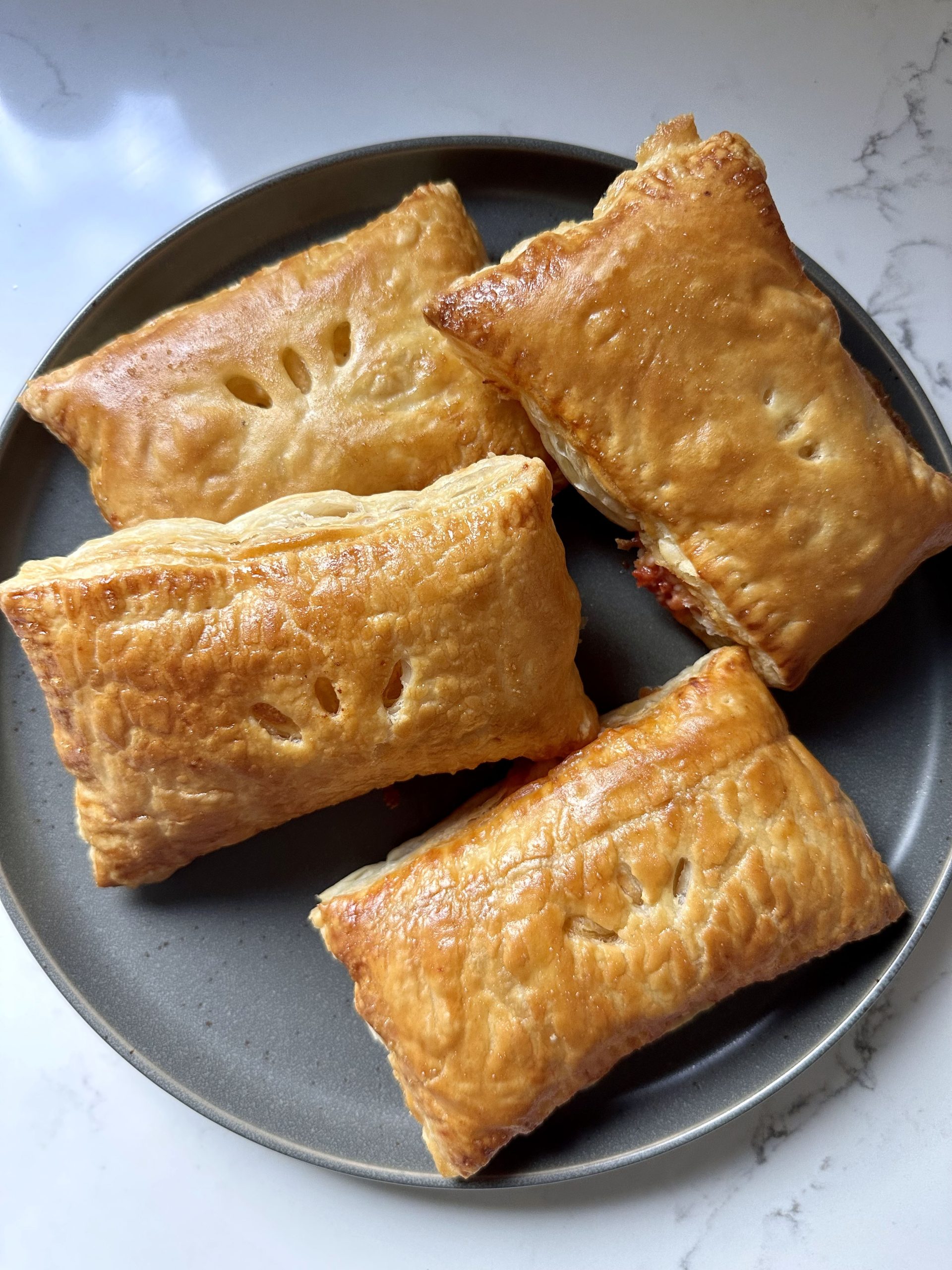 Print Recipe
Puff Pastry Pizza Pockets
Mozzarella cheese, crushed tomatoes and pepperoni enveloped in golden, crisp, flaky and buttery puff pastry. It's Puff Pastry Pizza Pockets!
Ingredients
1 Sheet Prepared Puff Pastry Dough, thawed but still very cold

4 tbsp. Crushed Tomatoes, divided

1/2 cup Grated Mozzarella Cheese, divided

Pepperoni

1 Egg, beaten with a splash of water
Instructions
1
Preheat the oven to 400 degrees F.
2
On a lightly floured surface, roll out the puff pastry dough to close up the cracked folds and to get a little more length and width out of the dough. We want to get four strips that are about 3.5-inches on the short side.
3
Use a spoon to spread a spoon full of sauce on one half of the puff pastry strip. be sure to leave a 1/2-inch border for sealing the pastry pocket. Then sprinkle a little grated mozzarella.
4
Lay the pepperoni slices on the cheese, then top with more cheese.
5
Get a little dish of water and use your finger to moisten the 1/2-inch border (toppings side) of the dough. Then fold the other side of the dough over the toppings. Press, and use the tines of a fork to seal. Transfer the pockets to a parchment-lined sheet tray.
6
Brush the tops with egg wash. Then use the fork or a knife to poke or slice a few ventilation holes in the top of the dough. Now bake the Puff Pastry Pizza Pockets for about 15-20 minutes, just until the pastry is puffed and golden.
7
Seriously, let these cool off for longer than you think you need to before biting into one. Transfer the Puff Pastry Pizza Pockets to a serving plate.