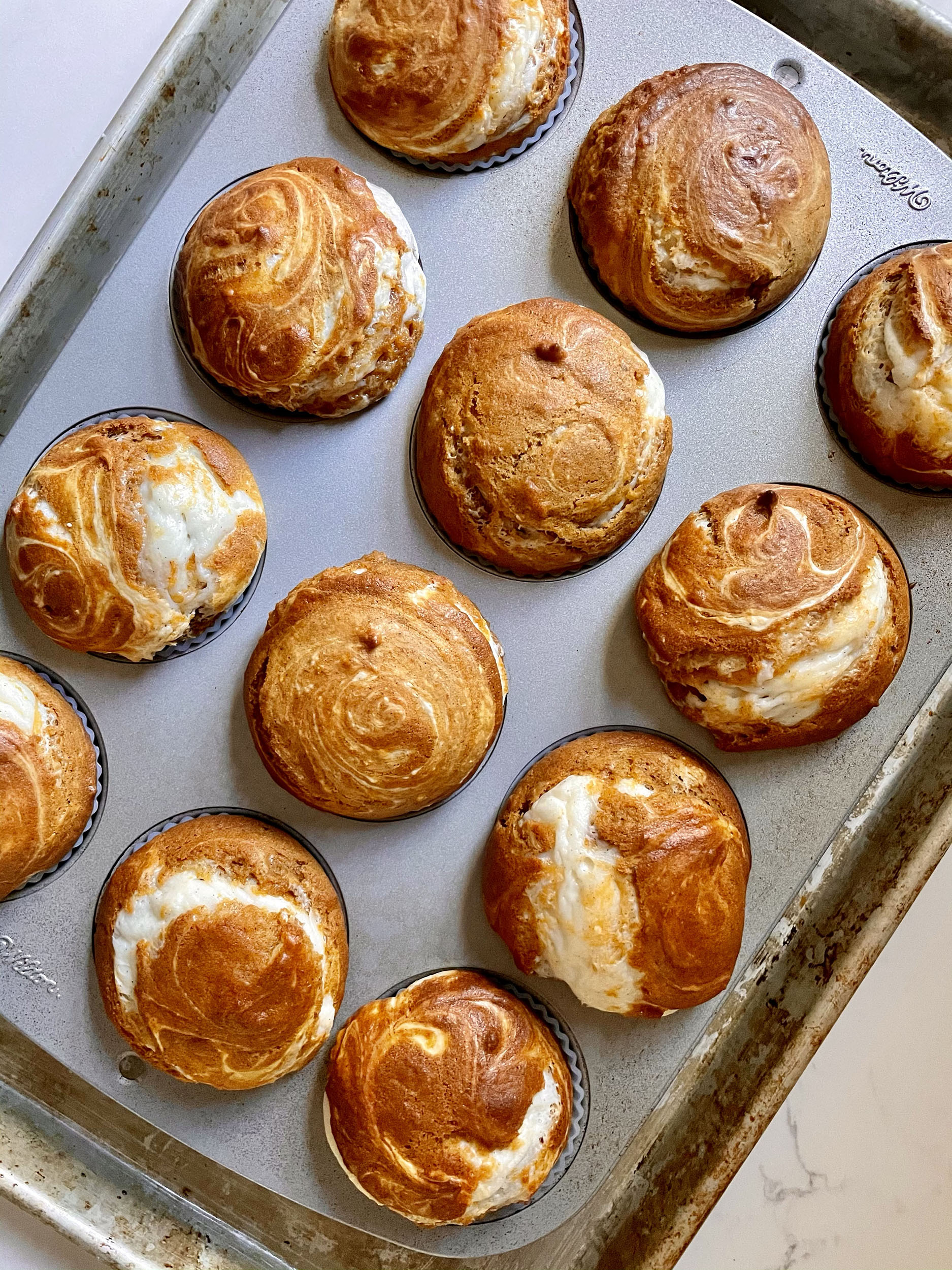 Print Recipe
Pumpkin Cream Cheese Muffins
Not-too-sweet, pumpkin spice adds the fall flavor, while the cream cheese plays a slightly savory role to give these muffins a satisfying richness. Perfect with a cup of coffee.
Ingredients
Muffin Batter:

1 3/4 cups all purpose flour

1 tablespoon pumpkin spice

1 teaspoon baking soda

1/2 teaspoon salt

1 (15 oz) can pumpkin (pure pumpkin puree)

1 cup granulated sugar

1/2 cup packed brown sugar

2 large eggs

1/2 cup vegetable oil (I used Grapeseed Oil)

1 tablespoon vanilla extract (I used Vanilla paste)

Cream Cheese:

8 oz cream cheese (If you can find it, use the pre-whipped cream cheese. It's so much easier to work with!)

1/4 cup granulated sugar

2 teaspoons vanilla extract (I used Vanilla paste)
Instructions
1
Preheat oven to 375°F. Place paper or silicone baking cups into muffin pan.
2
In large bowl, whisk together pumpkin, sugar, brown sugar, eggs, vegetable oil and vanilla extract.
3
In a small bowl, whisk flour, pumpkin spice, baking soda and salt until well combined. Set aside.
4
In a medium bowl, beat cream cheese until smooth. Add in sugar and vanilla extract and beat until well combined. Set aside.
5
Slowly add the four mixture to the pumpkin mixture and whisk until there are no lumps. Fill muffin tins 3/4 full.
6
Top each muffin with about 1 tablespoon of cream cheese mixture. Add another dollop of pumpkin batter and use a toothpick to swirl it together.
7
Bake muffins for 18-20 minutes, or until a toothpick inserted in the center comes out clean.