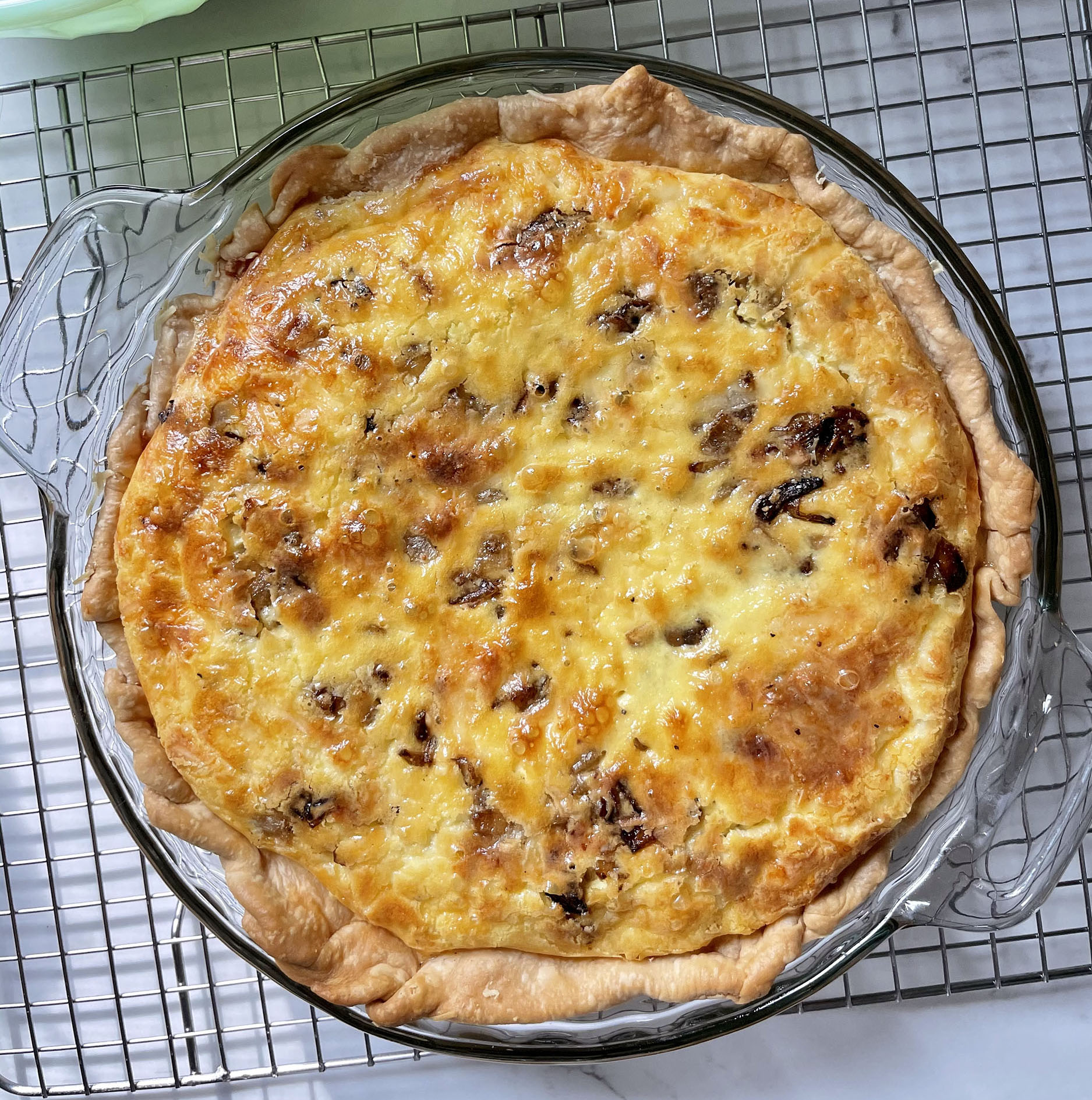 Print Recipe
Quiche Lorraine
The OG of Quiche. Quiche Lorraine is bacon, Gruyere, onions, and an eggy, creamy custard in a flaky pie crust. Topping with an herb salad is optional, but highly recommended.
Ingredients
1 ~9" Pie Dough

4 Eggs (Plus 1 egg white for egg wash)

4 Strips of Bacon

1 Medium Onion, Diced

1 cup Gruyere Cheese (or Swiss), grated

1/4 cup Parmesan, grated

1.5 cups Heavy Cream

1/4 tsp. Nutmeg

1/4 tsp. Black Pepper

1/2 tsp. Kosher Salt

Herb Salad

1 bunch Flat Leaf Parsley

1 small to Medium Shallot

Drizzle of Olive Oil

Splash of your favorite Vinegar (Apple Cider, Balsamic, Red Wine, etc)

pinch of Kosher Salt

pinch of Black Pepper
Instructions
1
Preheat oven to 400 degrees.
2
Line a 9-10" Pie plate with dough and flute edges. Lay parchment over dough and place dried beans in bottom. Blind bake for 8 minutes.
3
Remove beans and parchment from dough and brush bottom with egg wash and bake for 5 more minutes.
4
Reduce oven temperature to 375 degrees.
5
Fry or bake bacon. Set bacon on a paper towel-lined plate. Reserve 1 tablespoon of bacon grease for cooking onions.
6
Sauté onions over low to medium heat for about 20 minutes, until lightly caramelized.
7
Grate Gruyere and Parmesan.
8
Whisk together the lightly beaten eggs with cream, nutmeg, salt and pepper.
9
In the pie dough spread a layer of Gruyere, then add the bacon, Parmesan and more Gruyere, add the onions and then top with any remaining Gruyere.
10
Strain the egg mixture through a fine mesh sieve over the pie.
11
Bake for 30 minutes. Check doneness and bake until a knife inserted in the center comes out out clean. Likely, 10 more minutes.
12
Let quiche rest for at least 10 minutes.
13
Rough chop herbs, mince the shallot and place in a bowl.
14
Drizzle olive oil and mix.
15
Add pinches of Kosher salt and pepper.
16
Add splash of vinegar and mix well.
Notes
If your quiche is done at the 40 minute mark but the bottom is still under-baked, place quiche on bottom rack in the oven and bake for 10-15 more minutes.