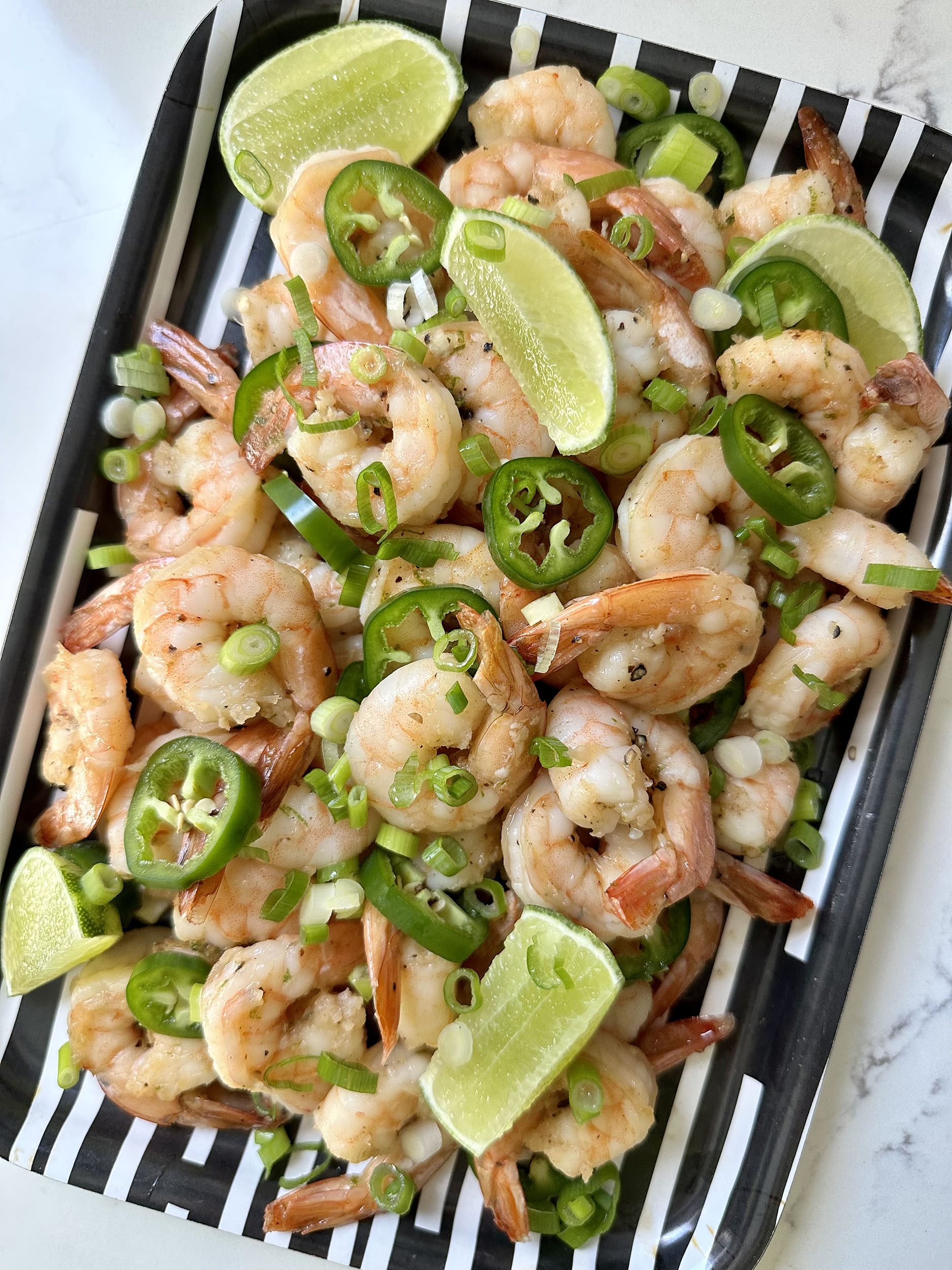 Print Recipe
Quick and Easy Hot Honey Shrimp
Sweet honey and spicy cayenne come together with lime zest, ginger and garlic to season buttery shrimp, garnished with jalapeño slices.
Ingredients
1 tbsp. Honey

1/8 tsp. Ground Cayenne

1/4 tsp. Grated Lime Zest

1/4 tsp. Freshly Grated Ginger

2-3 Garlic Cloves, grated on a Microplane or finely minced

1/4 tsp. Kosher Salt

1/4 tsp. Black Pepper

1 lb. Cleaned Large (16/20) Shrimp, patted very dry with paper towels

1 tbsp. Cold Butter, cubed

Lime wedges, for serving

1 jalapeño, very thinly sliced, for serving

1 scallion, finely chopped, for serving
Instructions
1
In a medium bowl, whisk together the honey, garlic, ginger, lime zest, cayenne pepper, kosher salt and black pepper.
2
The mixture will be thick and it won't seem like it will coat the shrimp. But it will because the shrimp has natural juices that will help emulsify the hot honey sauce as we stir the shrimp in the sauce.
3
For the shrimp, leave the tails on or take them off, it's up to you. Add the peeled, cleaned and patted dry shrimp to the bowl of hot honey sauce. Stir the sauce up from the bottom to help coat the shrimp. Keep tossing the shrimp in the sauce until the shrimp are coated.
4
Place a skillet over medium-high heat and let the skillet heat for a few minutes before adding the butter. Then add the butter to the skillet. When the butter gets foamy, add the shrimp along with the hot honey sauce to the skillet.
5
Cook the shrimp, stirring occasionally for about 4-5 minutes. Just until the shrimp begins to curl and they are pink and opaque. Use a large spoon to transfer the shrimp to a serving platter. Pour any remaining sauce over the shrimp.
6
Garnish the shrimp with sliced jalapeños, scallions and lime wedges. Give them a squeeze of lime juice. Serve on their own or over rice or noodles.