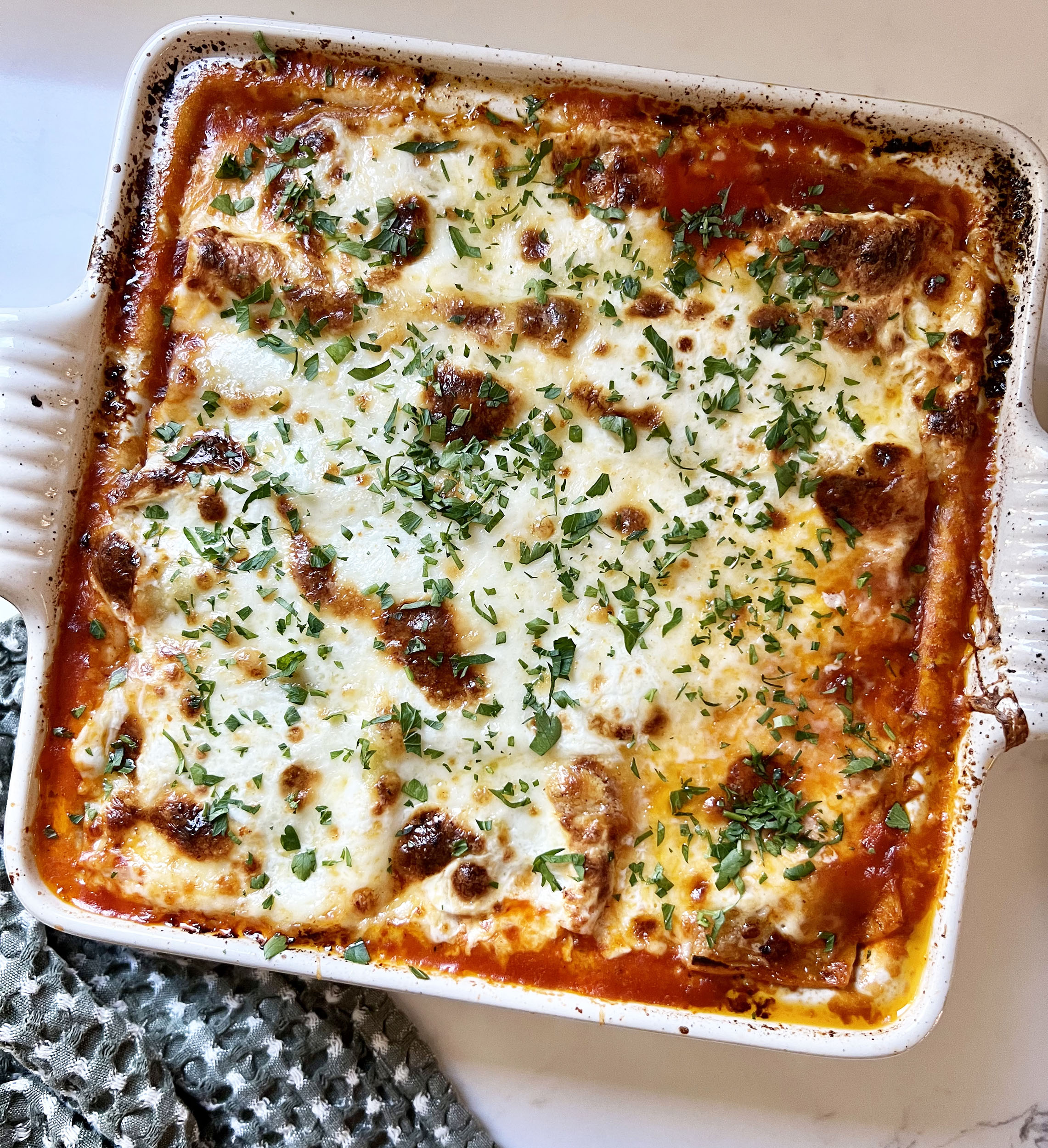 Print Recipe
Easy Lasagna For Two
Lasagna is the perfect Valentine's Day dinner. The humble homey-ness of Lasagna is loving and comforting, rich and warm like a tender hug. With a mix of Fontina and Fresh Mozzarella cheeses, and a layer of Pesto.
Ingredients
Drizzle of Olive Oil

1 lb. Ground Italian Sausage

1/2 Onion, diced

1/2 Jar Tomato Sauce (about 10 oz.)

1 14.5-oz. can Diced Tomatoes

1/4 cup Chopped Calabrian Peppers

Kosher Salt and Black Pepper, to taste

7 oz. Ricotta (about 1/2 of a 15-oz. container)

1.25 cups Grated Fontina Cheese

1/4 cup Grated Parmesan

1/4 cup Fresh Pesto

Fresh Lasagna Noodles or No Cook Dried Lasagna Noodles

4-6 oz. Fresh Mozzarella Cheese

Chopped Fresh Parsley, for garnish
Instructions
1
Preheat the oven to 375 degrees F.
2
Brown the sausage in a skillet, with a drizzle of olive oil, over medium heat with diced onion. When the sausage is browned and cooked through, add half a jar of tomato sauce. Then add a can of diced tomatoes. Add 1/4 cup of chopped Calabrian peppers. Stir this together and let it simmer over medium/medium-low heat for about 10 minutes. Season with Kosher salt and black pepper to taste.
3
In a small bowl, mix together 7 ounces of ricotta cheese, 1/4 cup of the grated Fontina and 1/4 cup freshly grated Parmesan cheese. Season with a few cranks of fresh cracked black pepper and a pinch of Kosher salt. Stir until well combined and set aside.
4
In a 8x8 or 9x9-inch baking dish, spoon and spread enough sauce in the dish to cover the bottom. Lay noodles or a lasagna sheet over the sauce. Then, ladle more sauce over the noodle layer.
5
Dollop the ricotta mixture on top of the sauce, covering the sauce with the ricotta mix, this will be the only layer of ricotta, so use it all.
6
Evenly dot the top of the ricotta with pesto.
7
Lay another single layer of noodles on top of the pesto and ricotta.
8
Lay the fresh mozzarella slices on top of the noodle layer.
9
Then cover the entire top with the remaining cup of grated Fontina.
10
Cover the baking dish and place the whole dish on a sheet tray for easier handling. Bake the Easy Lasagna for 20 minutes, until the the sauce is bubbling up around the edges and the cheese is melted. Then remove the cover and continue baking for another 15 minutes, until the cheese begins to develop golden brown spotting. If needed, in the last 5 minutes, switch the oven to broil to let the cheese get browned.
11
When you pull the lasagna from the oven, let it sit for 15 minutes. Sprinkle the top with chopped fresh parsley, or fresh basil.