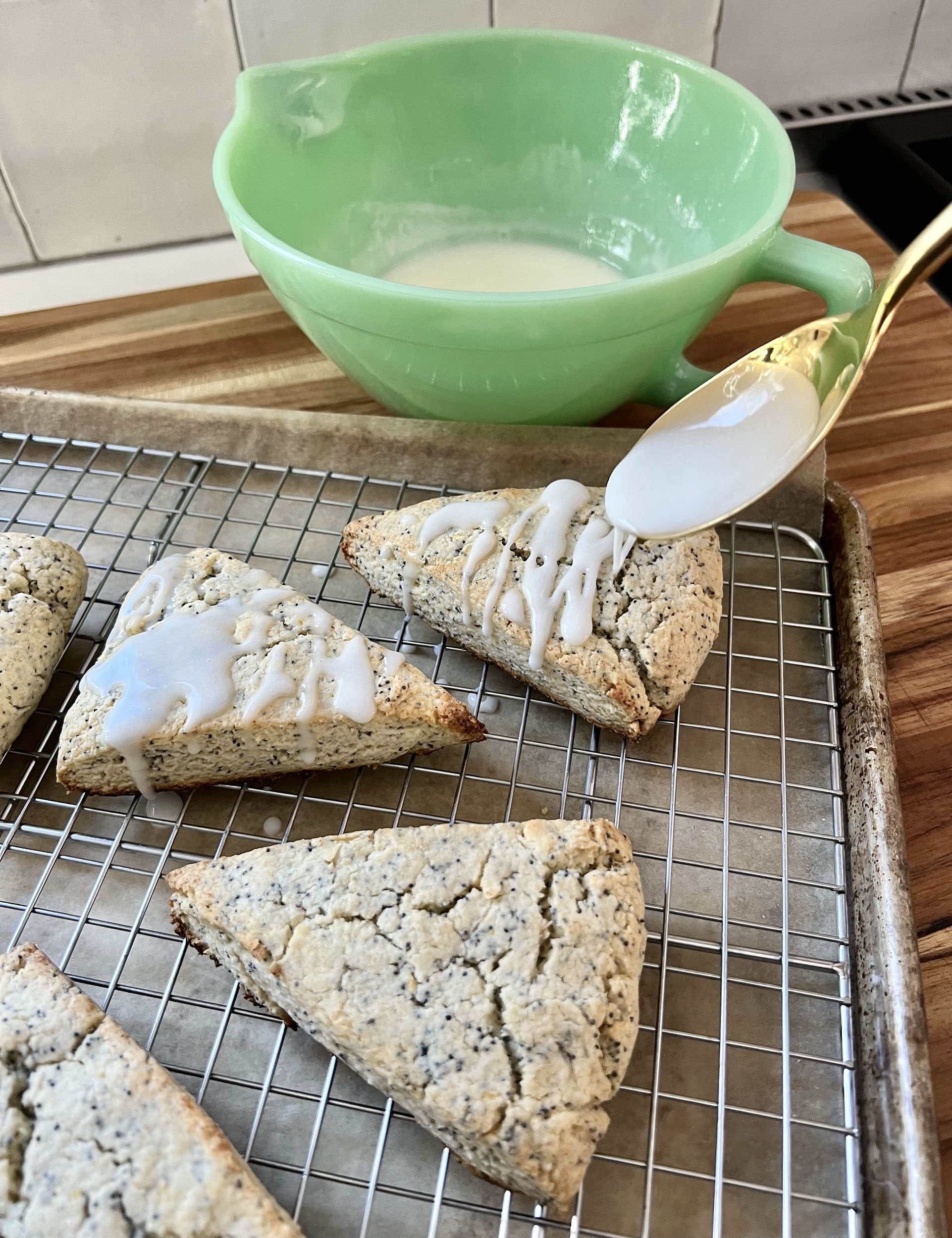 Print Recipe
Quick and Easy Lemon Poppy Seed Scones
Tart lemon icing gently coats the golden tops of these crumbly, tender Quick and Easy Lemon Poppy Seed Scones. Perfect with your favorite hot beverage.
Ingredients
3 cups All Purpose Flour

1/2 cup Sugar

3 tbsp. Poppy Seeds

1 tbsp. Baking Powder

1 tsp. Salt

Zest and Juice of 1 Lemon

10 tbsp. Cold Butter, cubed

1 Large Egg

1/3 cup Heavy Cream

Lemon Icing

1 cup Powdered Sugar

2 tbsp. Fresh Lemon Juice

1 tbsp. Heavy Cream
Instructions
1
Preheat the oven to 375 degrees.
2
Add the flour, salt, baking powder, poppyseeds, sugar and the zest of one lemon to the bowl of a food processor.
3
Give this a few pulses to combine the dry ingredients.
4
Then add the cubed butter. Pulse a few more times, until you have a coarse sandy texture.
5
In a separate, small bowl, whisk the juice of one lemon, the egg and the cream, until combined. Then add the wet mixture to the dry mixture in the food processor.
6
Pulse this just a few more times, just until it comes together. This will happen pretty quickly. You're looking for a crumbly dough that mostly wants to stick together.
7
Turn the dough crumbles out on a work surface and shape into a ball, then flatten into an 8-inch wide disc.
8
Use a long sharp knife to cut the disc into 8 wedges.
9
Then place the wedges on a parchment-lined sheet tray.
10
Bake the scones for 20 minutes, or until they are golden around the edges.
11
Whisk together powdered sugar, 2 tablespoons lemon juice and heavy cream until smooth. Set that aside until the scones are baked and slightly cooled.
12
When the scones comes out of the oven, let them cool off until they're easy to handle. Then transfer them to a wire cooling rack and place that rack in the parchment-lined sheet tray we baked the scones on. Then use a spoon to drizzle the lemon icing over the scones. Let the icing set for several minutes. Store in an airtight container at room temperature.