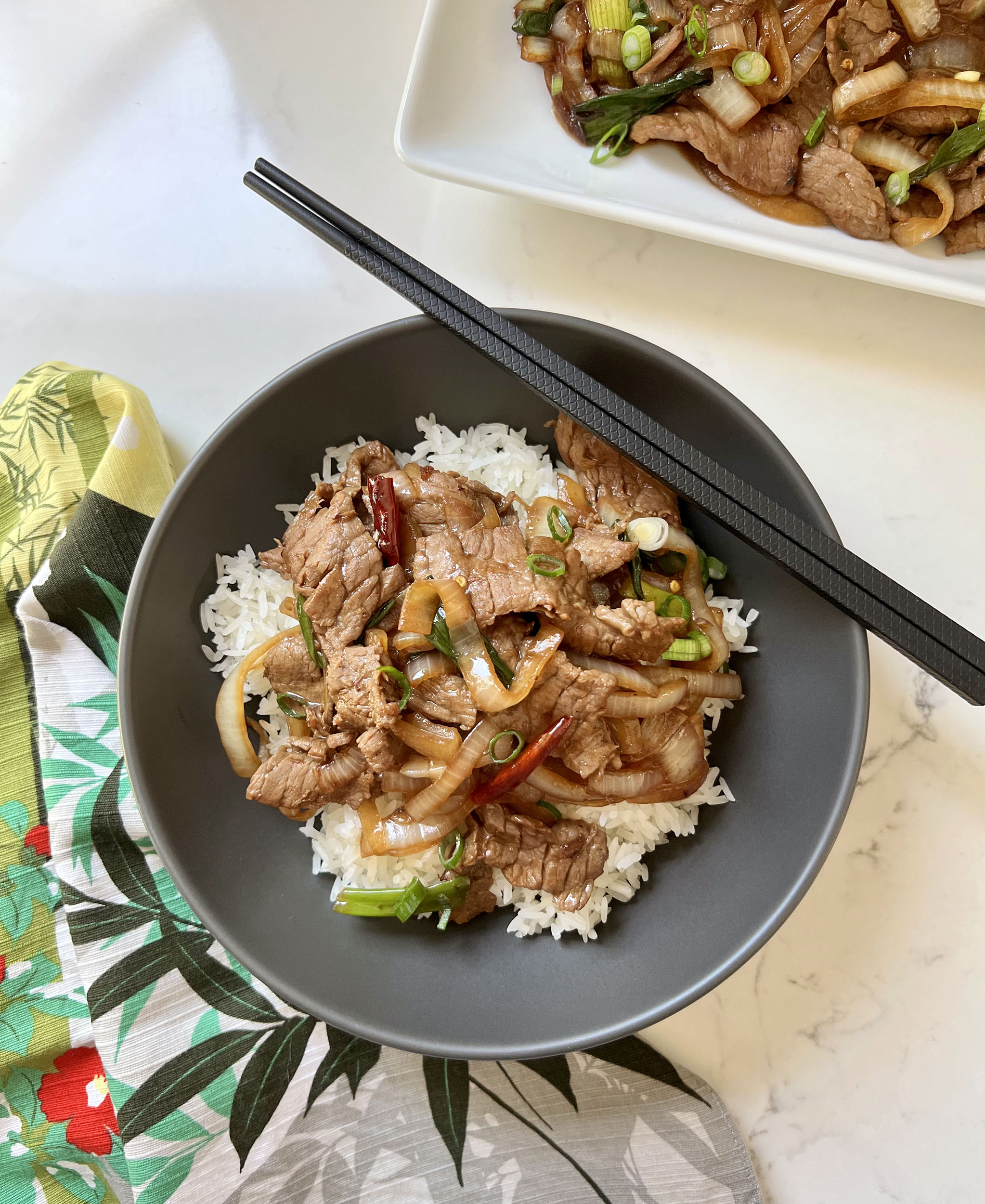 Print Recipe
Quick and Simple Mongolian Beef
Quick and Simple Mongolian Beef with a little kick of heat; lots of sweet and crunchy onion, this Chinese Takeout classic right from your own kitchen.
Ingredients
1 lb. Flank Steak, or something like London Broil

5 tbsp. Soy Sauce, divided

2 tsp. Cornstarch

4 tbsp. Grapeseed, Peanut or Vegetable Oil, divided (plus more as needed)

3-5 Dried Red Chilis, optional

5 Green Onions, sliced into 2.5-inch pieces

1-2 White or Yellow Onion, sliced into thin half moons

2 heaping tbsp. Sweet Bean Paste (or Hoisin)

1 tbsp. Water

Steamed Rice, for serving

1 Green Onion, thinly sliced for garnish
Instructions
1
Place the steak in the freezer to chill and stiffen for about 30 minutes.
2
Slice your steak with the grain, once or twice to get 2-3 pieces of steak that are about 3-inches wide.
3
Now going against the grain, slice each 3-inch wide piece into thin slices, about 1/8-inch thick.
4
Transfer the steak slices to a bowl and pour in 2 tablespoons of soy sauce. Use your hands to mix and evenly coat the slices with soy sauce.
5
Then sprinkle 2 teaspoons of cornstarch over the steak slices and mix again. Set this aside and get your wok heating over high heat.
6
Once the wok is screaming hot, pour three tablespoons of peanut, grapeseed or vegetable oil in the hot wok. Let the oil get shimmery then add half of the steak slices. Stir fry the steak slices for about 2 minutes, until the steak slices are mostly cooked though. Use tongs or a wok spatula to transfer the slices to a clean bowl.
7
Let the wok get hot again (about a minute), then drizzle in a little more oil and stir fry the rest of the steak slices. Add more oil as needed. Transfer the second batch to the bowl with the first batch.
8
Now, pour in another tablespoon of oil and add the dried red chilis, if you're using them. Stir fry the chilis for several seconds then add the green and white onions. Stir fry the onions for about 3-4 minutes, until the white onion slices are softened. Add more oil as necessary to keep the wok lubricated.
9
When the white onion slices have softened and started to get translucent, pour in three tablespoons of soy sauce and add two heaping tablespoons of the sweet bean paste. Stir in a tablespoon of water. Keep frying and stirring to coat the onions in the sauce.
10
When the sauce is incorporated and the onions are coated, add the steak slices back to the wok and stir well to fully incorporate the steak into the onion mixture and coat the steak with sauce.