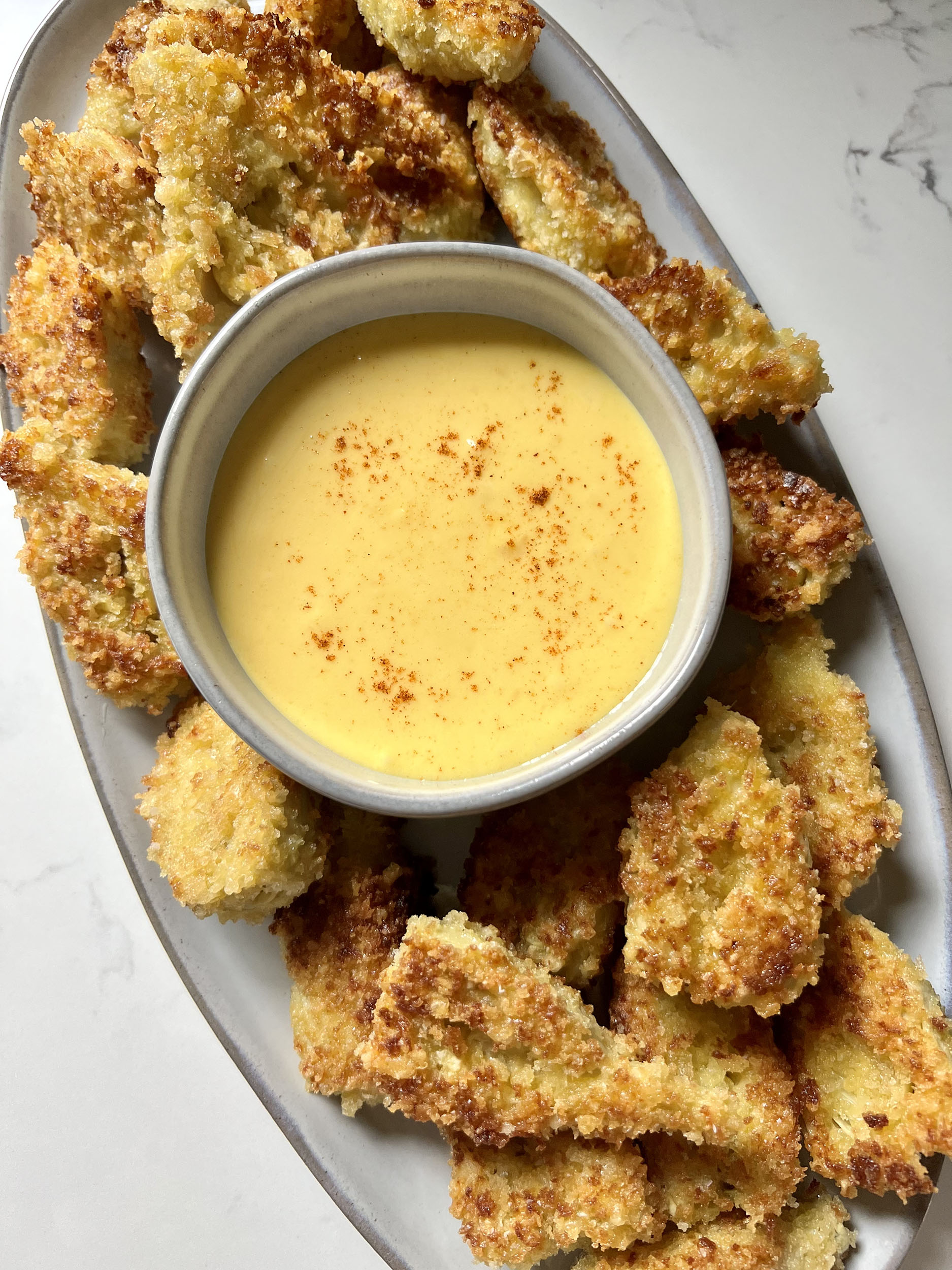 Print Recipe
Crispy Artichoke Hearts
Crispy and crunchy, panko breaded artichoke hearts, shallow fried to golden brown. It's quick, it's easy, it's your new favorite appetizer! Serve with a dipping sauce of your choice.
Ingredients
2 14-oz. cans Whole Artichoke Hearts, halved, drained, rinsed and patted dry

1/4 cup All Purpose Flour

2 Large Eggs, beaten

1/3 cup Plain Panko Breadcrumbs

2 tbsp. Powdered Parmesan Cheese

3 tbsp. Olive Oil

Kosher Salt
Instructions
1
Dredge the the artichoke hearts in the flour, shaking off excess.
2
Then dredge them in the beaten eggs, making sure the egg coats the whole artichoke heart.
3
Roll the artichoke hearts in the panko/parmesan mixture to coat.
4
As you bread them, place the breaded artichoke hearts on a sheet pan.
5
Set a braiser, dutch oven or large, tall-sided, heavy-bottomed skillet on the front corner burner. Then set your sheet pan of breaded artichoke hearts on one side of the pan. Set a wire rack inside of a second sheet pan on the other side of the pan. Get your kitchen tongs. Have a little dish of kosher salt near the wire-rack sheet pan – we will salt the artichokes when come out of the oil.
6
Heat 3 tablespoons of olive oil over medium-high heat. When the oil is shimmery, carefully add the artichoke hearts to the skillet. Depending on the size of your pan, you can get these done in two batches.
7
Lay the artichokes in the pan in a clockwise fashion. By the time you lay down the last one, the first ones will be ready to flip. So just work back around in a clockwise fashion to flip.
8
Adjust the heat as necessary to keep them sizzling, but not burning. Keep moving around the pan, turning the artichokes to get all the sides evenly browned. They go quick, so don't walk away from them. Keep turning.
9
Once the first batch is looking evenly browned, transfer them to the wire rack in the sheet pan and sprinkle with kosher salt. Repeat with the remaining artichoke hearts. When all are fried, transfer them to a serving dish and serve with your sauce of choice.