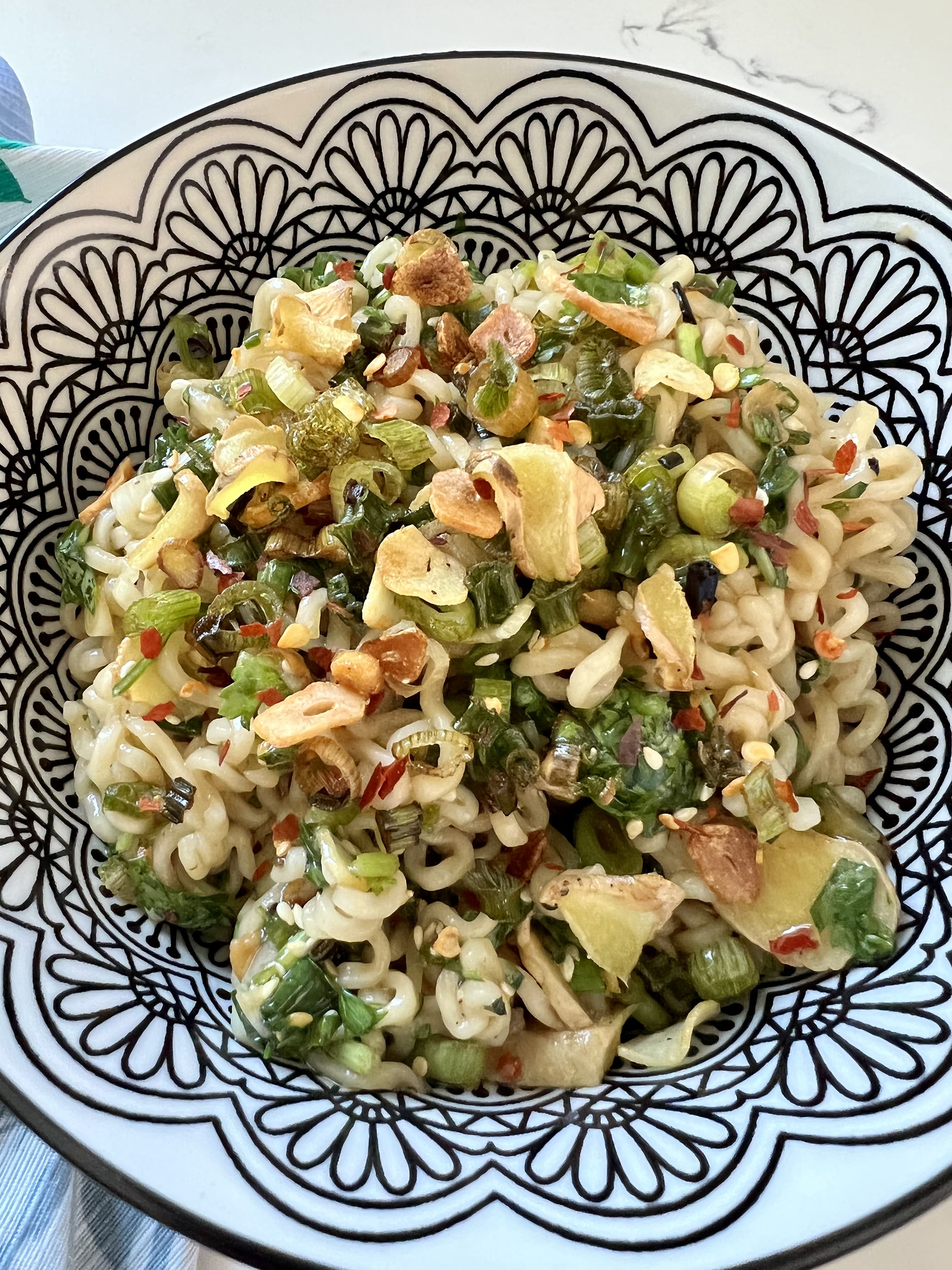 Print Recipe
Ramen with Scallions and Garlic Crisp
Oniony, peppery scallions create the backbone of flavor; with chewy, crunchy fried garlic and ginger punctuating each bite of this savory noodle dish.
Ingredients
1 Bunch Scallions, very thinly sliced, divided

1 3-inch Piece Fresh Ginger, thinly sliced

4 Garlic Cloves, thinly sliced

1/2 cup Grapeseed or Peanut Oil

1-2 tsp. Crushed Red Pepper

1/4 cup Finely Chopped Cilantro

2 tbsp. Low-Sodium Soy Sauce

1 tbsp. Unseasoned Rice Vinegar

1 tbsp. Toasted Sesame Seeds

1 tsp. Freshly Ground Black Pepper

1/2 tsp. Kosher Salt

1/2 tsp. Sugar

2 5-oz. Packages Dried Ramen Noodles

1/2 tbsp. Unsalted Butter, cut into pieces
Instructions
1
Transfer half of the sliced scallions to a small, heat-proof bowl. Then place a fine mesh strainer over the top, in the bowl. We will strain the fried garlic crisp into this bowl, over the sliced raw scallions, for the dressing.
2
Next, pour half a cup of grapeseed or peanut oil in a small saucepan and add the sliced ginger, garlic and the remaining half of the sliced scallions.
3
Heat over medium-high heat and cook, stirring occasionally until the garlic turns golden and the scallions begin to brown. About 8 minutes. Then pour the garlic crisp out through the fine mesh strainer. Straining the hot oil from the garlic crisp.
4
When the garlic crisp is strained, pour the garlic crisp out from the mesh strainer onto a paper towel.
5
Then, stir the scallions in the bowl, with the hot oil for about 1 minute, until the onions have softened slightly. Add the soy sauce, red pepper flakes, sesame seeds, cilantro, vinegar, kosher salt, pepper and sugar. Stir the dressing together and let it sit while we make the noodles.
6
Cook the two packages of dried ramen noodles according to the package directions.
7
While the noodles are cooking, cut 1/2 tablespoon of unsalted butter into small pieces. When the noodles are cooked al dente (after about 3 minutes in the boiling water), strain them and transfer them to a large bowl. While the noodles are still piping hot, toss them with the diced 1/2 tablespoon of butter, coating the noodles in butter.
8
Then pour the dressing over the noodles and toss to fully coat the noodles in the dressing. Add half of the garlic crisp and toss again to fully mix the dressing and garlic crisp into the noodles.
9
Portion in to individual bowls and top with the remaining garlic crisp.