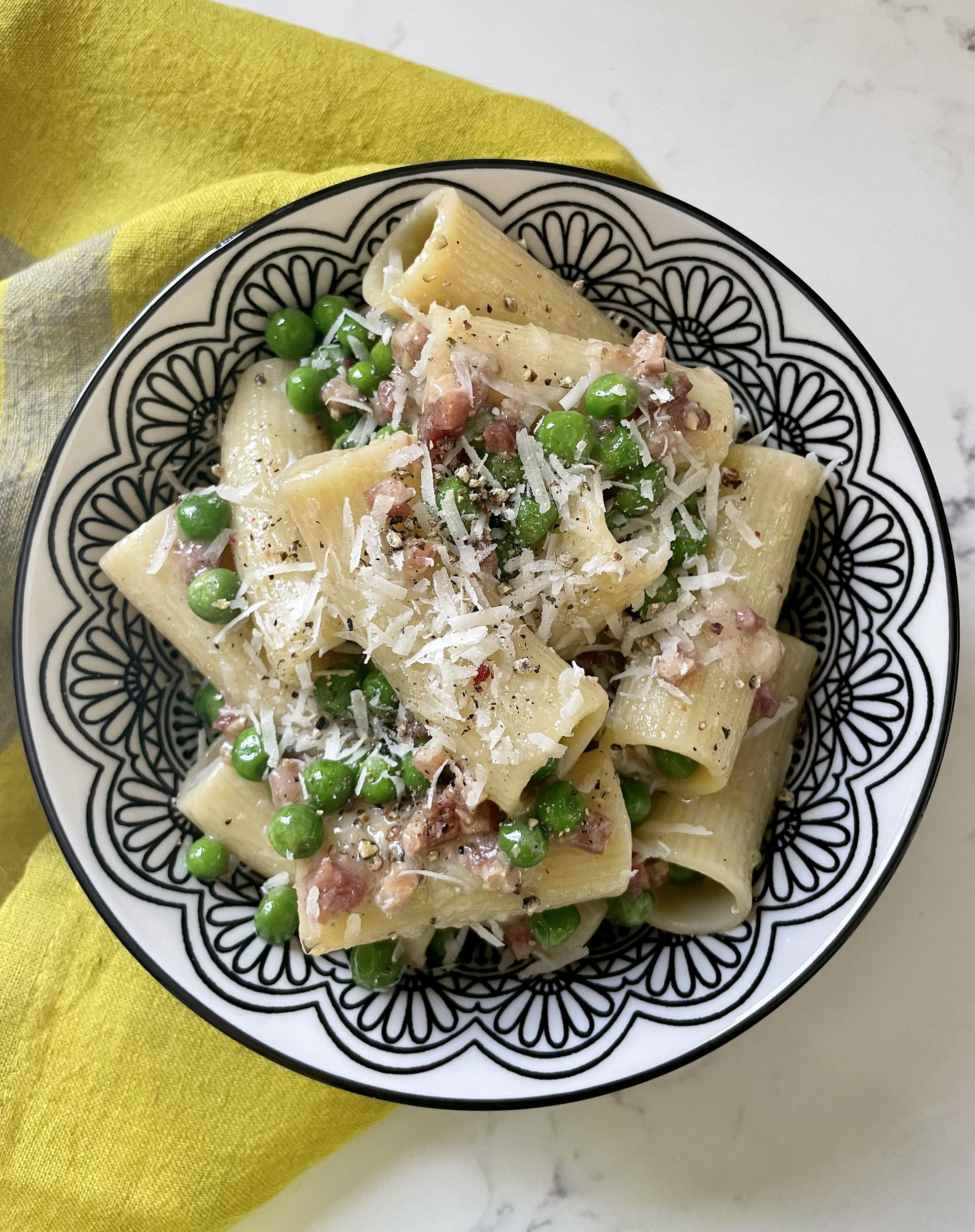 Print Recipe
Rigatoni with Pancetta and Spring Peas
Bouncy rigatoni, fresh spring peas and golden brown pancetta are coated in a rich, peppery sauce of bacon fat, Parmesan and pasta water.
Ingredients
2 Heaping tbsp. Bacon Fat

4 oz. Diced Pancetta

1/2 tsp. Fresh Cracked Black Pepper, plus more for serving

1 cup of Fresh Peas (use more or less to suit your taste)

9 oz. Large Rigatoni (about half of the one-pound package)

1/2 cup Finely Grated Parmesan, plus more for serving
Instructions
1
Set 1 quart of salted water to boil.
2
In a large pot or dutch oven, brown the pancetta in the bacon fat over medium-low heat until the pancetta is evenly browned, about 5 minutes.
3
Use a slotted spoon to transfer the pancetta to a bowl, drain off all but 3 tablespoons of the fat.
4
Cook the rigatoni, stirring occasionally to keep it from sticking.
5
Strain the pasta over a bowl to collect the pasta cooking water.
6
Add 1.5 cups of the pasta cooking water to the 3 tablespoons of bacon fat in the large pot, add the pepper and bring to a rapid boil over high heat. Stirring occasionally and scraping u the brown bits, let the sauce boil and reduce until emulsified, about 5 minutes.
7
Add the peas to the pot and boil for another 2 minutes.
8
Add the pancetta to the pot and reduce the heat to low.
9
Stir to combine the pancetta and peas, then add the pasta.
10
Stir to coat the pasta in the sauce and add the Parmesan cheese.
11
Gently but continuously stir the pasta in the sauce to melt the cheese and thicken the sauce.
12
Add a little more hot pasta water if necessary to smooth out the sauce.
13
Keep stirring the pasta up from the bottom to thoroughly coat until everything looks glossy and creamy.
14
Serve in bowls, topped with more pepper and Parmesan.