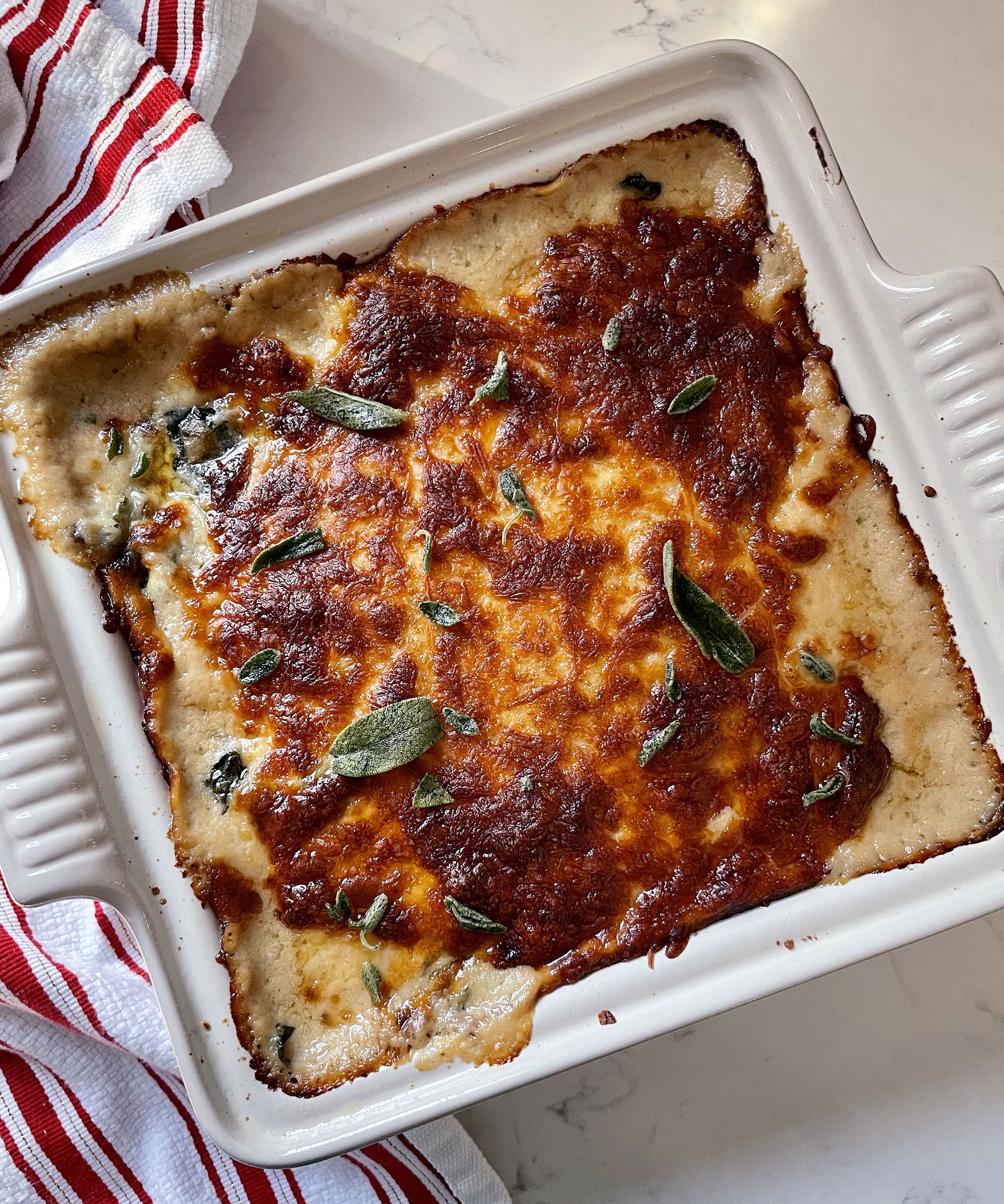 Print Recipe
Roasted Butternut Squash Lasagne
Layers of béchamel, pasta, cheese, butternut squash and ricotta are just the ticket for a different take on lasagne.
Ingredients
1 medium Butternut Squash (about 6 cups), peeled and cut into cubes

2 tbsp. Olive Oil

Kosher Salt and Pepper to taste

2 tsp. Fresh or Dried Thyme

3 cloves Garlic, minced

12 Fresh Sage Leaves

2 Sprigs Fresh Rosemary

1/4 cup All-Purpose Flour

2 cups Whole Milk

2 cups Chicken or Vegetable Broth

1/4 tsp. fresh grated nutmeg

1 cup Shredded Asiago Cheese

2 cups Shredded Mozzarella (or combination of Mozz, Parmesan and Pecorino Romano)

2 cups Ricotta

4 cups Fresh Baby Spinach

1 box No-boil Lasagna Noodles
Instructions
1
Preheat oven to 375 degrees.
2
Peel and cube butternut squash. Toss in a bowl with olive oil, salt, pepper and thyme. Spread in a single layer on a sheet tray and bake for 20-25 minutes, until golden. Set aside to cool.
3
In a large saucepan or pot, melt the butter with the garlic, rosemary and sage. Once the butter is foamy and beginning to brown, remove and save the herbs. whisk in flour and stir while cooking for about 1 minute and a paste forms.
4
Slowly add the milk and the broth. Bring to a boil and let simmer while stirring until it thickens a bit.
5
Add Asiago cheese and spinach, stir to melt cheese. Season with Kosher salt and pepper to taste.
6
Mash the butternut with a fork or your hands. Stir in ricotta.
7
Assemble the lasagne: Start with a layer of béchamel, then pasta, then butternut mixture and more béchamel, then mozzarella. Repeat layering until you reach to top and then top with mozzarella.
Notes
This recipe is for a full size (9" x 13") lasagne. If you make a half size one, like I did, you'll will only want to use 1/4 to half of the béchamel sauce.