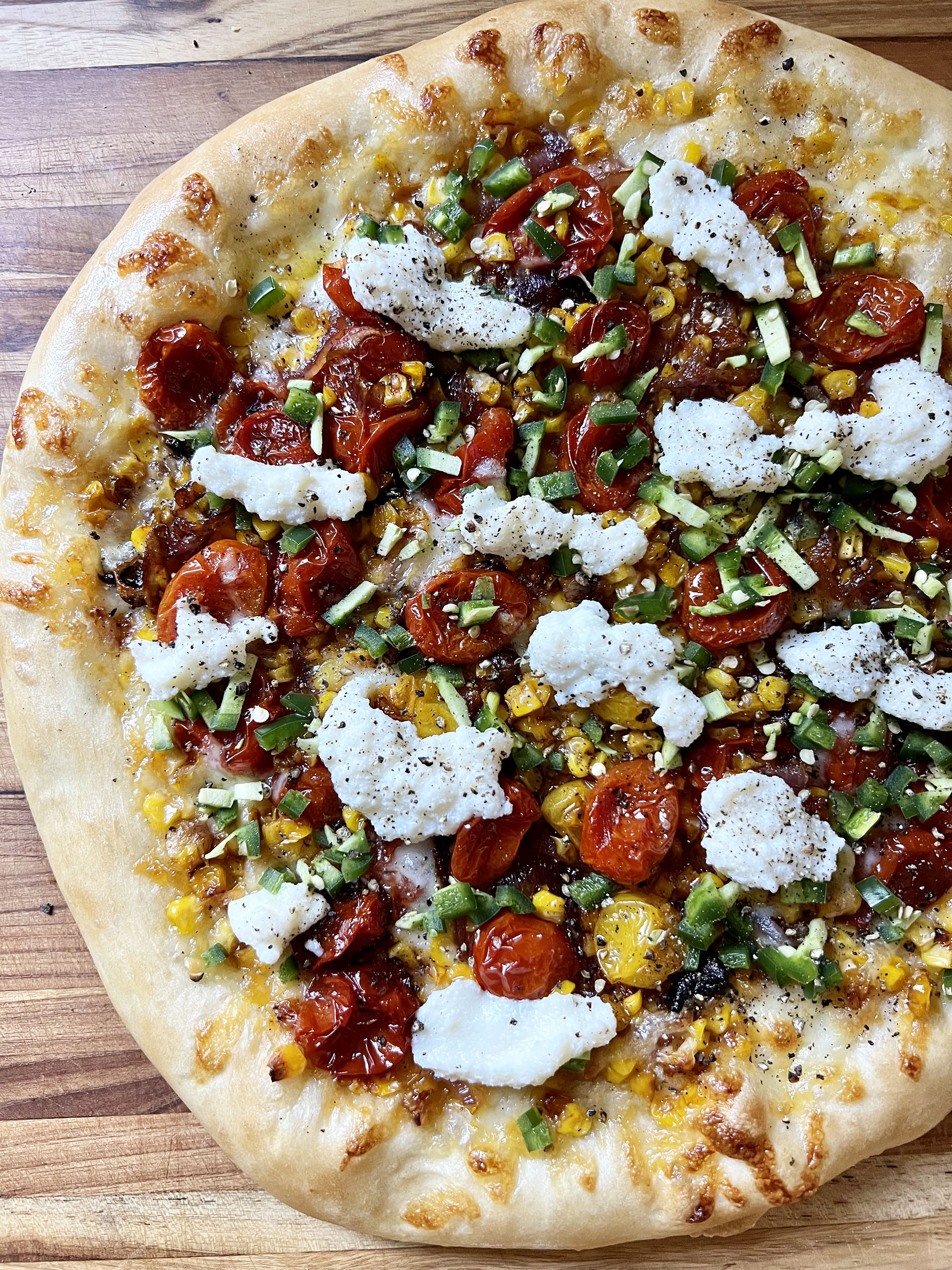 Print Recipe
Roasted Corn and Tomato Pizza
Sweet and savory roasted corn, cherry tomatoes and onions top this Roasted Corn and Tomato Pizza, finished with jalapeño and ricotta.
Ingredients
2 Ears of Corn, corn cut from cob

1.5 -2 cups Cherry or Grape Tomatoes

1/2 Medium or 1 Small Red Onion, sliced thinly

Olive Oil

Kosher Salt

1 Prepared Pizza Dough

1.5 cups Grated Mozzarella Cheese

1 Jalapeño, diced (without seeds), optional

Ricotta Cheese, optional

Fresh Cracked Black Pepper
Instructions
1
Start with preheating the oven to 400 degrees F. You can put your pizza stone or steel in the oven to heat up; and then just place the sheet pan of veggies on top of the steel or stone. Toss all the veggies on a sheet tray, drizzle with olive oil and season with kosher salt. You can certainly use frozen corn instead of cutting fresh corn off the cob, if you like.
2
Roast the corn, tomatoes and onions at 400 for about 30 minutes; just until the veggies get some nice color on them. When the veggies have some nice color, use a spatula to toss the veggies together on the pan. Set aside to cool as we prep for the pizza. Turn the oven up to 450 degrees F.
3
Roll, stretch, pull or spin your dough out to about a 12-inch round. Spread an even layer of the grated mozzarella over the dough, leaving a 1/2-inch border for the crust.
4
Then spread the roasted corn, tomato and onion mixture over the cheese. And we are ready for the oven!
5
Bake the pizza for 10-15 minutes, until the cheese is melted and the crust is puffed and golden.
6
While the pizza is in the oven, roughly dice a jalapeño for color and a little heat. Alternatively, you can top it with sliced scallions or parsley.
7
Then, if you choose to add the ricotta, dollop on spoonfuls of ricotta evenly around the top. Lastly, top the whole pie with fresh cracked black pepper.