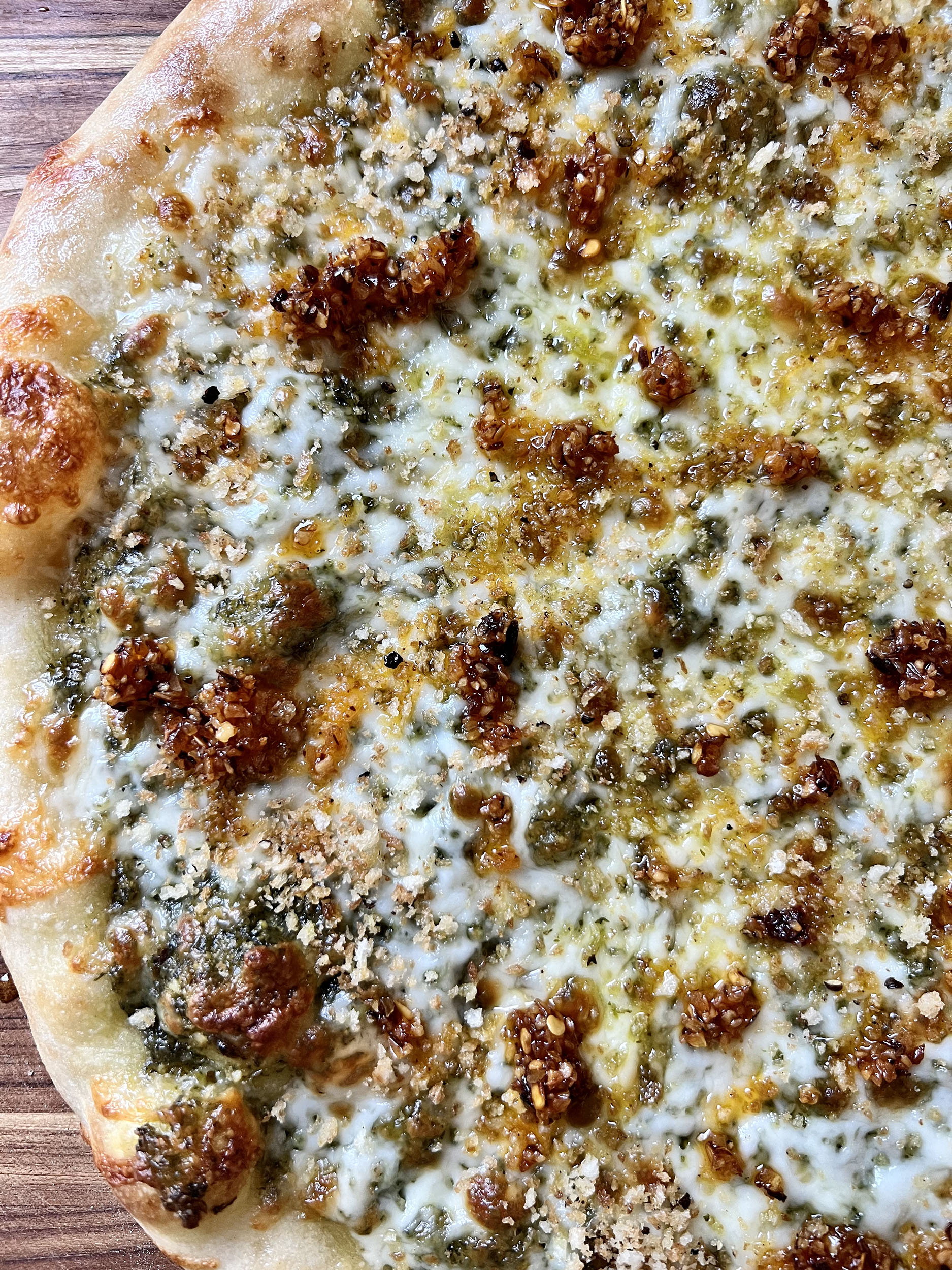 Print Recipe
Roasted Garlic Peso Pizza
Richly flavored, Roasted Garlic Pesto is the star of today's pizza, with mozzarella cheese; topped with toasted breadcrumbs and chili crunch.
Ingredients
Roasted Garlic Pesto

3-4 oz. Garlic Whole Cloves, peeled

Olive Oil, divided: a drizzle on the garlic to roast, plus more for the pesto

Pinch of Kosher Salt, plus more to taste

4-6 oz. Fresh Basil Leaves

1/3 cup Toasted Pine Nuts

1/4 cup Powdered Parmesan Cheese

Roasted Garlic Pesto Pizza

1 Prepared Pizza Dough

3/4-1 cup Roasted Garlic Pesto

1-1.5 cups Grated Low-Moisture Mozzarella

Chili Crunch, optional

Toasted Panko Breadcrumbs, optional
Instructions
1
Preheat the oven to 375 degrees F.
2
Spread the garlic cloves on a sheet tray and drizzle olive oil over them, add a pinch of kosher salt and give the sheet pan a little shake to coat the cloves in oil and salt.
3
Pop the tray in the oven and roast for about 10 minutes, until they are beginning to brown. Give the cloves a stir and continue roasting for another 5 minutes or so. When the cloves are toasted and roasted, let them cool for 5-10 minutes.
4
Turn the oven temp up to 450 degrees F, with a pizza stone or steel.
5
Toss the fresh basil leaves in the bowl of a food processor. Add the roasted garlic cloves and 1/3 cup of roasted pine nuts. Pulse the ingredients several times to get a chimichurri-type of consistency.
6
Then add 1/4 cup of powdered parmesan cheese. With the processor running, drizzle in olive oil until you have a fine texture and a smooth pesto. Taste the pesto and add kosher salt if needed.
Roasted Garlic Pesto Pizza
7
Roll, stretch or pull your pizza dough out to about a 12-inch round, on a lightly floured surface. Spread on as much pesto as you like, I used about 3/4 cup. Use the backside of a silicone spatula to evenly spread the pesto, leaving a 1-inch border for the crust.
8
Top the pesto with grated low-moisture mozzarella. Use as much cheese as you like!
9
Bake the pizza on the steel or stone for about 10-12 minutes, until the crust is puffed and golden; and the cheese is melted and bubbly.
10
When the pizza comes out of the oven, enjoy as is – or, brush the crust with olive oil. Sprinkle on toasted panko breadcrumbs and drizzle on some chili crunch.