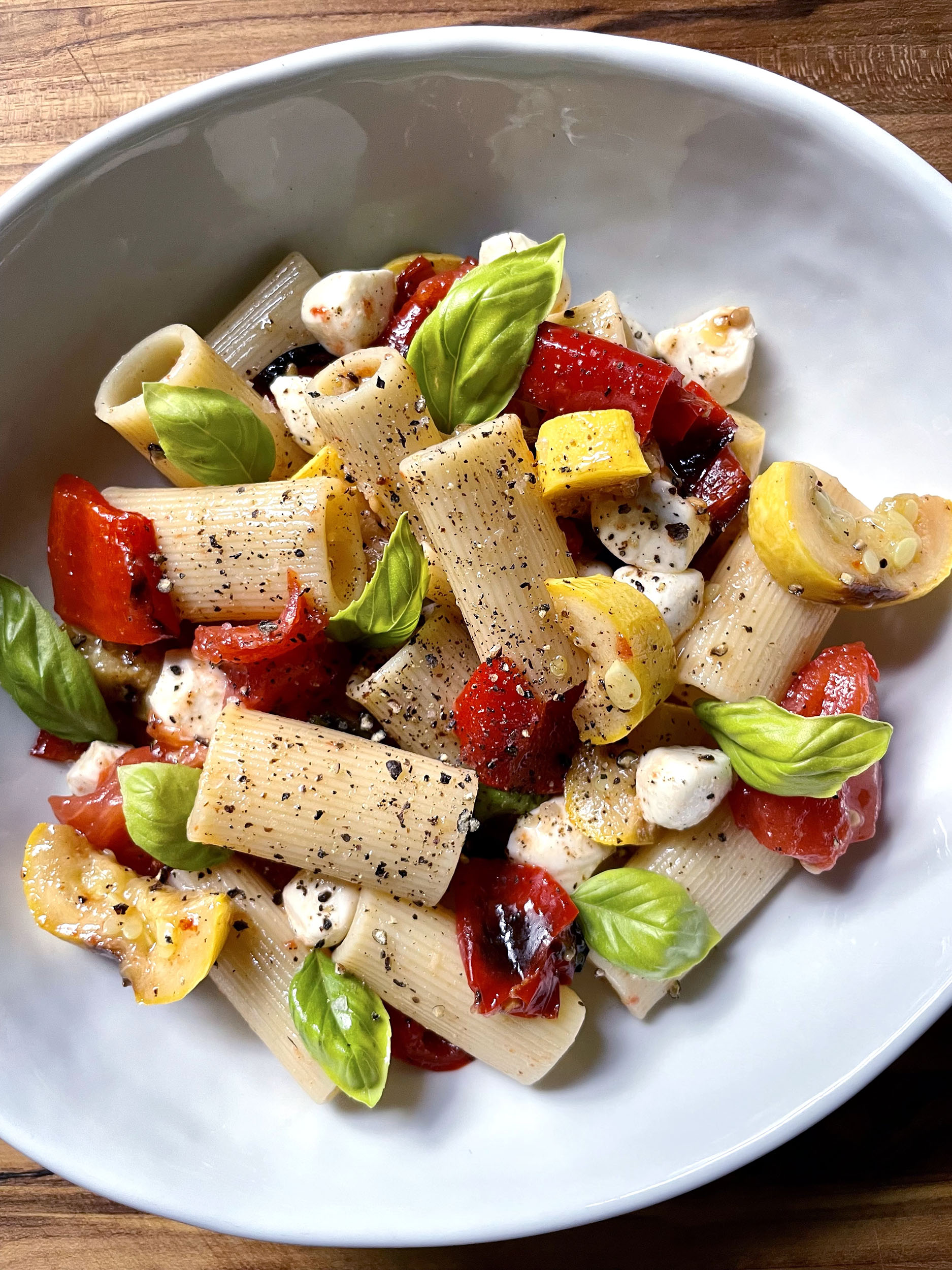 Print Recipe
Roasted Summer Vegetable Rigatoni
A well-balanced dish: the textures and flavors vary with the soft, juicy tomatoes; summer squash and roasted red pepper, dressed in zesty dressing.
Ingredients
Roasted Vegetables

2 Summer Squash, halved lengthwise

2 large Red Peppers, halved lengthwise

2-3 large Tomatoes, cored and quartered

1 bunch Scallions, trimmed

Drizzle of Olive Oil

Kosher Salt and Black Pepper

Dressing

2 tbsp. Olive Oil

3 tbsp. Red Wine Vinegar

1 tsp. Dijon Mustard

1/4 tsp. Garlic Salt

1/4 tsp. Celery Salt

1/4 tsp. Fresh Cracked Black Pepper

Roasted Summer Vegetable Rigatoni

1 lb. Rigatoni

1 8-oz package Mozzarella Pearls

Fresh Basil Leaves

Flaky Finishing Salt

Fresh Cracked Black Pepper
Instructions
1
Preheat oven to 400 degrees. Position one rack on the lower-middle position and one rack on the upper-middle position.
2
Placed prepped veggies on a rimmed sheet tray and drizzle with olive oil. Use a brush to evenly coat cut-side of veggies with olive oil.
3
Sprinkle with Kosher salt and pepper.
4
Roast veggies on lower-middle rack for 20-30 minutes, until veggies release their juices and get some light browning.
5
Then, switch oven to broil and transfer the rack to the upper-middle position and broil for 3-5 minutes, until some charring is visible on the cut side of the veggies.
6
Remove from oven and set aside to cool.
7
Shake all of the dressing ingredients in a little jar and taste it, adding more of anything you think it needs.
Roasted Summer Vegetable Rigatoni
8
Bring 6 quarts of salted water to boil and cook Rigatoni for 10-12 minutes, until al dente.
9
Drain pasta and toss with a little olive oil in a colander, set aside.
10
Reserve pan juices and slice roasted veggies into bite-size pieces.
11
Transfer Rigatoni to a large mixing bowl and toss gently with roasted veggie pieces.
12
Add mozzarella pearls and juices from the sheet pan, pour dressing over mixture and gently toss to coat everything in the dressing.
13
Transfer vegetable and Rigatoni mixture to a serving bowl and top with fresh basil leaves.
14
Serve in shallow bowls and top with flaky finishing salt, black pepper and more basil leaves.