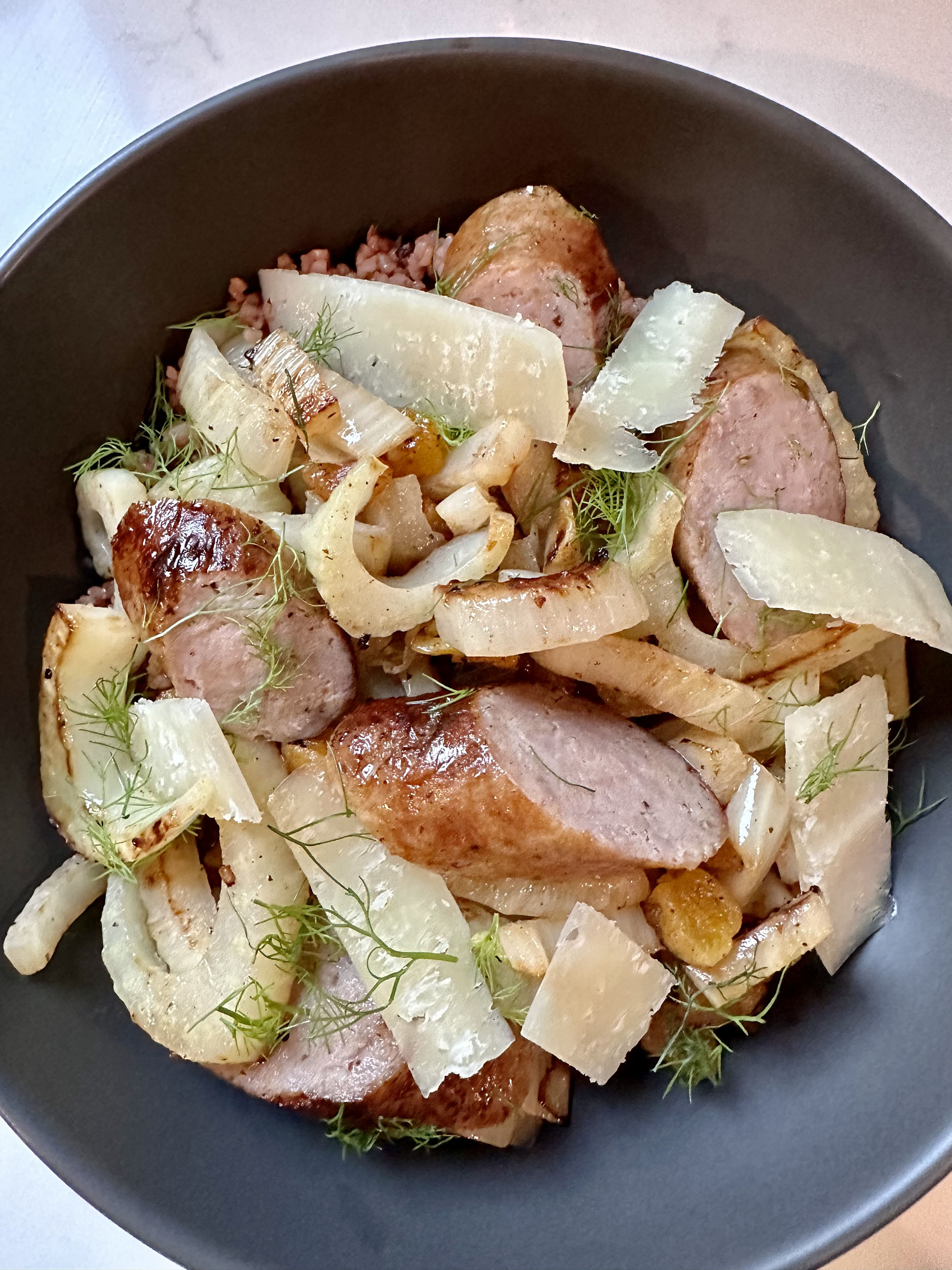 Print Recipe
Saffron Bulgur with Fennel and Sausage
Saffron Bulgur with Fennel and Sausage features complex and harmonious flavors. With saffron and pomegranate molasses dressed bulgur.
Ingredients
1.5 cups Medium-Grind Bulgur

2.5 tsp. Kosher Salt, divided

3 tbsp. Olive Oil, divided

1 lb. Italian Sausage (Turkey or Pork)

2 Fennel Bulbs, fronds set aside for garnish, stalks discarded, bulbs cored and sliced 1/4-inch thick

1/2 cup Chopped Dried Apricots

1/2 cup Water

1/2 tsp. Black Pepper, divided

1/4 tsp Saffron Threads, crumbled

2 tbsp. Pomegranate Molasses

Zest of 1 Lemon

Shaved Manchego Cheese
Instructions
1
Bring 4 quarts of water to boil. Then add 1.5 cups of medium-grind bulgur. Add 2 teaspoons of kosher salt. Stir and cook until tender, about 5-7 minutes. Drain the cooked bulgur in a fine mesh sieve and set aside.
2
In a 12-inch nonstick pan, heat 1 tablespoon olive oil over medium heat. Add the sausages to the pan and turn them every few minutes until they are a deep golden brown on all sides and the internal temperature reads 145-150 for pork and 160 for turkey. Transfer to a cutting board or sheet tray and cover with foil to rest.
3
Leave whatever fat accumulated in the skillet from the sausage and add olive oil (as needed) to total about 2 teaspoons of fat. To the skillet, add the sliced fennel and the apricots. Also add 1/2 cup water, 1/4 teaspoon kosher salt and 1/4 teaspoon black pepper. Cover and cook over medium heat for about 1 minute. Then remove the cover and continue cooking, stirring occasionally until the fennel slices develop some browning. About 5-10 minutes. Then cut the heat and set aside.
4
While the fennel is cooking, place the saffron in a large bowl and add two teaspoons of water to the saffron. Let the saffron bloom in the water for 5 minutes.
5
Then, whisk in 2 tablespoons olive oil, 1/4 teaspoon kosher salt, 1/4 teaspoon pepper, pomegranate molasses and lemon zest. Whisk together to create an emulsified vinaigrette.
6
Add the cooked and drained bulgur to the bowl with the saffron pomegranate vinaigrette. Toss the bulgur in the vinaigrette until all the grains are well coated in the vinaigrette.
7
Scoop portions of the dressed bulgur into bowls. Top with a serving of the caramelized fennel and apricots. Now, slice the sausages into 1/4-inch slices and nestle the slices into each serving. Sprinkle with fennel fronds and shaved Manchego cheese.