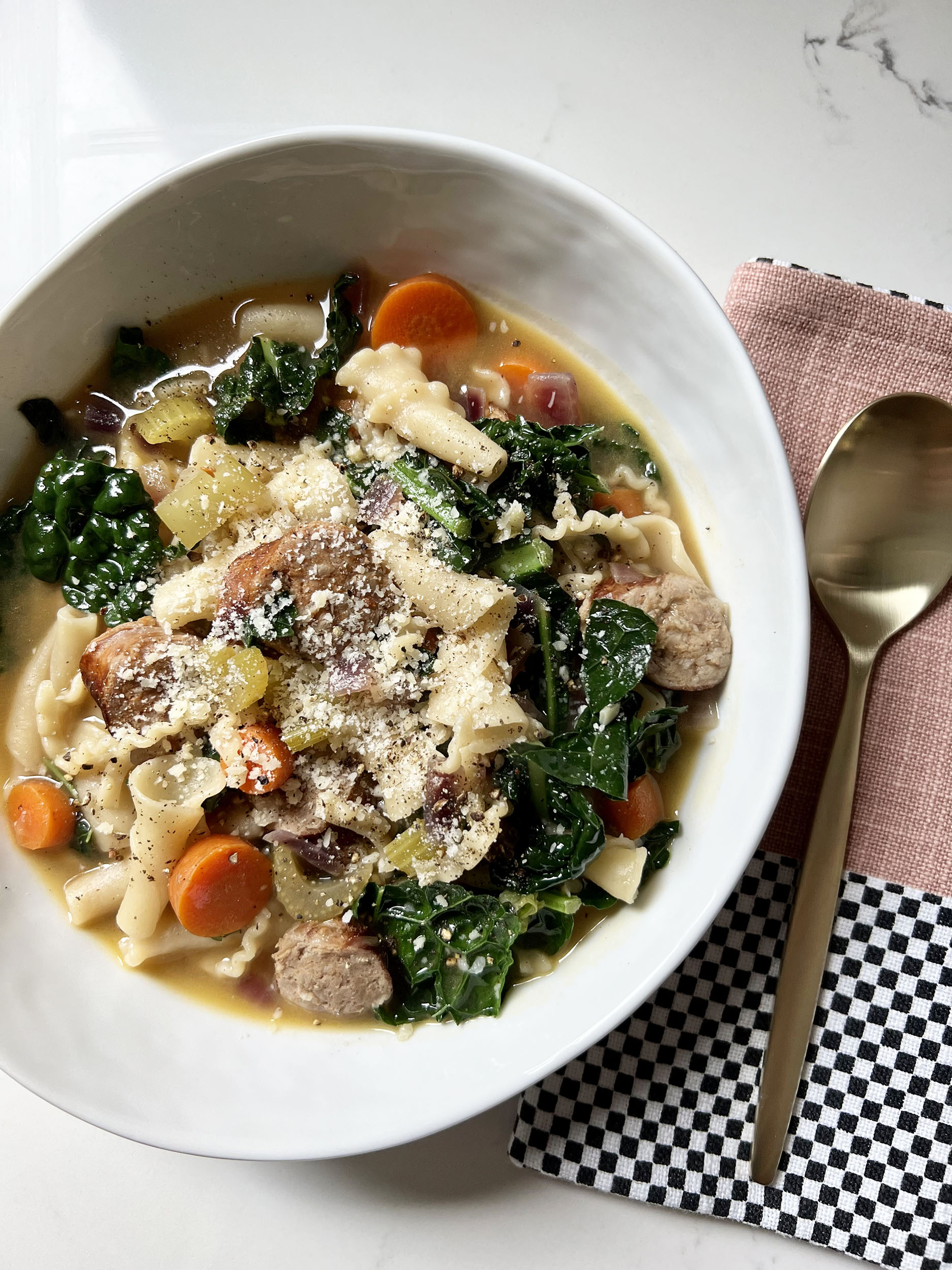 Print Recipe
Sausage and Noodle Soup with Kale
This Sausage and Noodle Soup with Kale is hearty, yet the light broth and vegetables give it a fresh, vegetable forward flavor.
Ingredients
1 lb. Italian Sausage, 5-6 sausages

Drizzle of Olive Oil

1/2 Large Onion, large diced

3-5 Carrots, sliced in rounds

3-5 Celery Ribs, large diced

1/4 cup Dry White Wine

1 tbsp. Worcestershire Sauce

2 tsp. Roasted Beef Better Than Bouillon

3-4 Cloves Garlic, smashed and rough chopped

6 cups Low Sodium Chicken Broth

2 cups Water

10 oz. Dry Pasta, like Campanelle, or other trumpet or tubular pasta shape

2-3 large handfuls Kale, large stems and ribs trimmed

Black Pepper, to taste

Kosher Salt, to taste

Grated Parmesan Cheese, as garnish
Instructions
1
Over medium heat, In a Dutch oven or heavy pot, with a light drizzle of olive oil, brown the sausages on all sides. Turn them often to get an even browning.
2
When the sausages are evenly browned and mostly cooked through, use tongs to transfer them to a plate and set aside to cool enough to handle.
3
Add the carrot, celery and onion to the pot. Still over medium heat, let cook only until the begin to sweat. Sweating the vegetables is the point at which the vegetables just begin to release their water. While we are waiting for the veggies to sweat, slice the sausages into bite-size pieces.
4
As soon as the veggies begin to sweat, add the sausage back to the pot. Then add the white wine, stir that into the veggies and let it bubble. Then add the Worcestershire and the Better Than Bouillon. Stir to dissolve the bouillon paste and mix into the vegetables and sausage.
5
Give the mix a stir and let it bubble a bit, meanwhile smash and roughly chop 3-4 cloves of garlic. Stir the garlic into the mixture. Now add the 6 cups of chicken broth and 2 cups of water. Stir and bring up to a boil.
6
When it's boiling, add the pasta and stir it into the soup. Let it come back up to a boil, then reduce the heat and cover the pot, let it simmer for 6-8 minutes, just until the pasta is cooked.
7
Test the pasta and if it's tender, cut the heat. Taste the soup and add kosher salt and black pepper to taste. Then add two to three large handfuls of kale. Stir the kale into the soup and cover. Let the radiant heat from the Dutch oven and the soup wilt the kale for about 3-5 minutes.
8
This soup is ready to serve! Top each serving with a little more black pepper and grated Parmesan if you like.