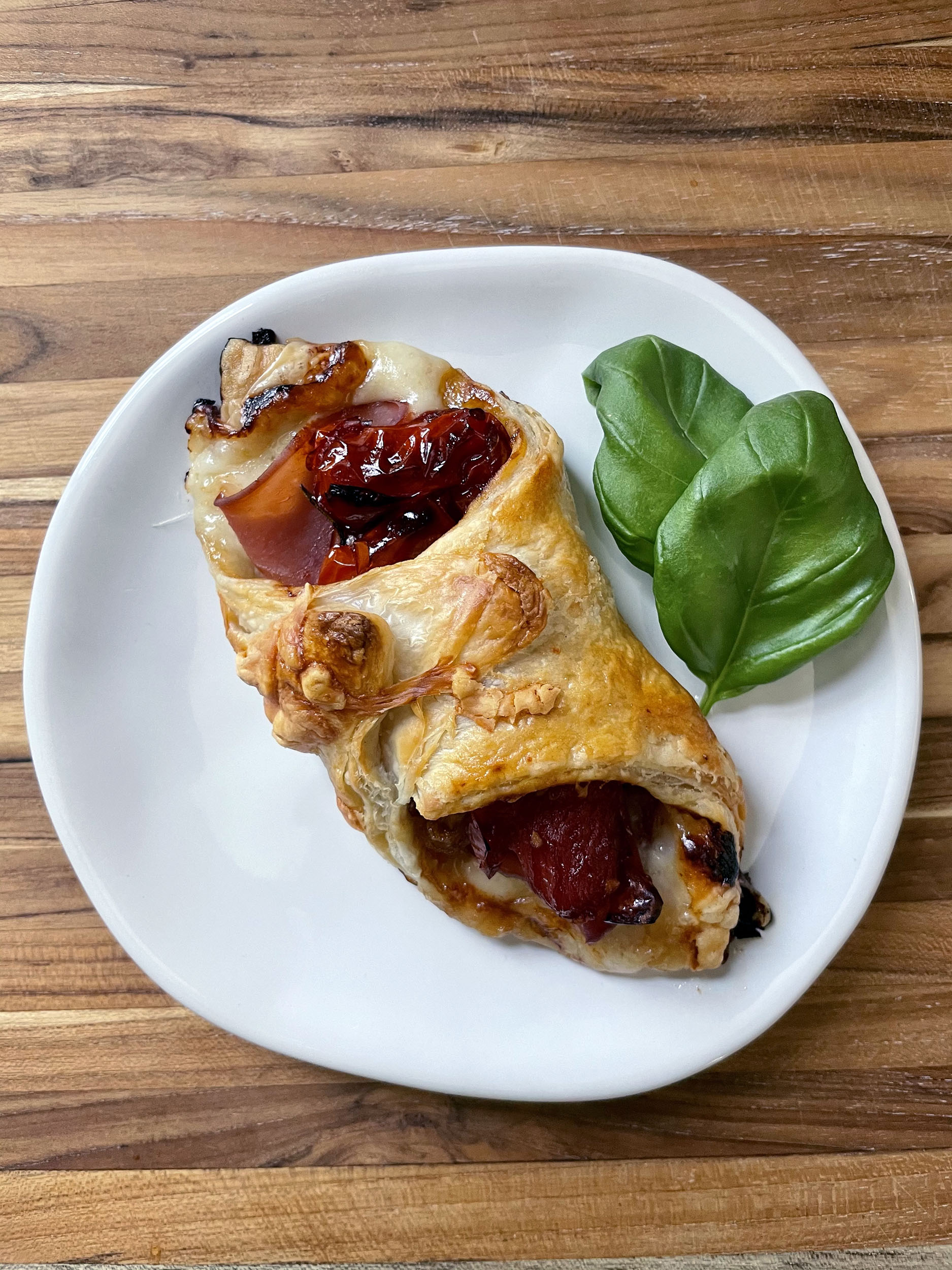 Print Recipe
Savory Danishes with Balsamic Roasted Tomatoes
Balsamic roasted tomatoes with herbs and onions are packed with umami, paired with nutty Gruyere and smoked ham slices; wrapped in puff pastry.
Ingredients
Balsamic Roasted Tomatoes

10-18 oz. (one package) Grape or Cherry Tomatoes

1/2 Vidalia, or other sweet Onion, sliced thin

Olive Oil

Kosher Salt

2-3 Sprigs Rosemary

2-3 Sprigs Thyme

1 tbsp. Balsamic Vinegar

Savory Danishes

1 (2 count) package Frozen Puff Pastry

Gruyere Cheese, sliced thin

8 Slices Deli Ham

Balsamic Roasted Tomatoes

1 Egg + 1 tablespoon water for egg wash

Shaved Parmesan Cheese

Large Basil Leaves for garnish
Instructions
Balsamic Roasted Tomatoes
1
Preheat oven to 400 degrees.
2
Toss onions, tomatoes, rosemary and thyme sprigs with olive oil on a rimmed sheet tray. Season with a generous pinch of Kosher salt.
3
Roast on the bottom rack for 30 minutes.
4
Remove from oven and stir. Drizzle balsamic vinegar over mixture and roast (on the bottom rack) for an additional 10-15 minutes, until the balsamic is caramelizing. Remove from oven and let cool. Discard herb sprigs.
5
Let the frozen puff pastry defrost on the counter for 1 hour. Roll the two pastry squares out to 1/16-inch thickness.
6
Use a bench scraper/pastry cutter to cut 5-inch squares.
7
Place squares on a parchment-lined rimmed baking sheet.
8
Rotate the pastry squares so they are diamonds.
9
Lay two slices of Gruyere along the center of each pastry diamond.
10
Fold a slice of ham twice, lengthwise and lay the ham on top of the Gruyere.
11
Top the ham with a heaping tablespoon of the Balsamic Roasted Tomato mixture.
12
Fold each side of the pastry over the center and use a dab of egg wash to secure the corners in the center.
13
Repeat with all 8 pastry squares.
14
Brush egg wash over the savory danishes and top each Danish with some shaved Parmesan.
15
Bake on the center rack for 20-25 minutes, until the pastry is puffed and golden.
16
Serve with basil leaves, if desired.